Nineteenth-Century Manuscripts in the JWJ Collection
Unique manuscripts written by nineteenth-century African American writers exemplify the richness and historical significance of materials in the James Weldon Johnson Memorial Collection. "The Bondwoman's Narrative," a fictionalized autobiography, is thought to be the first novel written by an African American woman and the only known novel written by a fugitive slave. Written in the gothic and sentimental style favored at the time, "The Bondwoman's Narrative" is the story of a slave whose escape from a North Carolina plantation leads to a series of adventures and obstacles, until she eventually finds freedom and safety in the North. In his memoir, written around 1859, Austin Reed recounts his experiences at the New York House of Refuge, the first juvenile reformatory in the United States, and later in New York's Auburn State Prison. Reed provides a wealth of vivid detail about his incarceration at Auburn, including a description of the horizontal black-and-white striped uniform, which originated at Auburn: "streaked clothes of shame and disgrace." Released from Auburn on May 1, 1842, he was reincarcerated there before the close of the year, "I return'd home and committed a crime wich [sic] brought me back to a gloomy prison." This unparalleled narrative is an incomparable resource documenting the lives of African American prisoners in antebellum America.
Image: Austin Reed, The Life and Adventures of a Haunted Convict, [Auburn (N.Y.)], ca. 1858.
Collection Highlights Exhibited in Multitudes: A Celebration of the Yale Collection of American Literature: Hannah Crafts, "The Bondwoman's Narrative," manuscript [ca. 1853 – 1861], gift of Henry Louis Gates, Jr., Y1973. Robert Reed, "The Life and Adventures of a Haunted Convict, or the Inmate of a Gloomy Prison," manuscript [ca. 1858]. Nineteenth-Century Manuscripts in the JWJ Collection--Checklist  & Object Descriptions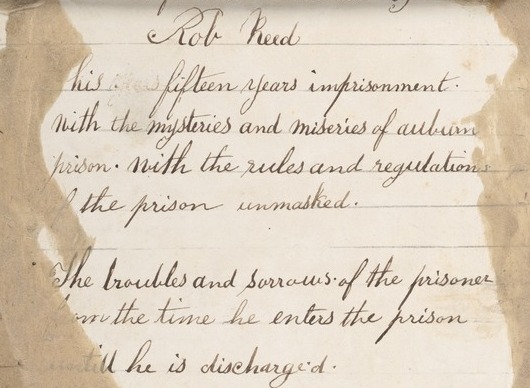 Hours
Monday 10 am - 7 pm
Tuesday-Thursday 9 am - 7 pm
Friday 9 am - 5 pm
Saturday (Exhibitions only) 12 pm - 5 pm
Sunday (Exhibitions only) 12 pm - 4 pm