[Page from La Fin du Monde Filmee par l'Ange N.-D. by Blaise Cendrars; Image by Fernand Leger, from the Beinecke Library digital library.]
For several years, I had the pleasure of writing articles on book and print culture for Design Observer. I'm taking the opportunity to flesh out some of those articles into teaching moments.
The first lesson involves The Art and Craft of Pochoir. 
My obsession began with the work of a certain Monsieur Séguy.
Read up on my search for his identity here: https://designobserver.com/feature/insect-men/38887
Now, with that mystery solved, let's look at some other resources that relate to the art of pochoir.
Perhaps the most famous artist book produced using the pochoi technique is La Prose du Transsiberien with text by Blaise Cendrars and images by Sonia Delaunay.
[Section of La Prose du Transsiberien by Blaise Cendrars and Sonia Delaunay, from the Beinecke Library digital library]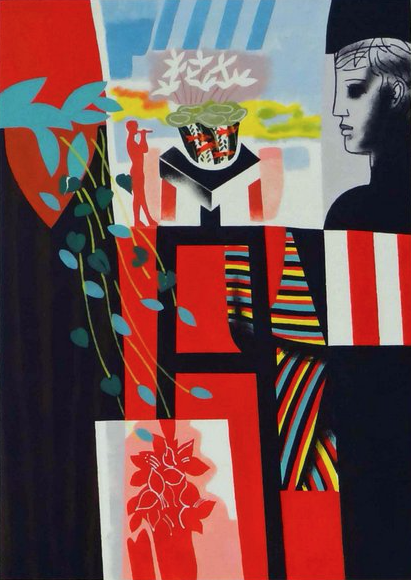 [Pochoir from Still Life published by Shanty Bay Press, from the Shanty Bay website]
The collector, Paul Zwartkruis, created a website, POCHOIRWORLD, to explain the process and share information, focusing on fine art application, especially the work of Pablo Picasso:
Pochoir was a popular method for illustrating fashion, especially for designs by Paul Poiret. 
The image database of the Victoria and Albert Museum has many scanned illustrations by Georges Lepape showing dresses by Poiret, along with quite a few other fashion and design-related images:
https://collections.vam.ac.uk/search/?listing_type=imagetext&offset=0&li…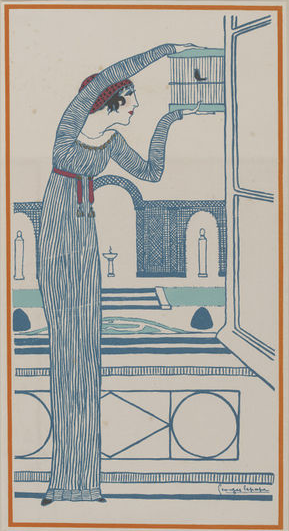 [Fashion plate from Les Choses de Paul Poiret vues par Georges Lepape, in the collection of the Victoria and Albert Museum]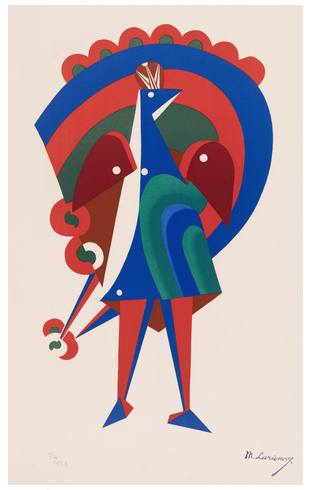 [Print by Mikhail Larionov of Le paon (The Peacock Mechanical Costume) from the Yale University Art Gallery]