Novelist, critic, and teacher Monique Wittig is known for her pioneering work in literature, gender, feminism, and the radical lesbianism movement. Among her works are the novels L'Opoponax (awarded the Prix Médicis), Les Guérillères, and Virgile, non (Across The Acheron), the ground-breaking Le Corps lesbien (translated as The Lesbian Body), and Brouillon pour un dictionnaire des amantes (Lesbian Peoples: Material For A Dictionary), written with Sande Zeig.
A founding member of several influential groups in France in the 1970s, such as the Petites Marguérites, the Gouines rouges, and the Féministes révolutionnaires, Wittig was instrumental in claiming a role for women in post-1968 activist movements.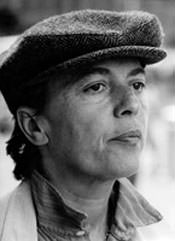 Wittig came to the United States in 1976 with her partner, filmmaker Sande Zeig. They eventually settled in Tucson, Arizona, where Wittig was on the faculty at the University of Arizona, teaching in French and women's studies. She continued to teach, write, and publish short fiction and essays until her passing in 2003.
The Monique Wittig papers cover her life and work, focusing mainly on the period from the mid-1970s forward. Among the early material are notes on L'Opoponax, drafts of two unpublished works: La mécanique and L'Amant vert, and key letters from Mary McCarthy, Marguerite Duras, and Wittig's publishers. Substantial files cover the creation of the books Paris-La-Politique, Lesbian Peoples, Voyage sans fin, Jeanne d'Arc, and The Girl. Also included are files of correspondence from the 1980s and 1990s, documentation of Wittig's teaching and participation in conferences, editions of her books, and scholarly articles on Wittig.
For more information about Monique Wittig, visit www.moniquewittig.com.
The Monique Wittig Papers are open for research and a finding aid can be found here: http://hdl.handle.net/10079/fa/beinecke.wittig