Drawings for "Flapper Filosofy" and "Ritzy Rosey"
This wonderful collection includes hundreds of small postcard-sized images of flapper life, drawn by Faith Burrows for her cartoon series' "Flapper Filosofy" and "Ritzy Rosey." "Flapper Filosofy" was a newspaper comic panel distributed by several papers in the late 20s and early 30s. "Ritzy Rosey" was its precursor. The cartoons are arranged by year, running from 1927 to 1931.
Call Number: YCAL MSS 1073, Box 1
*
Flaming Youth by Warner Fabian
When it was published in 1923, Flaming Youth shocked and scandalized audiences. Written by Samuel Hopkins Adams under the pseudonym "Warner Fabian," the book portrays the life of a young flapper. It's especially notable for its frank portrayal of female sexuality. It was adapted into a silent film in 1923 starring Colleen Moore. Later, F. Scott Fitzgerald argued in his essay "Echoes of the Jazz Age" that the book and film changed the sexual mores of American culture. The Beinecke's first edition copy is inscribed to Stephen Vincent Benet by the author.
Call Number: Za Ad18 923Fe
*
Flapper Photograph Album
This photograph album depicts a woman's life and travels through the west coast from 1923 through 1928. The woman herself is unidentified, but throughout the album she exhibits wonderful flapper fashion. The album contains many photos of her friends, labeled in her own handwriting with names, locations, and even the occasional qualitative judgement about their fashion choices. It gives a wonderful sense of a woman's life in the 1920s.
Call Number: 2016 wa 0280 ; Mssu (Mason)
*
Smoldering Flames: Adventures and Emotions of a Flapper by Clara Palmer Goetzinger, with illustrations by Glenn Sheffer
Smoldering Flames is worth a read for its amazing record of contemporary slang alone. Published in 1928, this book is clearly influenced by Fabian's Flaming Youth. Flappers are once again associated with flames, though in this case it seems to be the smoldering flames of cigarettes. The book is written as the diary of Nan Livingstone, a young flapper in the 1920s. It tells the story of Nan's raucous youth and romantic adventures in her own words, featuring an abundance of capitalized words and exclamations. The illustrations, by Glenn Sheffer, depict riotous scenes of flapper parties.
Call Number: Za G558 928S
*
Stephen Longstreet Harlem Sketches
Stephen Longstreet was an American author and artist. His papers include some wonderful sketches made of Harlem during the Jazz Age. Only one is labeled "flapper" specifically, but the drawings as a whole do a wonderful job of conveying the new spirit, fashion, and music culture of the Jazz Age.
Call Number: Stephen Longstreet Papers, YCAL MSS 262, Box 1
*
Honoria Murphy's scrapbook of fashions from 1932
This wonderful historical object is a scrapbook of fashions from 1932, cut from magazines by Honoria Murphy. Honoria Murphy was the daughter of Gerald and Sara Murphy, born into a family at the center of 1920s modernism in Europe. Honoria put together this scrapbook when she was 14, "especially for my children when I am grown-up, to show them all the fashions of my time." The scrapbook is unfinished, but her clippings are collected together. They contain images of flapper actresses and fashion, visions of the "new woman" seen through the eyes of a young girl.
Call Number: Sara and Gerald Murphy Papers, YCAL MSS 468, Box 163
*
"The Flapper" poem by George Harmon Coxe
George Harmon Coxe is known for writing crime fiction novels. As a young man, however, he also wrote this short and funny poem called "The Flapper." It is housed among the Beinecke's collection of Coxe's papers, and is well worth a look for anyone interested in contemporary reception of the flapper ideal.
Call Number: George Harmon Coxe Papers, YCAL MSS 556, Box 35
*
Helen E. Hokinson's Cartoons for the New Yorker
Helen E. Hokinson began her career as a fashion illustrator and designer, and started working as a cartoonist for the New Yorker in 1925. Her papers contain drafts and final versions of cartoons from throughout her career. In her first portfolios, her cartoons are particularly concerned with women's everyday life and fashion in the flapper era. For example, a character experiments with a longer hairstyle and can't use any of her hats—a riff on the short bob hairstyles popularized in the 1920s by flapper starlets like Louise Brooks.
Call Number: YCAL MSS 1084, Box 2
*
William Shawn papers relating to Louise Brooks, 1956-1986
Louise Brooks was an actress, dancer, and flapper icon in the 1920s and 30s. These papers contain a wealth of correspondence between Brooks and William Shawn, as well as essays by Brooks herself. Shawn collaborated with Brooks on a series of essays called "Lulu in Hollywood" about Brooks' life as a flapper and film actress.
Call Number: YCAL MSS 886
*
Coin purses from the Murphy collection
These coin and evening bags are wonderful examples of 1920s and 1930s accessories. Beaded pouches were popular in this era, especially with beaded fringe on the bottom to mimic the swinging movement of flapper skirts. The "leather beaded pouch with metal bells," especially, is a fascinating object. It seems to take inspiration from Native American beading, and apply that art to a 20's fashion context.
Call Number: Sara and Gerald Murphy Papers, YCAL MSS 468, Box 69
*
Bonus three, for those interested in flapper actresses:
Studio portrait of Louise Brooks by an unidentified photographer (circa 1927)
This portrait shows off the bob hairstyle that Louise Brooks and Colleen Moore helped to popularize as starlets. The bob hairstyle came to define both the Jazz Age and the flapper aesthetic.
Call Number: 2011 ycal 49407 ; Mssu (Neiger)
*
Letters from Joan Crawford to Lynn Riggs, 1935-44
Joan Crawford became famous as a flapper after her appearance in "Our Dancing Daughters" (1928). This correspondence is between her and Lynn Riggs, an American writer. The letters are part of the Lynn Riggs papers, and contain references to Riggs' plays of the time.
Call Number: Lynn Riggs Papers, YCAL MSS 61, Box 1
*
Photo of Tallulah Bankhead with "Winston Churchill"
Tallulah Bankhead was an actress and flapper of the same era as Brooks, Moore, and Crawford. This postcard-portrait by Carl Van Vechten is in the Windham Campbell papers, and depicts a slightly older Bankhead with a lion cub named "Winston Churchill."
Call Number: Donald Windham and Sandy Campbell Papers, YCAL MSS 424, Box 38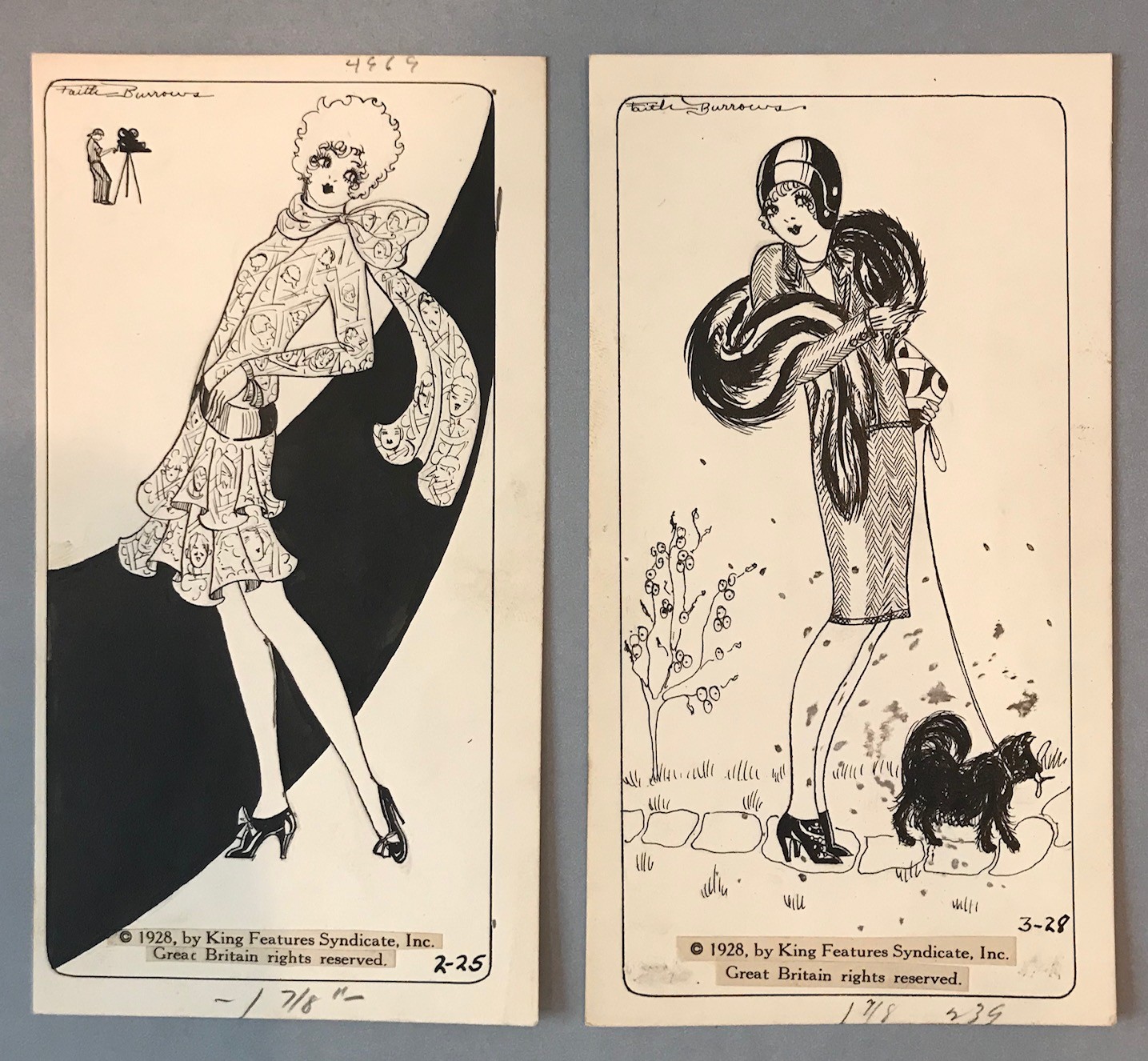 Above: two drawings from "Flapper Filosofy," 1928
Featured Image: a page from the "Flapper Photograph Album"
Beinecke Top Tens gather (approximately) ten related items to give an at-a-glance look at some of the Library's interesting, important, strange, compelling, beautiful holdings. To suggest a list subject, contact us: Top Ten Ideas.