From his years as an undergraduate at Yale to his death in 1975, Thornton Wilder (Class of 1920) attended hundreds of plays. His playbill collection spans the width of a continent, and the length of almost five decades. It encompasses farcical comedies and Shakespearean tragedies, yellowed slips of paper and glossy pamphlets, Broadway opening nights and weekend college productions. The wide variety of these productions speaks to Wilder's voracity as a theater goer, and to the wide range of influences from which he drew inspiration. Meanwhile, filled as they are with actor's biographies, theatrical articles, and even advertisements, the playbills themselves do not simply give us a window into Wilder's life, but into the era in which he lived.
All playbills can be found in the Thornton Wilder Collection, call number YCAL MSS 108 Boxes 145-147, except for The Skin of Our Teeth, which is located in box 206.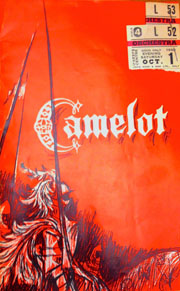 Camelot
The Broadway musical that would be nominated for five Tonys (and win four) opened in Toronto in 1960. With a running time of four-and-a-half hours, and a fractious creative team, the show succeeded in large part because of the immense talent of his cast. A young Richard Burton was optimistic and flexible despite the show's constantly changing script, while an even younger Julie Andrews matched her co-star with flair, famously commenting (after being handed a new song on opening night), "Of course darling, but do try to get it to me the night before."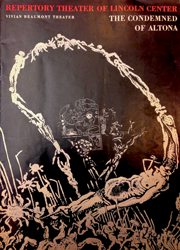 The Condemned of Altona
One of Jean-Paul Sartre's many works to meld dramatic narrative with philosophical thought,The Condemned of Altona was one of the great thinker's last plays. Taking as its subject a dysfunctional family of German industrialists, the play jumps back and forth in time, and advances Satre's ideas about responsibility and autonomy. It premiered in New York in 1965, during the opening season of the Vivian Beaumont Theater.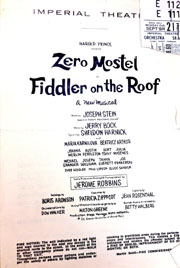 Fiddler on the Roof
Based on the short stories of Sholom Aleichem, Fiddler on the Roof had a creative team made up of some of the biggest names in the business, including producer Harold Prince, director/choreographer Jerome Robbins, and actor Zero Mostel. Before the show opened in 1964, the director and his star clashed at every turn; Mostel mocked Robbins' stiff and anxious personality, while Robbins struggled to direct an actor who was undisciplined and unpredictable. Still, the production swept the Tonys.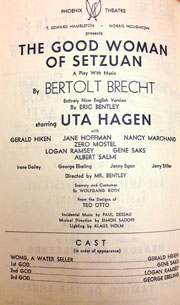 The Good Woman of Sezuan
This influential piece first opened in New York in 1956, after Bertolt Brecht's death. The influence of Brecht's ideas of "epic theater" and alienation of the audience is clear throughout Wilder's work, particularly in The Skin of Our Teeth, which Wilder had written over 10 years before he saw the production of Sezuan. The cast included Uta Hagen as the eponymous good woman, and Zero Mostel as a violent barber who is in love with her.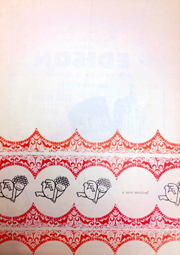 Grand Tour
Over a decade before lyricist Richard Maltby and composer David Shire first premiered a song on Broadway, they had already begun their partnership at Yale University. Members of the class of '59, Maltby and Shire wrote Grand Tour, an "integrated musical" in which "[s]ongs, dances, and musical numbers do not exist as independent show pieces, but as elements which advance the plot or define a character," as they themselves put it in their Authors' Note. The Yale Dramatic Association produced the show, and it went up in the University Theatre.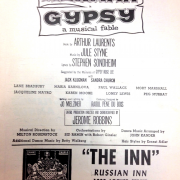 Gypsy
Wilder didn't see Gypsy on Broadway, but in Philadelphia at the Shubert Theatre, during its preview run. Still, he witnessed Ethel Merman perform as Mama Rose, which she considered her favorite and best part.
The Homecoming
The work that would win Harold Pinter his only Tony Award for Best Play made its Broadway premiere at The Music Box Theater in 1967. It opened to mixed reviews, with The New York Times going so far as to call the play "arthritic." Time would invalidate this view; as Noel Coward said to Pinter after seeing the play, "You cheerfully break every rule of the theatre … except the cardinal one of never boring for a split-second."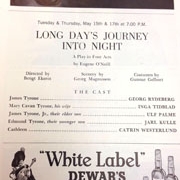 Long Day's Journey Into Night
Eugene O'Neill specified in his will that he wanted the Royal Theater of Sweden to produce his final and most autobiographical play, because of the success that his work had long experienced in that country. Long Day's Journey Into Night premiered in Stockholm in 1956, to great acclaim, before moving to Broadway later that year. Though O'Neill refused to allow it to appear during his lifetime, it is now one of his most well-known and beloved works.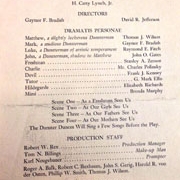 On the House, based on Thornton Wilder's Our Century
In a rare lapse of judgment, Thornton Wilder served during the 1950s as a visiting professor at Harvard University, whose oldest house, Dunster, celebrated its 20th anniversary in 1950. In honor of this occasion, Wilder collaborated to write the satirical play On the House, which featured such characters as "Luke, a Dunsterman of artistic temperament," and "Matthew, a slightly lecherous Dunsterman."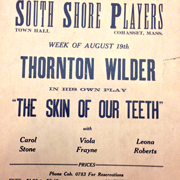 The Skin of Our Teeth
This play, which won Thornton Wilder his third Pulitzer Prize (the first was in literature, and the second was for Our Town) opened at the Shubert Theatre of New Haven in 1942. It moved to Broadway shortly after. The New York Times (perhaps wiser than it was 15 years later when reviewing Pinter) called the play "the best pure theatre" of the decade. This playbill, however, comes from a performance in Cohasset, Massachusetts in which Wilder himself played the iconic role of the Stage Manager.
Gabrielle Hoyt-Disick, Class of 2015
Beinecke Top Tens gather (approximately) ten related items to give an at-a-glance look at some of the library's interesting, important, strange, compelling, beautiful holdings. To see more lists, click here: Beinecke Top Tens. To suggest a list subject, contact us: Top Ten Ideas.