Collection of Glenway Wescott's Journals Named Best Gay Biography for 2013
"A Heaven of Words: Last Journals, 1956-1984," a collection of journal entries by the late writer Glenway Wescott, landed the prize for Best Gay Biography/Memoir at last night's Lambda Literary Awards.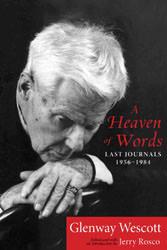 The book's editor, Jerry Rosco, spent nearly a decade compiling and editing material from Wescott's journals, which are housed at the Beinecke Rare Book & Manuscript Library.
"Jerry Rosco's extraordinary efforts to research and edit Glenway Wescott's late journals exemplifies both intellectual dedication and an act of intense devotion to his subject," said Timothy Young, the Beinecke's curator of Modern Books and Manuscripts.
Wescott, who died in 1987, was a figure in the American expatriate literary community in Paris during the 1920s.  He published the powerful short novel "The Pilgrim Hawk: A Love Story" in 1940. He also wrote the novels "The Grandmother" and "Apartment in Athens" along with several collections of stories and essays.
The Beinecke Library's archive of Wescott's papers includes his journals, correspondence, manuscripts, notebooks and other personal papers.
The journal entries chronicle the artistic and literary circles Wescott cultivated, alongside his observations about life, such as his thought for September 6, 1973:
"A fact ever recurrent in my existence and in my thoughts these days, which I hope to elucidate before it gets lost in the shadows of the passage of time: senescence is as interesting as adolescence."
The 26th Annual Lambda Literary Awards, or the "Lammys," celebrate achievement in lesbian, gay, bisexual, and transgender (LGBT) writing for books published in 2013.