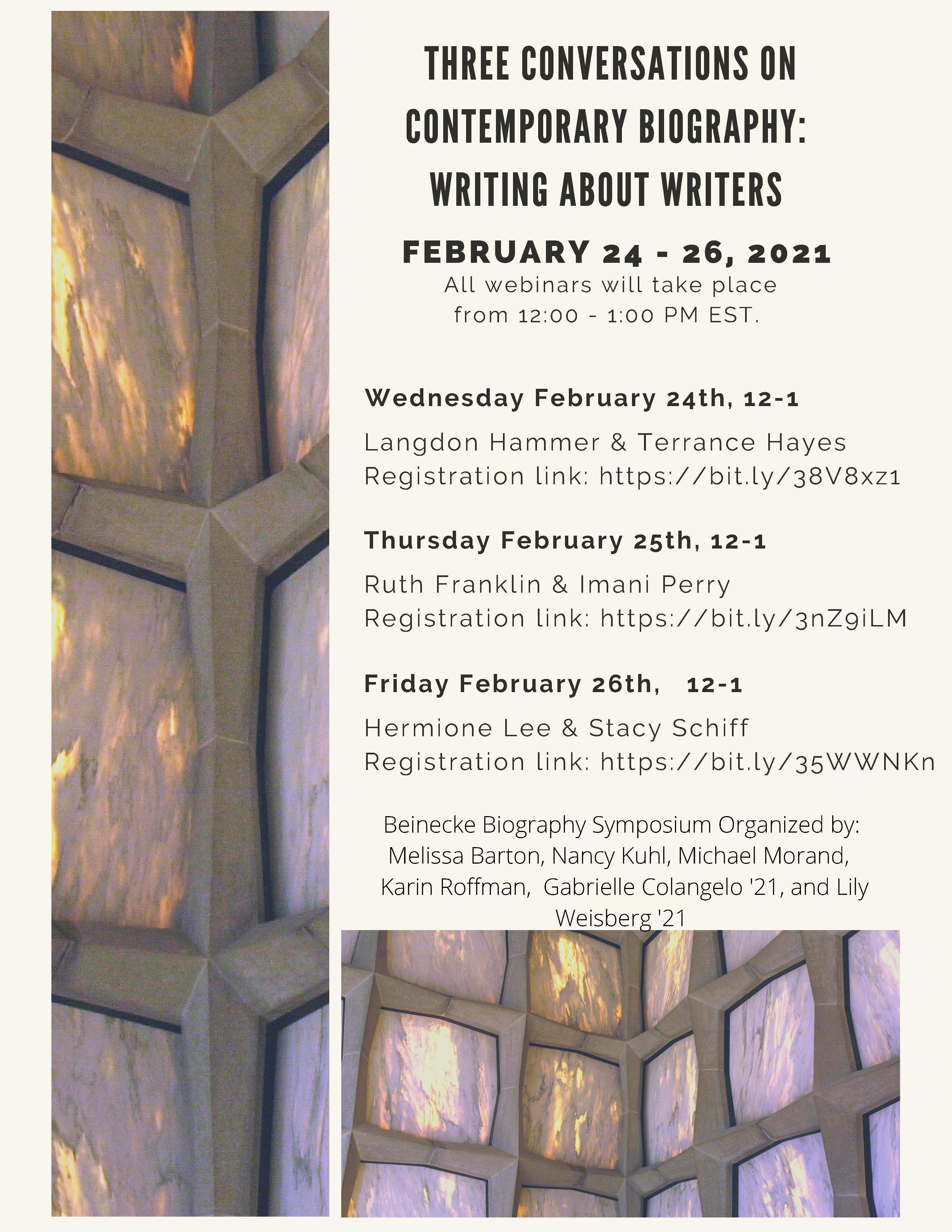 Ruth Franklin is a book critic and former editor at The New Republic. Her first biography, Shirley Jackson: A Rather Haunted Life (Liveright/W.W. Norton, 2016) won the National Book Critics Circle Award for Biography. Franklin's work appears in many publications, including The New Yorker, The New York Times Book Review, The New York Review of Books, and Harper's. She is the recipient of a Guggenheim Fellowship in biography, a Cullman Fellowship at the New York Public Library, a Leon Levy Fellowship in biography, and the Roger Shattuck Prize for Criticism. Her first book, A Thousand Darknesses: Lies and Truth in Holocaust Fiction (Oxford University Press, 2011), was a finalist for the Sami Rohr Prize for Jewish Literature. (ruthfranklin.net)
Langdon Hammer is the Niel Gray, Jr. Professor of English at Yale and poetry editor of The American Scholar. His books include Hart Crane and Allen Tate: Janus-Faced Modernism and James Merrill: Life and Art (Knopf, 2015), which won the Lambda Literary Award for Gay Biography and was chosen by Dwight Garner as one of his ten best books of the year for The New York Times. With Stephen Yenser, he edited A Whole World: Letters from James Merrill (Knopf, 2021). He has received a Guggenheim Fellowship and is a former fellow of the Leon Levy Center for Biography. His Modern Poetry course is available on Yale Open Courses. He is currently at work on a critical biography of Elizabeth Bishop.
Terrance Hayes is a Professor of English at New York University and a 2014 MacArthur Fellow. His most recent publications include American Sonnets for My Past and Future Assassin (Penguin 2018) and To Float In The Space Between: Drawings and Essays in Conversation with Etheridge Knight (Wave, 2018). To Float in the Space Between is based on his Bagley Wright lectures on the poet Etheridge Knight: Hayes offers not quite a biography but a compilation "as speculative, motley, and adrift as Knight himself". It was the winner of the Poetry Foundation's 2019 Pegasus Award for Poetry Criticism and a finalist for the 2018 National Book Critics Circle Award in Criticism. The book American Sonnets for My Past and Future Assassin won the Hurston/Wright 2019 Award for Poetry and was a finalist for the 2018 National Book Critics Circle Award in Poetry, the 2018 National Book Award in Poetry, the 2018 TS Eliot Prize for Poetry, and the 2018 Kingsley Tufts Poetry Award. (terrancehayes.com)
Hermione Lee was President of Wolfson College from 2008 to 2017 and is Emeritus Professor of English Literature in the English Faculty at Oxford University. She is a biographer and critic whose work includes biographies of Virginia Woolf (1996), Edith Wharton (2006), and Penelope Fitzgerald (2013, winner of the 2014 James Tait Black Prize for Biography and one of the New York Times best 10 books of 2014). She has also written books on Elizabeth Bowen, Philip Roth, and Willa Cather, an OUP Very Short Introduction to Biography, and a collection of essays on life-writing, Body Parts. From 1998 to 2008 she was the Goldsmiths' Professor of English Literature at Oxford. She is a Fellow of the British Academy and on the Council of the Royal Society of Literature, as well as a Trustee of the Wolfson Foundation and a Foreign Honorary Member of the American Academy of Arts and Sciences. In 2003 she was made a CBE and in 2013 she was made a Dame for services to literary scholarship. Her most recent book Tom Stoppard: A Life will be released in the US on February 23rd, 2021. (hermionelee.com)
Imani Perry is the Hughes-Rogers Professor of African American Studies at Princeton University and a faculty associate with the Programs in Law and Public Affairs, Gender and Sexuality Studies, and Jazz Studies. She is the author of 6 books, including Looking for Lorraine: The Radiant and Radical Life of Lorraine Hansberry, which received the Pen Bograd-Weld Award for Biography, The Phi Beta Kappa Christian Gauss Award for outstanding work in literary scholarship, the Lambda Literary Award for LGBTQ Nonfiction and the Shilts-Grahn Award for nonfiction from the Publishing Triangle. Her book May We Forever Stand: A History of the Black National Anthem, was winner of the 2019 American Studies Association John Hope Franklin Book Award for the best book in American Studies, the Hurston Wright Award for Nonfiction, and finalist for an NAACP Image Award in Nonfiction. Her most recent book, Breathe: A Letter to My Sons (Beacon Press, 2019), was a finalist for the 2020 Chautauqua Prize and a finalist for the NAACP Image Award for Excellence in Nonfiction.
Stacy Schiff is the author most recently of The Witches: Salem, 1692, a #1 bestseller. Schiff is as well the author of Cleopatra, winner of the PEN/Jacqueline Bograd Weld Award for biography; Véra (Mrs. Vladimir Nabokov), winner of the Pulitzer Prize; Saint-Exupéry, a Pulitzer Prize finalist; and A Great Improvisation: Franklin, France, and the Birth of America, winner of the George Washington Book Prize, the Ambassador Award in American Studies, and the Gilbert Chinard Prize of the Institut Français d'Amérique. Schiff has received fellowships from the Guggenheim Foundation and the National Endowment for the Humanities and was a Director's Fellow at the Cullman Center for Scholars and Writers at the New York Public Library. Schiff has written for The New Yorker, The New York Times, The Washington Post, and The Times Literary Supplement, among many other publications. Awarded a 2006 Academy Award in Literature from the American Academy of Arts and Letters, she was inducted into the Academy in 2019. (stacyschiff.com)