Chopin's own "Borealis" in coffee stain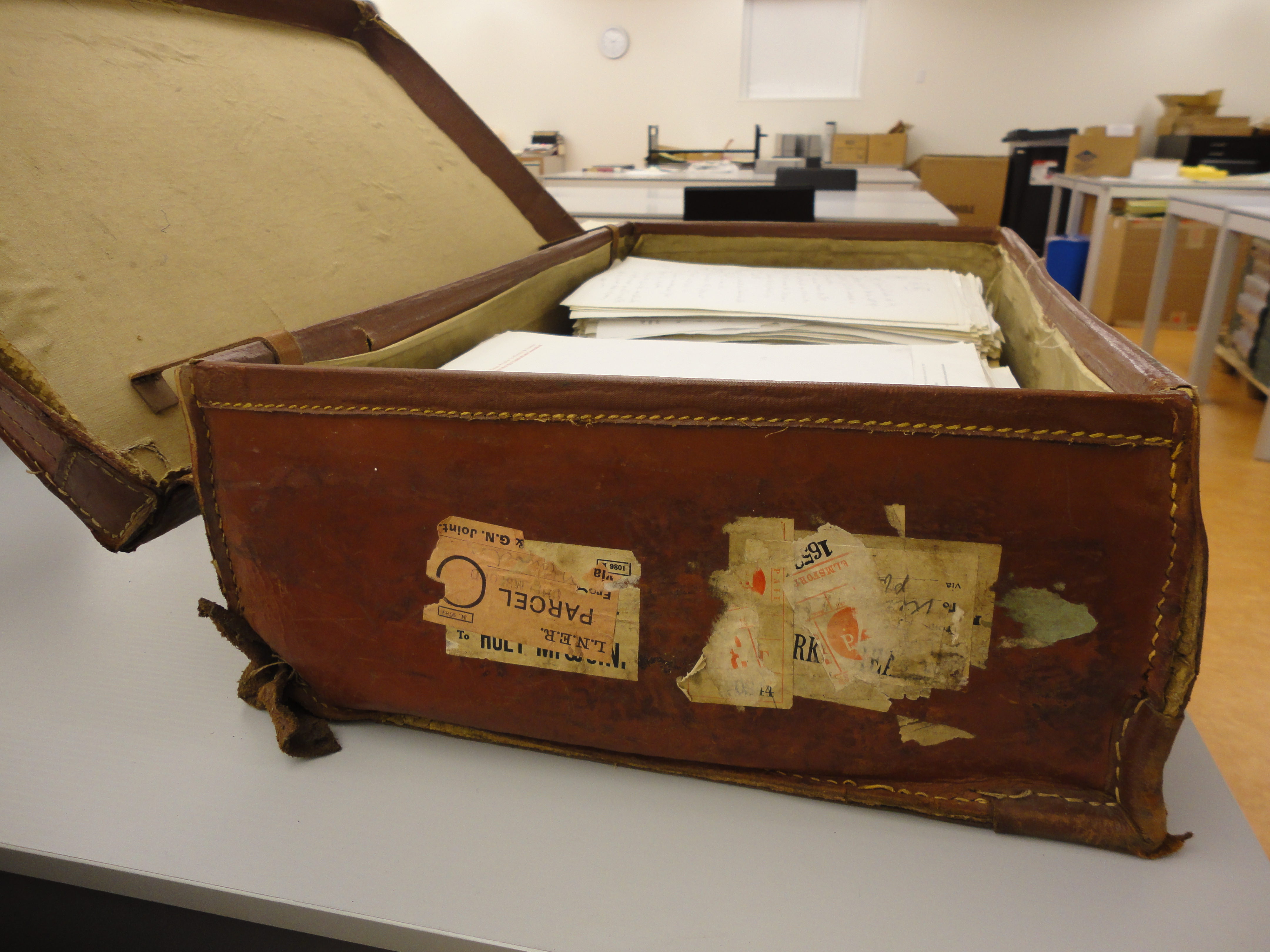 Along with voluminous correspondence, various writings, audiovisual material, and original artworks, Chopin's archive houses his extremely hard-to-define, lifelong hoarding art project called Milles Pensées, or "1000 thoughts."  He assembled these reminiscences, thoughts, and creative brainstormings in the form of scribbles, collages, typewriter poems, and ephemera pasted on printer paper, old correspondence, or loose manuscript pages. These 3000 separate pieces were found in two old suitcases, piled in without any detectable order or rationale for their placement.  About half are illegible handwritten notes that one can only guess at.  In fact, at first swipe it feels nearly impossible to understand any of the Milles Pensées.

A typewriterpoem and collaged coffee filter
The archivists in possession of it before Beinecke describe it as a "Work in progress," and organized piles by similiarity in physical appearance.  Curiously, the rubberbands which maintain each separate pile seem quite old and worn, causing one to wonder how Chopin himself had used the rubberbands.  The way he had it originally is unfortunately lost to us now.  What at first feels like a monolithic, even frightening peek inside his brain and spirit, raising far more questions than it provides answers–Can it be read or a interpreted as a coherent whole, or is each document a piece unto itself?  How can we characterize what was included in the Milles Pensées and what is categorized elsewhere?  What role did the suitcases play?  Was it meant to be an installation piece?–the Milles Pensées nonetheless becomes completely engrossing and quite fun.
In shifting between morbidly religious and downright playful, a complex portrait of Chopin emerges: there are constant allusions to his experience in the war, his relationship to art, creation, and death, as well as very honest discussions of fellow artists, friends, and foes.  Undoubtedly though, the form of the project provides an unmistakable idea of the man himself.  One can just see him sitting up at night, chain-smoking with a bottomless cup of coffee, absorbed by this obsessive, deeply personal impulse. Such a unique set of objects–uniquely insightful and uniquely powerful–proves invaluable to the study of Chopin.  And this is the very first time it will become available for study.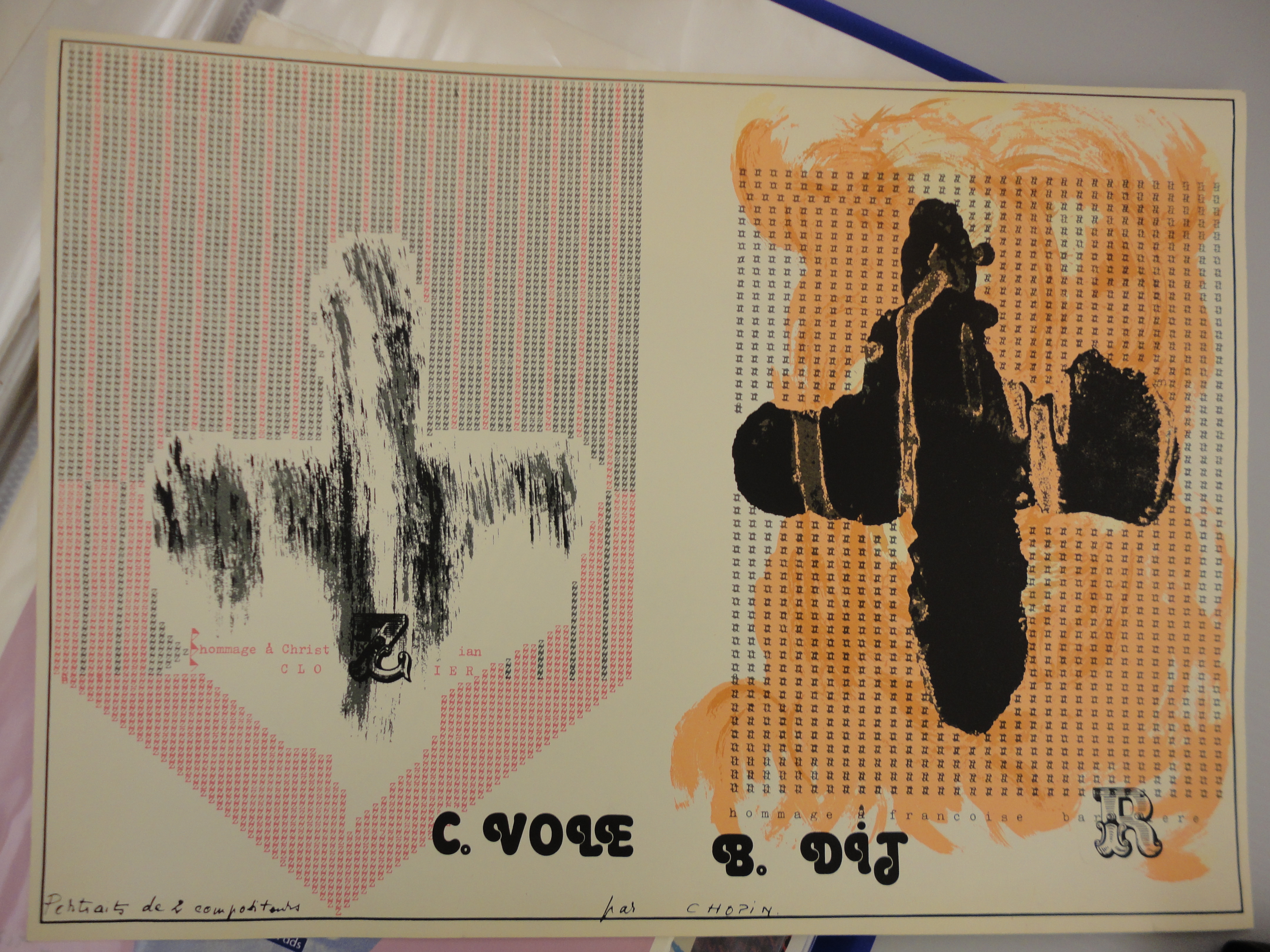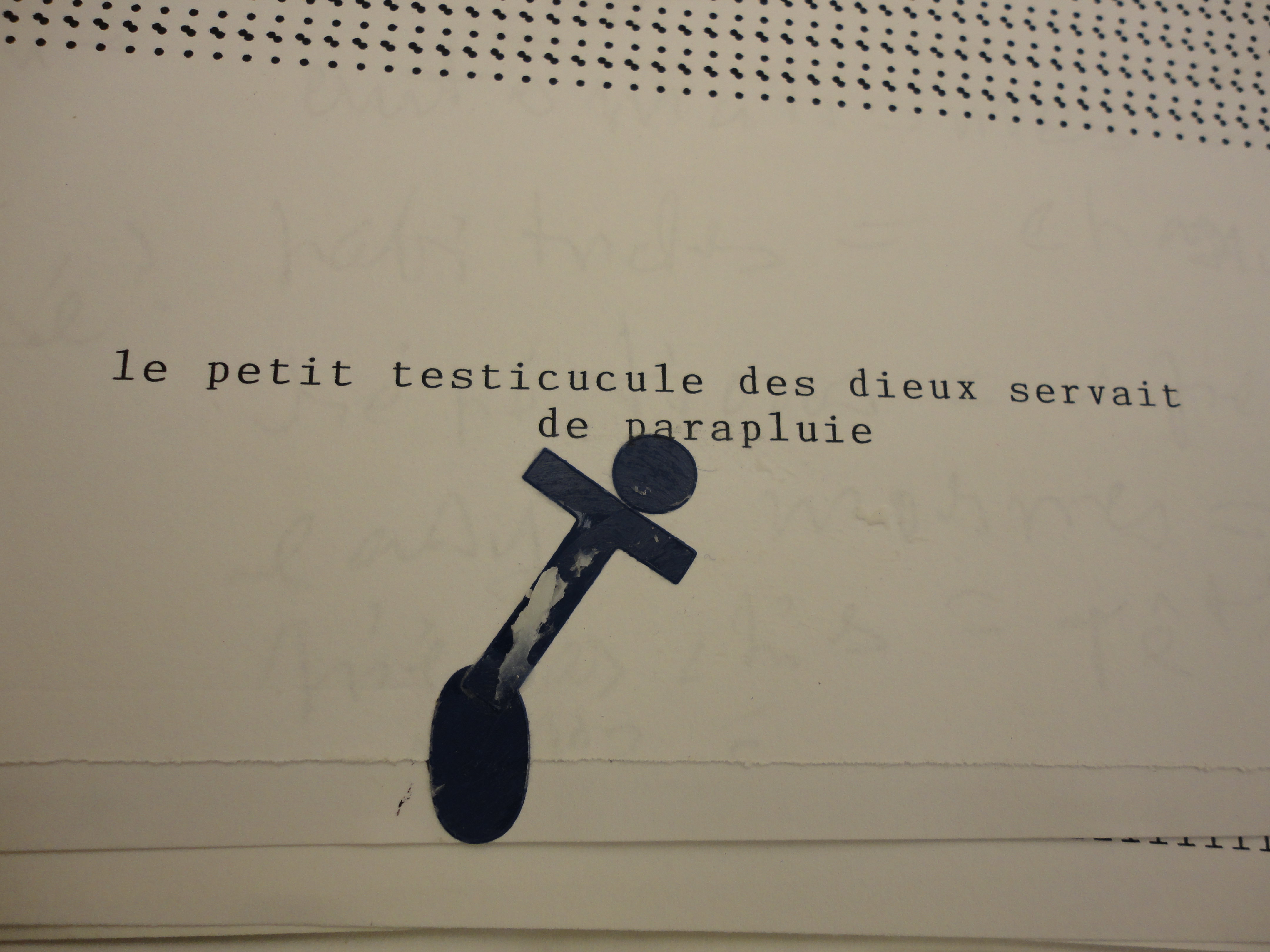 "The small testicle of the Gods was used as an umbrella."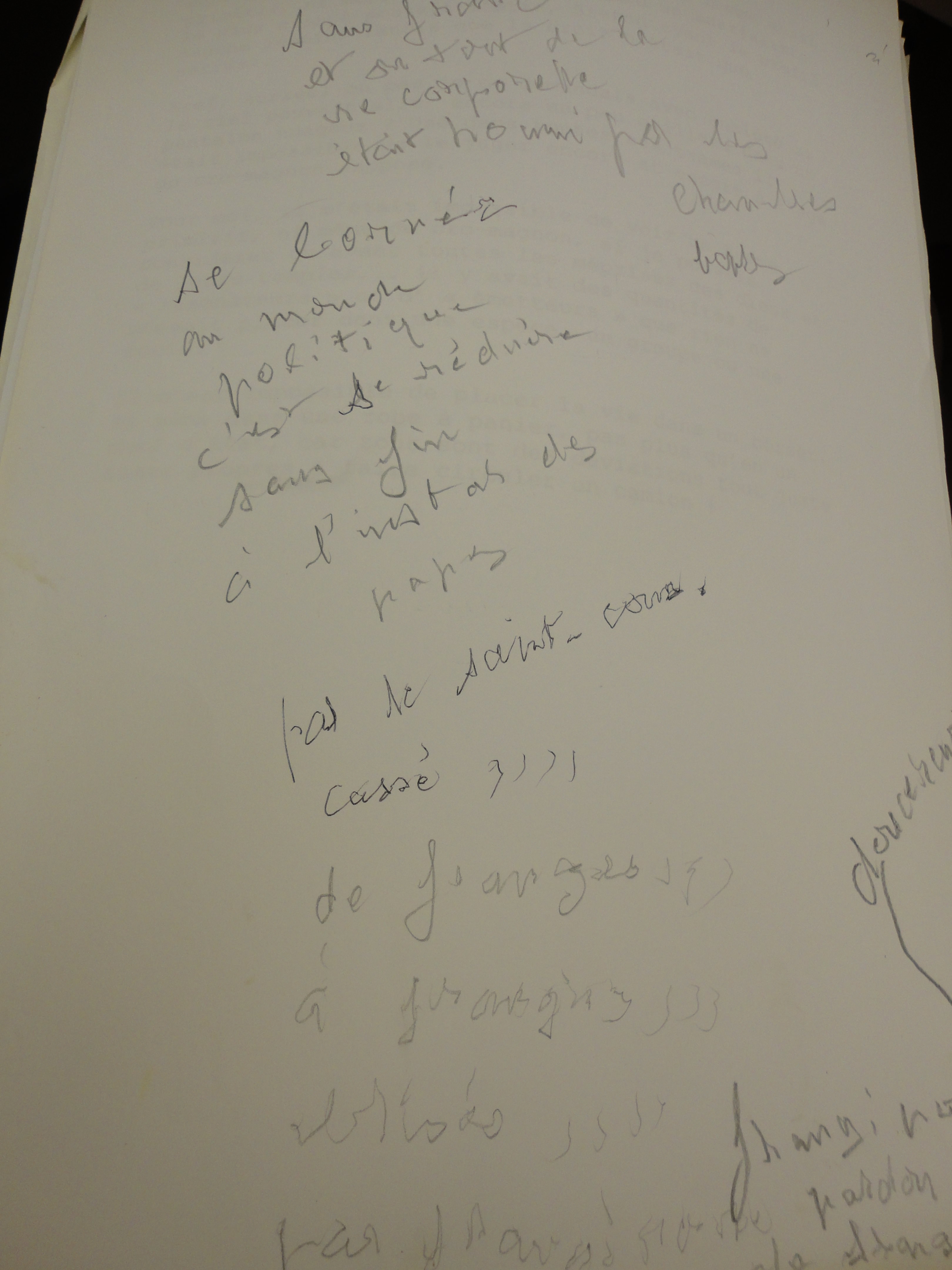 Characteristic scribbling, on seemingly every surface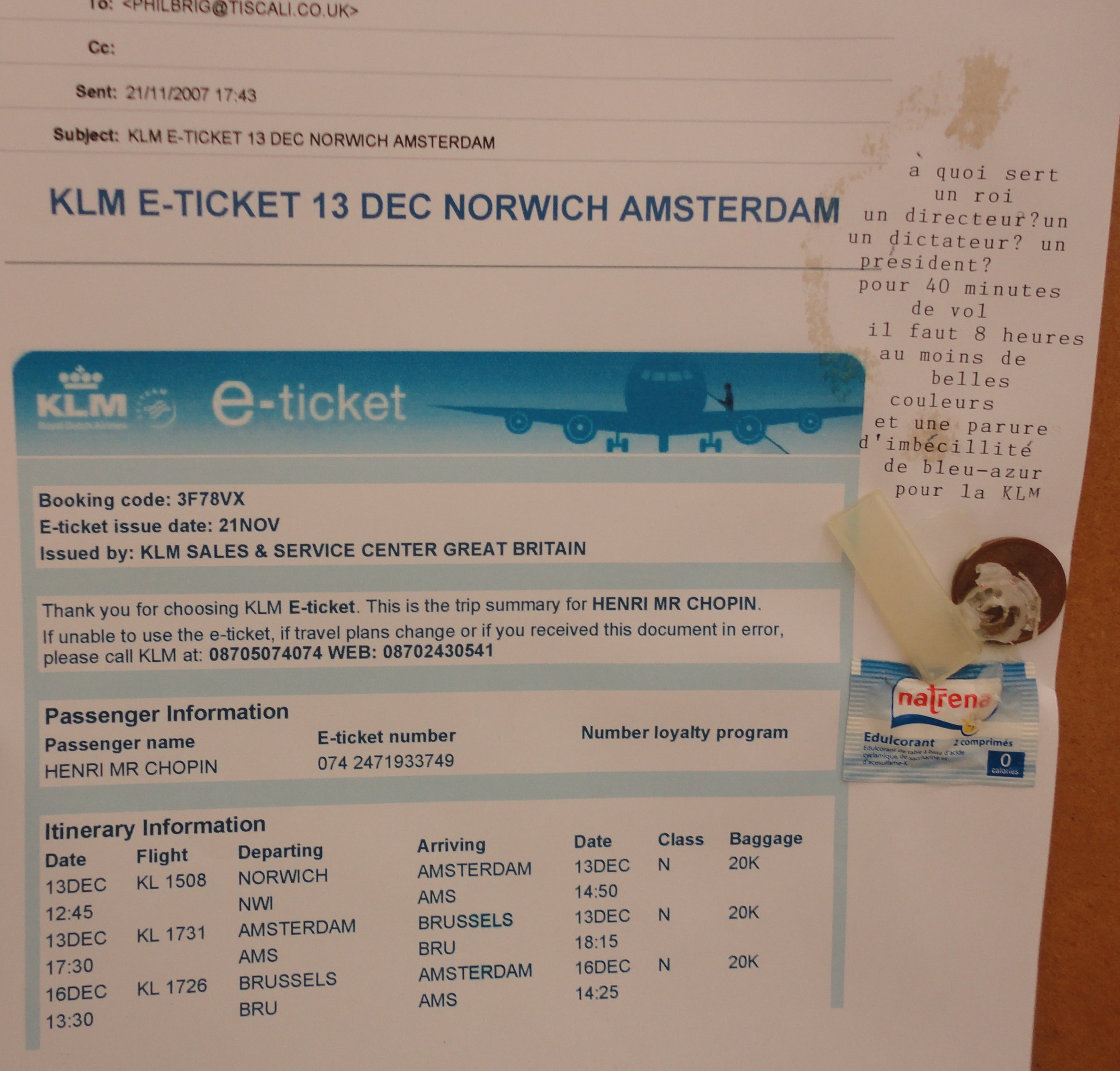 Poem, gum wrapper, and coin pasted to old flight itinerary