Icilio Federico Joni (1866-1946) in his workshop, undated photo.
The Beinecke Rare Book & Manuscript Library's newest acquisition of a bookbinding without any book inside might come as a surprise to many. These two empty binding panels never contained a book at all but instead are a forged bookbinding from the nineteenth century.  Icilio Federico Joni (1866-1946) layered these wooden panels with plaster and painted them with tempera to imitate fifteenth-century bindings. While the front panel holds a central silver relief shaped like an altar that frames scenes from the life of Christ, the back panel has a painted portrait of a male Saint dressed in Renaissance attire against a gold ground. There are brass bosses on the four corners of each panel (see image below).
Working in a gilding shop as a young man in Siena, Icilio Joni soon found that his talents with wood, plaster, and paint could be used to earn him far more money in the art market. He started a side business of restoration, which quickly also extended to forgeries. The nineteenth century in Italy proved to be a very profitable time for art forgers creating Renaissance works, and Joni was certainly not the only one to take advantage of the market. Using tempera and gold on panels, Joni mostly forged panel paintings, triptychs, and wooden caskets, claiming them as fifteenth- or sixteenth-century originals. He uniquely also extended his skills to creating forged panel bookbindings including the Beinecke's acquisition of GEN MSS 1452 (Oversize). He attempted to create these bindings in an imitation of the tavolette Siennese book covers. From the thirteenth to the seventeenth centuries, the city of Siena bound their treasury, or Biccherna, accounts every six months in these tavolette bindings. The bindings usually consisted of wooden boards with painted portraits, coats of arms, names of officials, and other scenes, but in 1459 they began to cover the exposed boards with leather and continued in that style from then on.
After reading about the tavolette covers in a printed pamphlet, Joni copied the bindings. Yet he admitted in his autobiography that he never went to the Archivio di Stato to look at the original bindings, so he was simply guessing at their design. While the bindings had accurate shields on them and looked convincing enough to some buyers, they differed quite substantially from the originals. One key flaw in Joni's design is that he dated many of the painted wooden boards after 1459, the year when the style changed to be leather covers instead. His illicit business was initially quite secretive with Joni arranging for the boards to be sold by his associates in Florence and Rome. However, wanting fame, Joni eventually stopped making any attempts to hide his forged art. He claimed in his autobiography that he even showed one to the director of the Archivio di Stato to test how convincing they were and that the director thought it was beautiful. Even after his charade of forgeries was up, he still received commissions for the forged bindings due to the excellent craftsmanship.
At least fourteen extant examples of Joni's tavolette bindings have been recorded, and it is presumed that many more are in circulation. The acquisition of this forgery provides the Beinecke's collection with an important piece of history that ends up revealing far more about the nineteenth-century society in which it was produced than the fifteenth-century world which it purports to come from.
The binding panels may be viewed in the reading room during the Beinecke Library's viewing hours.
Written by: Chelsea Connelly, Beinecke Library Curatorial Assistant and Doctoral Candidate in History of Art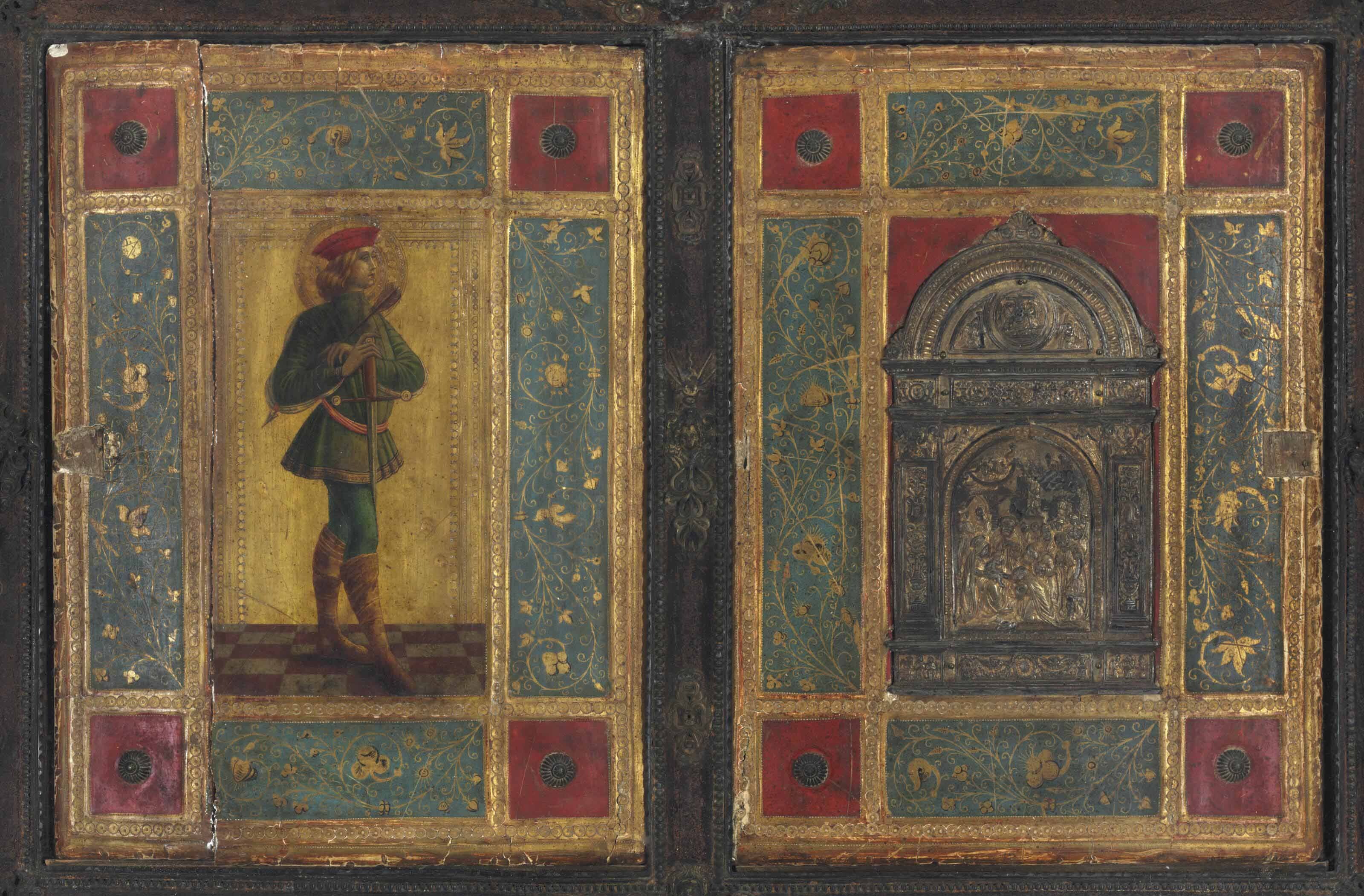 The bookcovers now in the Beinecke Library's collection.
Bibliography
Icilio Federico Joni, Le Memorie di un Pittore di Quadri Antichi, trans. Lucia Arigliano (Siena: Protagon, 2004) [facing page English translation of Joni's autobiography].
H.M. Nixon, "Binding Forgeries," Transactions of the VIth International Congress of Bibliophiles, 1969 (Vienna, 1971): 69-83.
M. Foot, "A Pair of Bookcovers of the late 19th Century by I.F. Joni," The Book Collector (1985): 488-489.
Gianni Mazzoni, Falsi d'autore: Icilio Federico Joni e la cultura del falso tra Otto e Novecento (Siena: Protagon, 2004).
Roderick Conway Morris, "Masters of the art of fogery," International Herald Tribune, July 31, 2004. Review of Mazzoni, Falsi d'autore, above. Link.
Links
From electron microscopes to X-ray, high tech tools expose low-tech art forgery. Accessed 1/16/2020.
Famous Fake Friday: Icilio Federico Joni. Accessed 1/16/2020.
Images of Joni's forged work that have come to auction: http://www.artnet.com/artists/icilio-federico-joni/