Ethiopia has a vibrant history of manuscript production spanning hundreds of years. Primarily written in Ge'ez, an Ethiopian liturgical language, the books and scrolls of Ethiopia have long been richly decorated— a tradition that continued through the nineteenth century. Manuscripts from Ethiopia are held in collections around the world, including in the collection of Beinecke Rare Book & Manuscript library. The continual production and dissemination of these books and scrolls over centuries speak to a long and complex literary and religious history. 
Beyond their distinctive illumination style, these manuscripts are notable for their construction. Ethiopian books often use a different type of binding than typical of most codexes bound in medieval Europe. Chain stitching was used to unite the quires— a technique that forwent the thick cords or bands used along the spine of a book used in other types of binding. While the two manuscripts featured below were either never bound or are now separated from their original binding, Beinecke Ethiopic MSS 5 provides a wonderful example of chain stitching.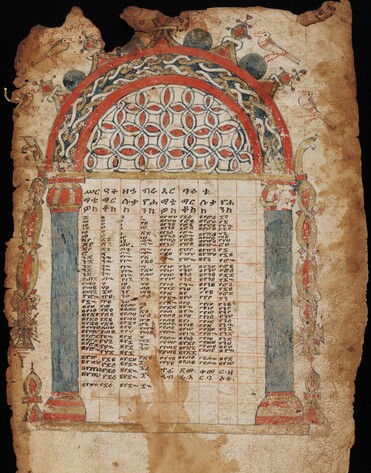 Beautifully rendered in blue, red and gold, this leaf from an Ethiopian bible dates to the mid-fifteenth century. Written and illuminated on paper, the page is dominated by the distinctive round arch of Eusebian canon tables. These tables would allow a reader to compare the gospels of Matthew, Mark, Luke, and John and to locate points in the text that either aligned or differed. First developed in the fourth century, the tables were a consistant feature of Christian biblical manuscripts during the medieval and early modern periods:  crossing borders, languages, and even continental divides. The arch serves not only as decoration, but also as an organizing device that is intimately associated with the Eusebian tables and is considered a standard element of their organization.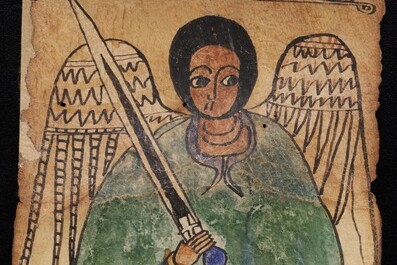 While previous example was made in the middle of the fifteenth century, this Ethiopian scroll is much newer— dating from the nineteenth century. Despite the relatively recent date of the scroll, it is a testament to an extremely long lasting and dynamic tradition of manuscript production. This scroll, written on parchment, contains a number of prayers and the names of saints in Ge'ez. While it appears that the scroll was first copied for Aksala Maryam, the name Walatta Gabra'el was later added. The image of an angel, probably Michael or Gabriel (detail to the left), and a talismanic cross accompany the text.  
External Links and Further Resources 
As more and more Ethiopian materials are digitized or put on public display, the number of links to these objects continuously grow. Below are just a few of the many resources on Ge'ez manuscripts, Ethiopian objects, and architecture.
Esler, Philip Francis. Ethiopian Christianity: History, Theology, Practice. Baltimore, Maryland: Project Muse, 2019. 
Horowitz, Deborah E., Editor. Ethiopian Art: The Walters Art Museum. Lingfield, Surrey: Third Millennium, 2001. 
Mann, C. Griffith. Art of Ethiopia. London: Sam Fogg, 2005. 
Mercier, Jacques. Ethiopian Magic Scrolls. New York: G, Braziller, 1979. 
Mercier, Jacques. Art That Heals: The Image as Medicine in Ethiopia. Munich : Prestel ; New York, N.Y. : Museum for African Art, c1997. 
Raunig, Walter and Prinz Asfa-Wossen Asserate, editors. Ethiopian Art: A Unique Cultural Heritage and Modern Challenge. Lublin: Marie Curie-Skłodowska University Press, 2007. 
Uhlig, Siegbert. Introduction to Ethiopian Palaeography. Stuttgart: F. Steiner 1990. 
Select Links
Yale University Guide to African Collections
Ethiopian Manuscripts at the Wellcome Collection
British Library, Endangered Archives Programme
The Ethiopian Collection at the Walters Museum
UNESCO World Heritage Convention - Rock-Hewn Churches of Lalibela