Exhibition Podcast: Metaphor Taking Shape: one of the exhibition curators discusses highlights from the show (MP3)
Metaphor Taking Shape: Poetry, Art, and the Book includes a broad display of books exploring the ways in which poets, publishers, artists, and printers have navigated the intersection of poetry and art in printed formats. The exhibition considers the ways poetry and book arts interact and connect, their shared context, and their potentially conflicting functions; materials on display explore questions of verbal and visual metaphor making, emphasizing the roles of creative and collaborative processes involved in uniting image, verse, and print. A companion exhibition, The Publishers' Roundtable: Book Artists in Dialogue, will be on view at the Arts of the Book Collection at Sterling Memorial Library. Both exhibitions are on view from January 22 through March 31, 2008.
Recordings of some of the poets featured in the exhibition can be found at the followings links: William Carlos Williams at PennSound; Johanna Drucker at PennSound; Ron Padgett at poets.org; John Yau at PennSound; C. D. Wright at poets.org; Robert Duncan at PennSound; Rita Dove at poets.org.
Image (above): Blaise Cendrars, watercolor pochoir by Sonia Delaunay, La Prose du Transsibérien et de La Petite Jehanne de France, Paris: [Les Hommes Nouveaux], 1913 (detail).
Other works discussed in this podcast include the following:

Works by William Morris at the Kelmscott Press, including
Dante Rosetti, drawings by William Morris, Ballads and Narrative Poems, Hammersmith: Kelmscott Press, 1893.
***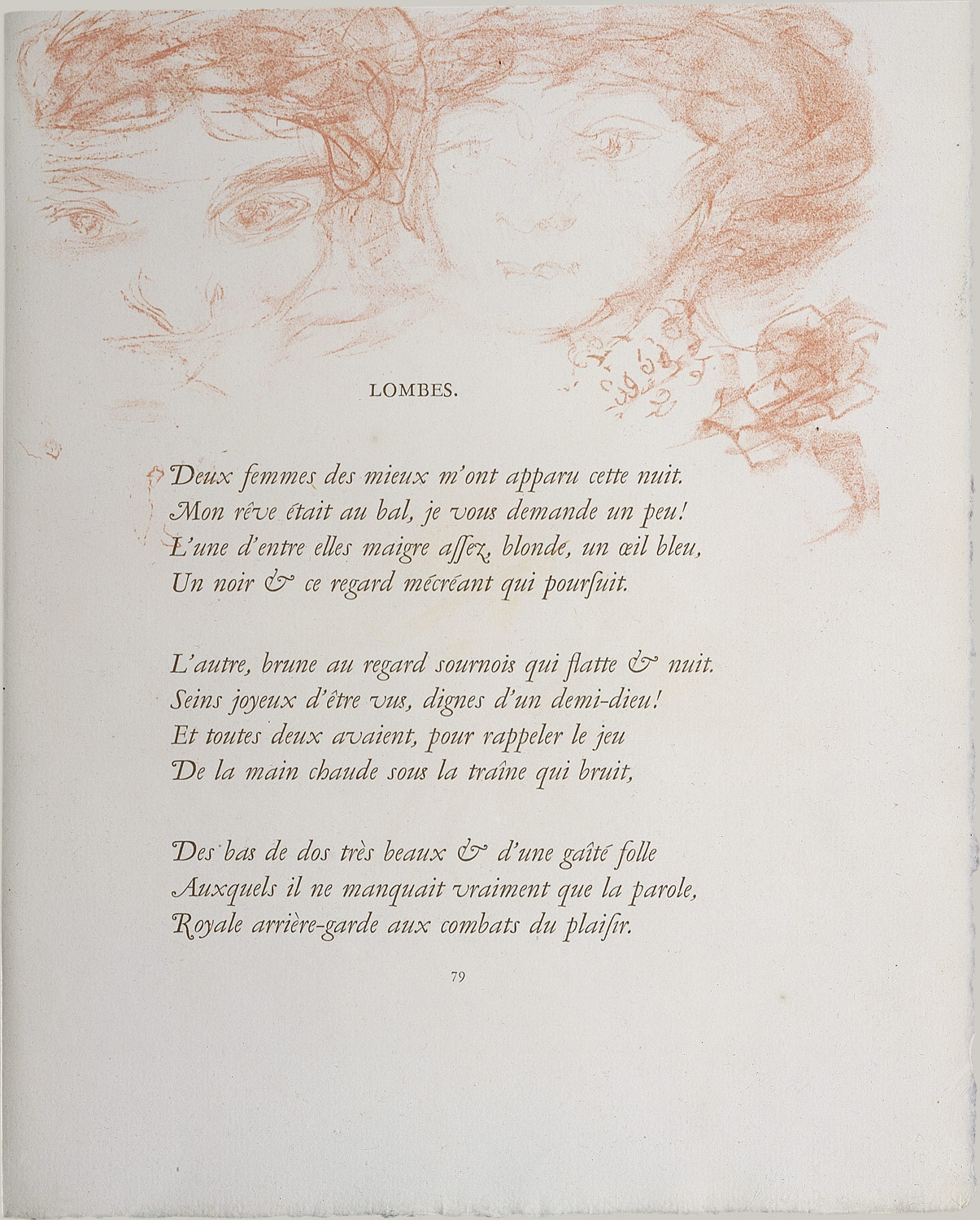 Paul Verlaine, drawings by Pierre Bonnard, Parallèlement, Paris: A. Vollard, 1900.
***

Walker Evans, photograph of the Brooklyn Bridge; from the
Black Sun Press edition of Hart Crane's The Bridge, published in 1930.
***
Marisol, image from: William Katz, ed., Stamped Indelibly:
a Collection of Rubberstamp Prints, New York: Indianakatz, 1967.
***

Incantations by Mayan Women: Fathermothers of the Book
San Cristóbal de Las Casas, Chiapas, Mexico: Taller Leñateros
***

Jeremy Sigler, images and one poem by Jessica Stockholder
with printmaker Ruth Lingen,
Led Almost by My Tie, New York: Picture Books, 2007.