Another gem in the Chopin library is a tiny brochure for an imagined collaborative art fair in the late 1960s, Festival de Fort Boyard. Don't let the unassuming cover fool you; the inside packs quite a punch.
Fort Boyard is a 19th century fortification that lies about 5 kilometers off the French Aquitanian coast, between Rochefort and La Rochelle. Originally intended to defend against maritime attacks from the British, Fort Boyard never saw much combat.  Since the turn-of-the-century it has been left unattended.  But the fort would reenter the French imagination in 1967, as the final scene of Les Aventuriers was filmed there.  Later in the 1990s a game show, also named Fort Boyard and a sort of precursor to "Fear Factor," was shot on location.  And its lesser-known claim-to-fame, of course, was playing host to an avant-garde art festival extraordinaire in the summer of 1967, organized by our very own Henri Chopin, Serge Beguier, Antonio Berni, Gianni Bertini, Julien Blaine, Gil Wolman and others.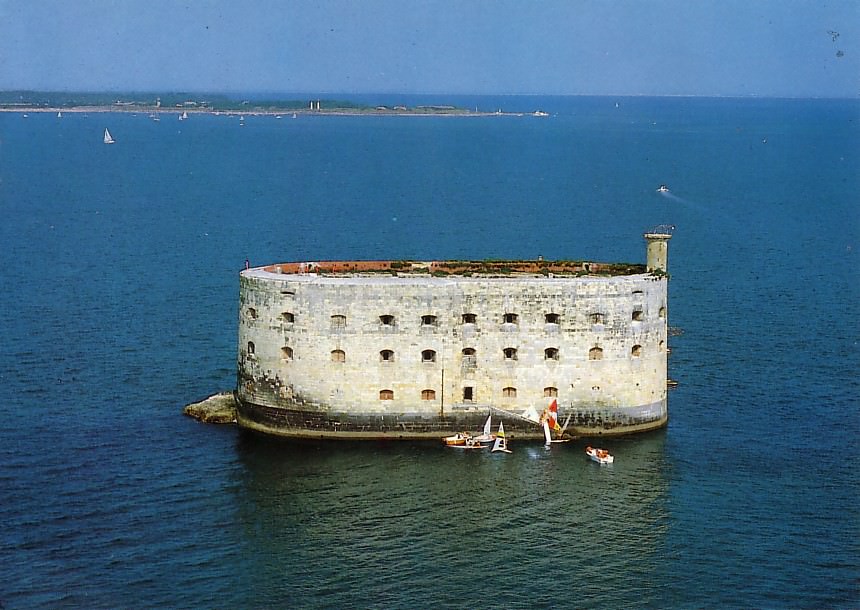 Fort Boyard, off the west coast of France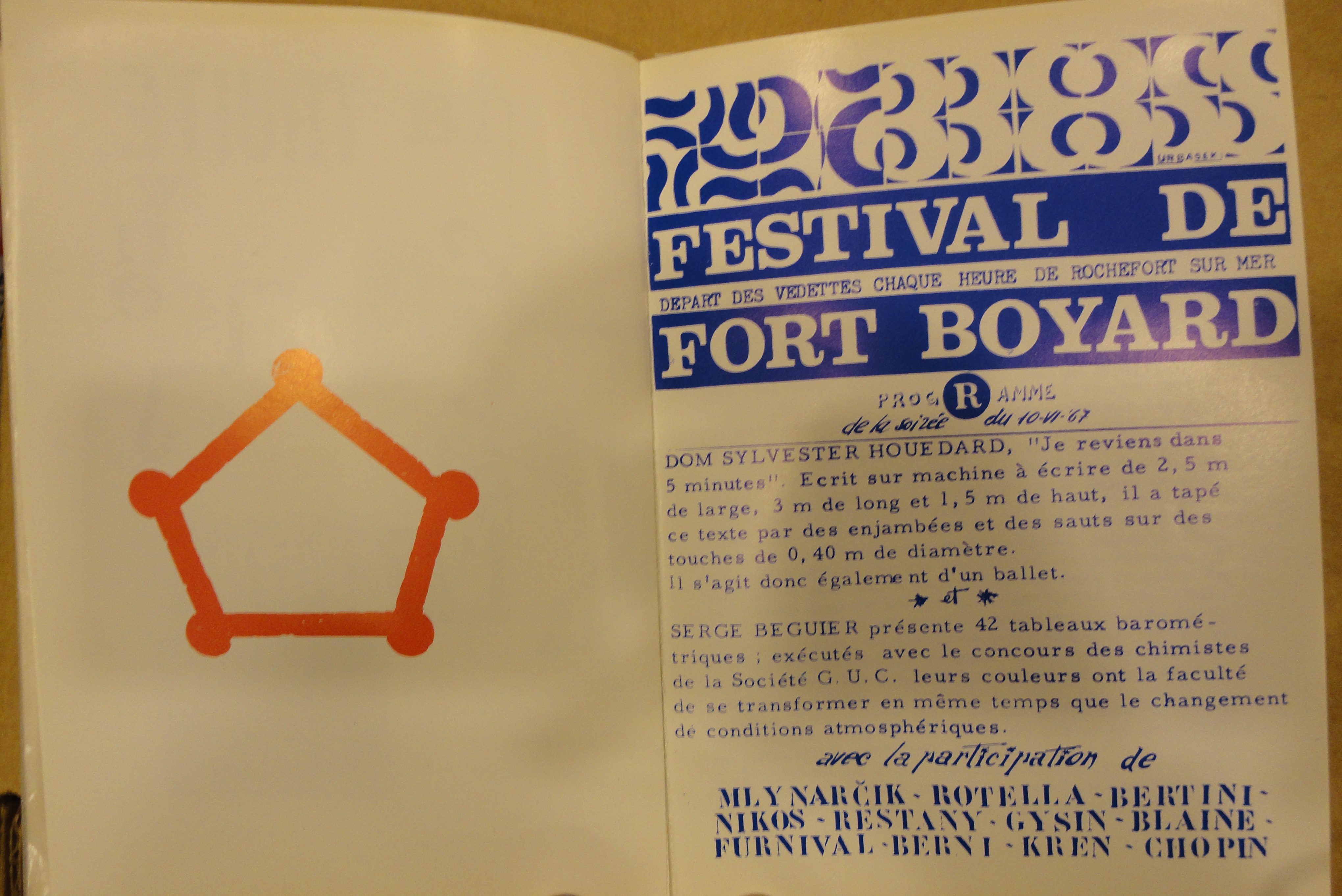 Program for June 10th
With ferries leaving from Rochefort on the hour for spectators, the festival ran a new program each summer weekend.  The book is a collection of the programs, various related (and seemingly terribly unrelated) images, and a history of the festival, written by Chopin from the year 69000000000000. In it, he remembers the legendary and ongoing event which "defies time," and likewise his fellow future citizens fondly extol the one art show that flouts "idiotic traditions." He insists that no monument, not the Eiffel Tower, the Pyramids, nor any natural wonder has been able to resist impoverishment by humans the way Fort Boyard has. And he explains why: "In 1967, a few anti-establishment, anti-culture, anti-festival pioneers thought there needed to be a festival that didn't actually exist."  No wonder it has held up so well.
What goes on at an art festival that doesn't exist?  A lot, apparently: Each week was carefully curated and programmed, featuring multimedia performance/installation pieces, some that, naturally, do not seem physically possible to make.  For example, Dom Sylvester Houedard enacted a "typing ballet" by writing a poem live on an enormous typewriter that required him to jump, leap, and stride from key to key.  This was accompanied by a Beguier's "barometric color show," or a collection of paintings that shift in color with atmospheric changes.  A week later, Gil Wolman's program is described as "During the night of June 14th and 15th, Wolman will fill the bottles drank during the night of June 14th and 15th," and this sentence repeats several times.  The week after that, Bertini would project 15 of his paintings onto a curtain of smoke at sunset, while Chopin performed sound poetry. What each piece has in common is there ephemeral, irreproducible quality; they do not exist.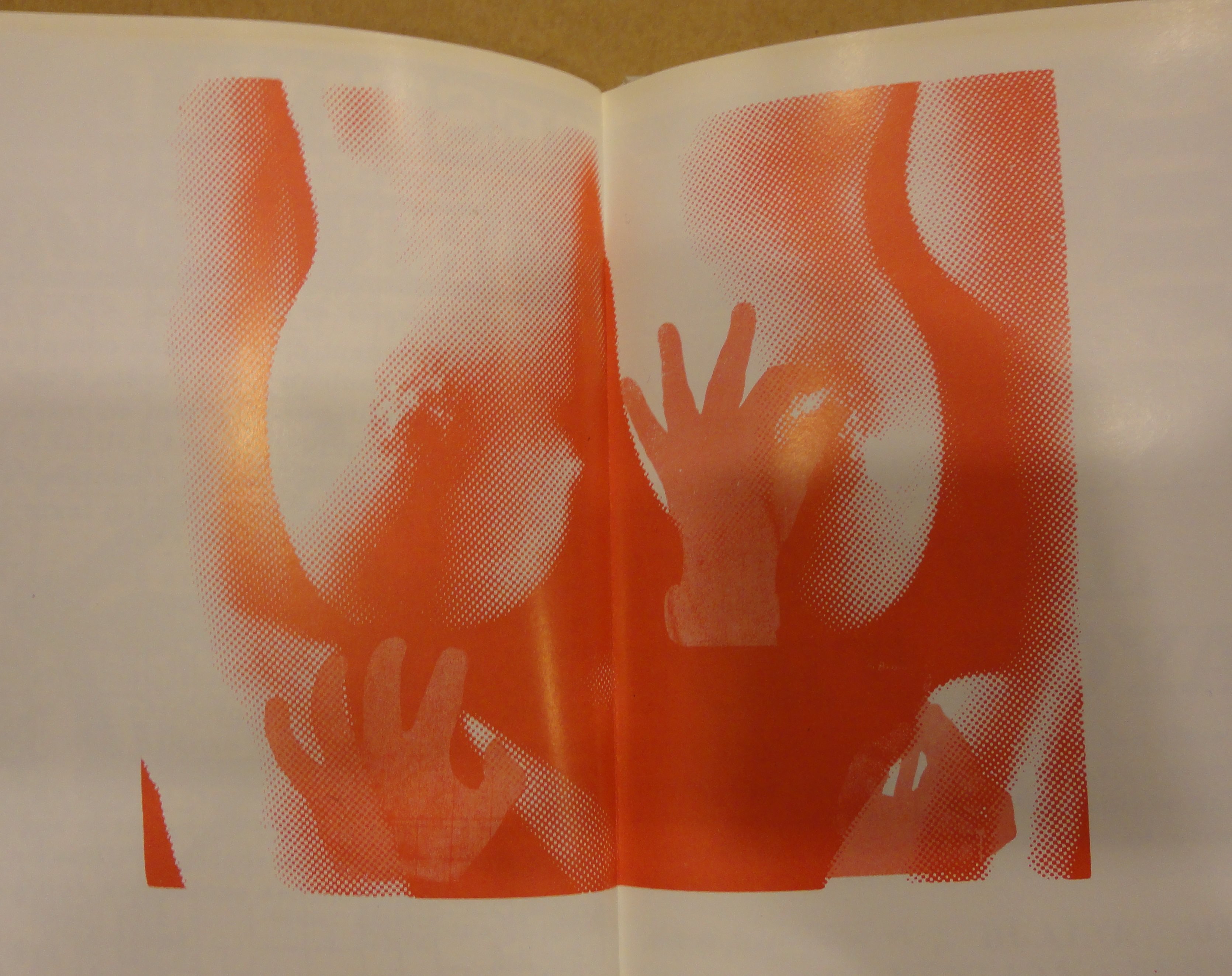 For Chopin, the Festival thought experiment was the "total work of art, the perfect work, the unprecendented child, beauty everywhere, absolute purity… . The true masterpiece after 20 centuries of trial and error."  While Chopin and his collaborators clearly poke fun at the bloated arrogance of the art world and its obsession with consumer materiality.  In that vein, it seems this group successfully carries out a defense of plastic expression. The true work of art is the idea itself, the practice of imagination, and the fearless sensibility.  And the beauty of an art that does not exist is its total freedom from hegemony.  Mutiny in the barracks!
**Blogger's note: After having studied this piece repeatedly, I was still unsure if this event actually took place or was conceived never to happen.  It did not occur, was never meant to, but one could entirely believe that it did. And I suppose that says it all.