Barbara Shailor, former director of the Beinecke Rare Book & Manuscript Library and Senior Research Scholar in Classics, donated a twelfth-century manuscript fragment in honor of her friend, Toshiyuki Takamiya.  The fragment is from the same manuscript as Takamiya MS 91, a twelfth-century manuscript of Rufinus.  More information about both Takamiya MS 91 and the donated fragment will appear in a forthcoming book on fragments edited by Anthony Edwards, in a chapter coauthored by Barbara Shailor and Zach Watters.
Barbara wanted to acknowledge the assistance of Tim Bolton, of Bloombury Auctions, and Tony Edwards, in helping her to acquire the fragment.  Tim has aided the Beinecke in acquiring numerous important fragments and books over the years and we are happy to acknowledge him here as well.  Tony has been a long time adviser to the collections and in 2013 he taught a critical editing masterclass at the Beinecke. 
The acquisition of Prof. Takamiya's medieval manuscripts in 2017 dramatically increased the importance of the Beinecke Rare Book & Manuscript Library among institutions with pre-1500 English collections.  We continue to work with Prof. Takamiya to acquire his incunabula collection and his Early Modern English manuscript collection.  He is a frequent visitor to Yale and lectures whenever on campus.  The exhibit, Making the Medieval English Manuscript: The Takamiya Collection at the Beinecke Library, featured his manuscripts in their new context.  A web exhibit captures some of the many manuscripts and fragments that were displayed.  A catalog of the Takamiya manuscripts at the Beinecke Library is available here.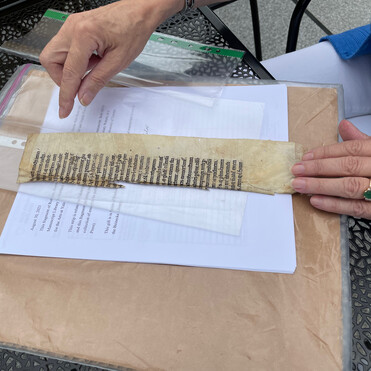 This fragment has readings not found in the critical edition of the text.
The Beinecke Library is pleased to accept Barbara Shailor's gift in honor of Toshiyuki Takamiya.