The Beinecke Library is pleased to announce a new collection: papers from the life and work of American poet Gerrit Lansing. The collection spans 1944-2008. It includes a wealth of correspondence, Lansing's writings, the writings of other poets, and information relating to Lansing's literary journal SET. The collection guide and finding aid can be found online here: Gerrit Lansing Papers YCAL MSS 469.
Lansing was born in Albany in 1928. Though he grew up in Ohio, Lansing went back to the East coast for his education at Harvard and Columbia. Lansing was known in his circles as a thinker, host, and conversationalist. He developed a large body of friends and correspondents, many of them poets such as Jonathan Williams, Robert Kelly, and his close friend Charles Olson. These letters are available for study in the Beinecke's new collection. Lansing edited the literary journal SET in the 1960s, exploring intersections between Modernist poetics and metaphysics. He taught at Bard College and lived in Gloucester, MA for much of his later life.
Lansing died in 2018, the author of several books of poetry. He wrote Heavenly Tree/Soluble Forest (1995), A February Sheaf (2003), and The Heavenly Tree Grows Downward (1977). His poetry explores, as Poetry Foundation puts it, "social, spiritual, and natural engagement with the world." Poet Pierre Joris (one of Lansing's many correspondents) describes Lansing as "a man of wider and deeper knowledge than almost anyone I have known," and "a conversationalist sans pareil."
The Beinecke's Gerrit Lansing collection is now open for research under call number YCAL MSS 469. The collection is valuable not only for the insight it provides into Lansing's work, but also for the connections it creates between the multitude of other contemporary poets and writers he knew. Alongside correspondence and writing, the collection also includes photographs of Lansing's life and friends. The Gerrit Lansing papers join the collections of many other contemporary American poets at the Beinecke, including Charles Bernstein, James Laughlin, Larry Goodell, and Ron Padgett.
Emma Brodey Y'21
Image above:An art-letter to Gerrit Lansing from Tom Drach, circa 1955 (Collection Box 2)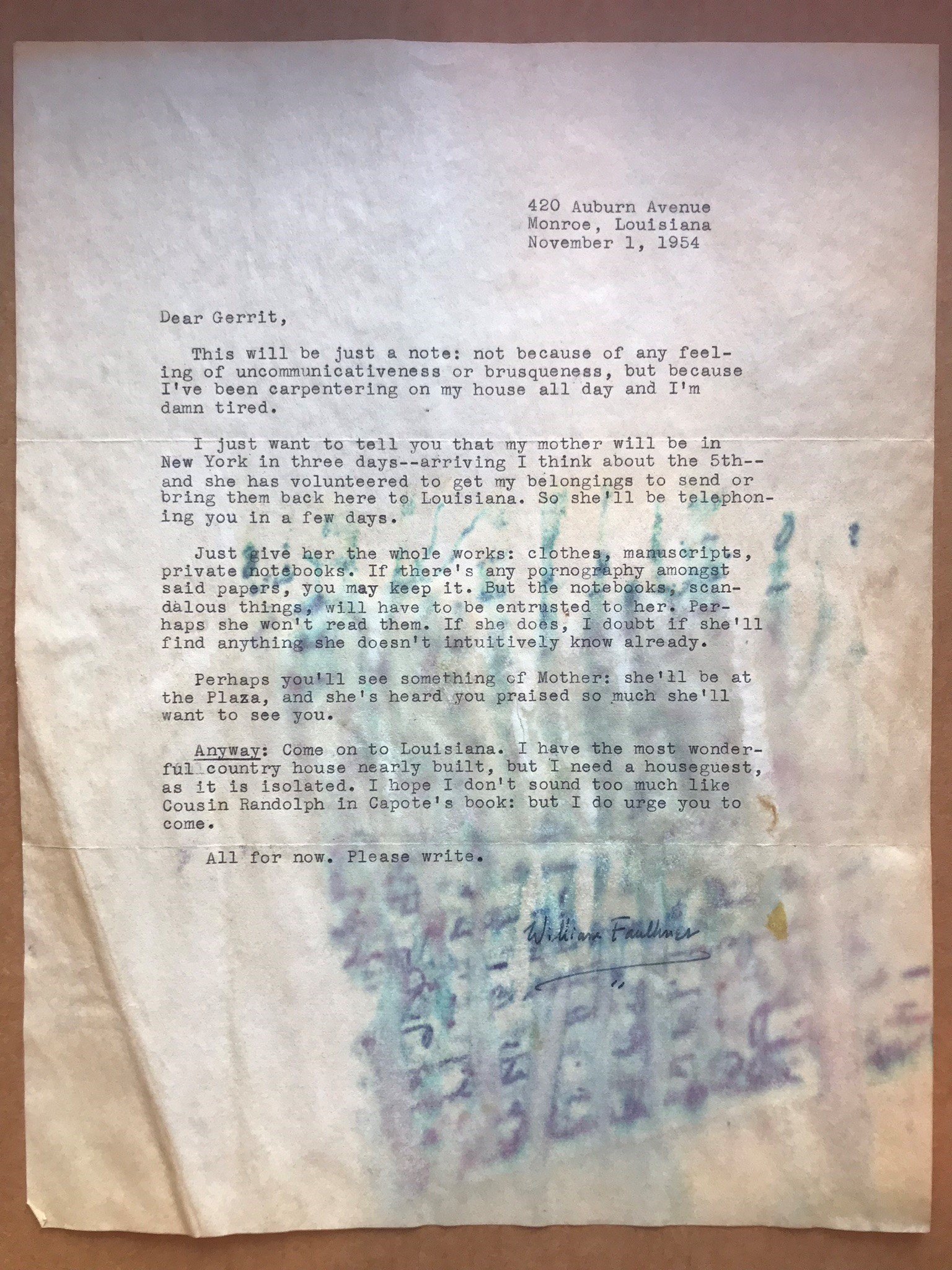 A letter to Gerrit Lansing from "William Faulkner," 1954 (Collection Box 2). This letter represents a wonderful complication in Lansing's collection. Though it's signed with the name William Faulkner, Lansing's friend and fellow writer David Rich suggests that the letter may actually be from Hillyer Speed Lamkin, a schoolfellow of Lansing's. This letter, quite possibly an inside joke, pays tribute to the richness of Lansing's correspondence.