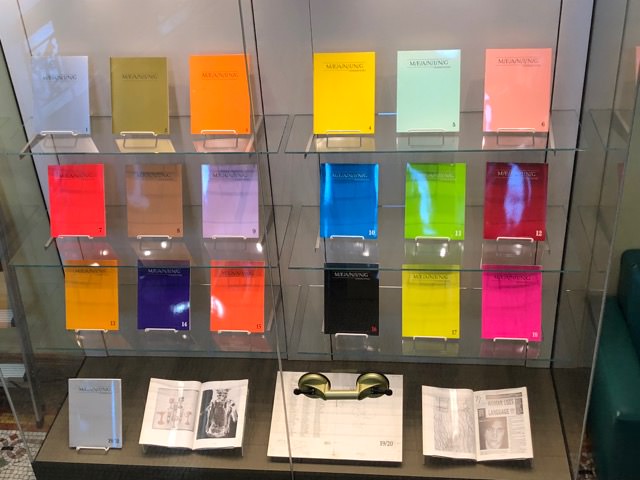 A new exhibiton at the Pratt Institute Library celebrates M/E/A/N/I/N/G magazine's brilliant 30-year run!
Pratt's exhibition of M/E/A/N/I/N/G (1986-2016) includes all the original issues along with photos, artwork, books, and ephemera from the 30-year run of the magazine.  M/E/A/N/I/N/G is a collaboration between Susan Bee and Mira Schor, both painters with interests in writing and politics, and a community of over 150 artists, art critics, historians, theorists, and poets. M/E/A/N/I/N/G  gave a voice to otherwise unrepresented perspectives on art making and aesthetics, motherhood and art, racism, feminism, resistance, collaboration, privacy, trauma, and artists-as-activists.
Opening Tuesday, February 6, from 6 to 8 PM
Dialogue with Mira Schor and Susan Bee moderated by Martha Wilson: Tuesday, March 6, 6-8pm, at Pratt Library
ON VIEW February 1-April 6, 2018
Pratt Institute Library, Brooklyn Campus
200 Willoughby Avenue, Brooklyn NY 11205
The exhibit is open during regular library hours. 
The M/E/A/N/I/N/G Records at Beinecke Library include correspondence, writings, production files, financial records, electronic files, and other papers: https://goo.gl/BWKxYg .
***
The Beinecke Library encourages scholars, students, and the public to engage the past in the present for the future. In the service of new scholarship, the library offers generous fellowships for visiting scholars and for graduate students to support research in a wide range of fields. Learn more about fellowship opportunities.