Larry Kramer: Crisis and Care
A pop-up exhibition curated by Deborah Streahle in Professor Karin Roffman's Literary Biography: Archives and Life Stories master class at Beinecke Library, May 2019.
In 1991, Larry Kramer addressed a meeting of HIV/AIDS activists: "Until we get our acts together, all of us—we are as good as dead." Troubled by organizational infighting and fearing for his community's life, Kramer spoke with an urgency and brashness that attests to the depth of his devotion to those suffering and at risk. The materials in this exhibit reflect this theme of crisis and care, highlighting Kramer's early HIV/AIDS activism, personal reckoning with the epidemic, and success as an enduring literary and public figure.
Born in 1935 in Bridgeport, CT, Kramer studied English at Yale and graduated in 1957. He was best known for his work as an award-winning screenwriter and novelist until the AIDS crisis began in the early 1980s. In response to early news coverage of rare illnesses suddenly affecting gay men, Kramer co-founded Gay Men's Health Crisis (GMHC) in 1982 and AIDS Coalition to Unleash Power (ACT UP) in 1987. Alongside his colleagues, Kramer enlisted experts and volunteers to fight for public awareness, research funding, and medical care to end HIV/AIDS—work he remains committed to today.
While the three items here were produced for different audiences and take different forms, each speaks to Kramer's dedication to improving and extending life for those with HIV/AIDS.
***
Persuasion: Draft of Letter to Dr. Alvin Friedman-Kien, November 13, 1982
While Kramer is known for his confrontational, sometimes alienating activism, this letter demonstrates his deft handling of allies in the early years of the HIV/AIDS epidemic. While dermatologist Alvin Friedman-Kien was involved early on in research and patient care, Kramer points out that Friedman-Kien's high fees led some to think he was "capitalizing on an emergency." Moreover, his bedside manner left patients distraught. "Vilify me as much as you want for this letter, but for the sake of these poor people, please try to be more loving and caring to them as I know you can be." Direct and sharp, Kramer is also sympathetic and recognizes Friedman-Kien's expertise and dedication to their shared cause.
***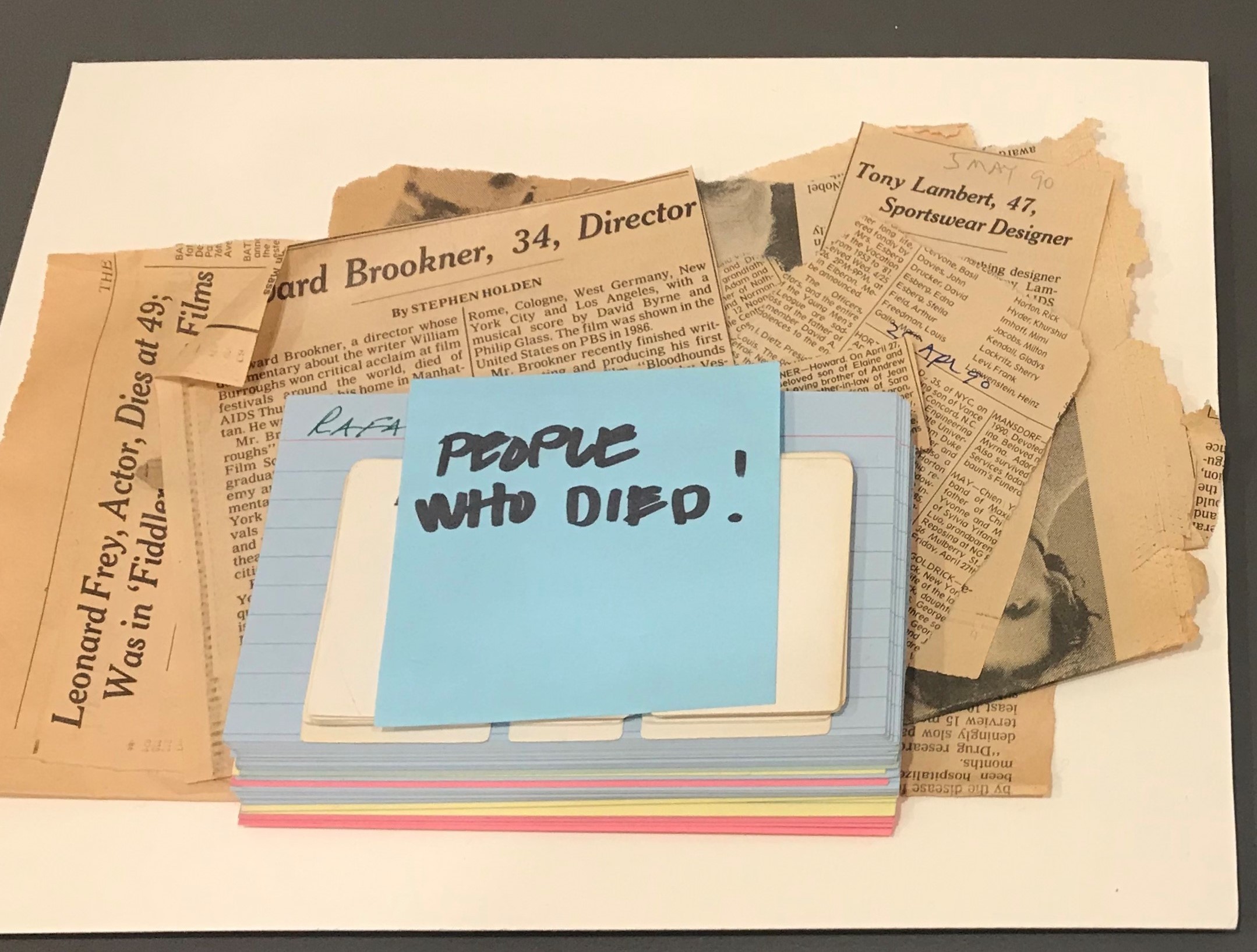 Grief: Obituaries and rolodex cards, circa 1989-1990
In his 1983 article, "1,112 and Counting," Kramer wrote: "My sleep is tormented by nightmares and visions of lost friends, and my days are flooded by the tears of funerals and memorial services and seeing my sick friends. How many of us must die before all of us living fight back?" By 1990, when Kramer collected these cards and obituaries, nearly half a million people had died of AIDS. Kramer kept his own account in a small but powerful way. A collection of Rolodex and index cards includes names and phone numbers of friends who died, sometimes with brief identifying details like, "Pierre (Andre R.'s lover)" and on another, "Ballet dancer."
***
Celebration: Out magazine, Dec. 11, 2011
Kramer graces one of four covers of Out magazine's 17th annual Out100 issue celebrating "the most compelling gay people of 2011." In addition to his lifetime of literary contributions and continued activism, the 2011 Broadway revival of Kramer's 1985 autobiographical play about the HIV/AIDS crisis, The Normal Heart, won several Tony awards. This photograph of Kramer—76 years old, stylish, and apparently healthy—attests to life beyond HIV+ status. This is the kind of life Kramer and his fellow activists made possible and struggle to extend to all people with HIV/AIDS today.
***
Collections Consulted: Larry Kramer Papers YCAL MSS 722
***
About her research and interests, Deborah Streahle writes: "I am a third-year PhD student at Yale University studying the history of science, medicine, and technology in the 20th-century United States. My current research addresses the politics and circulation of underground and lay health practices and activism through a study of how-to guides, health manuals, and oral histories. Alongside my research, I maintain an interest in public history, health journalism, podcasting, and museum work."