NO PURIFYING FIRE: AMERICAN WRITERS IN SPAIN, 1936-1939
An online exhibition curated by Charlotte Parker, Y'13
http://nopurifyingfire.commons.yale.edu/
"I didn't even want to go to Spain," American novelist and journalist Josephine Herbst wrote in 1960, 23 years after she had left war-torn Madrid. "I had to. Because."
This exhibition seeks to explore that because. What was so essential to an American writer, so viscerally important, about another country's war? What sense of duty pulled Herbst and her literary contemporaries across the Atlantic? A coterie of other famous American writers—among them Malcolm Cowley, John Dos Passos, Martha Gellhorn, Lillian Hellman, Ernest Hemingway, Langston Hughes, Archibald MacLeish, and Muriel Rukeyser—explored both writer's craft and political ideology from front-line trenches, bombed-out restaurants, and placid Spanish villages between 1936 and 1939.
"War is no purifying fire," Herbst continued in that 1960 essay, The Starched Blue Sky of Spain. But the Spanish Civil War, which ended with the defeat of the Republican government by Francisco Franco's fascist army, was a crucible of sorts for an American writing that sought to get after the truth. In an era of opposing social movements and political sloganeering, American writers in Spain sought integrity of both form and content.
Objects in Beinecke collections from this time period illuminate the intersections between poetry and politics, prose and propaganda, craft and duty that characterize writing from the Spanish Civil War. This exhibition brings together the journalism, the poetry, the fiction, and the film with which American writers addressed pressing questions of the World War period. How do you report a war? they ask. Is that different from how you write about it, as a writer? Is war a catalyst for great writing, and does that somehow glorify bloodshed? Their attempts to answer acknowledge the necessary connection between politics and art and echo today, still raw, still relevant, still honest.
View the Exhibition: http://nopurifyingfire.commons.yale.edu/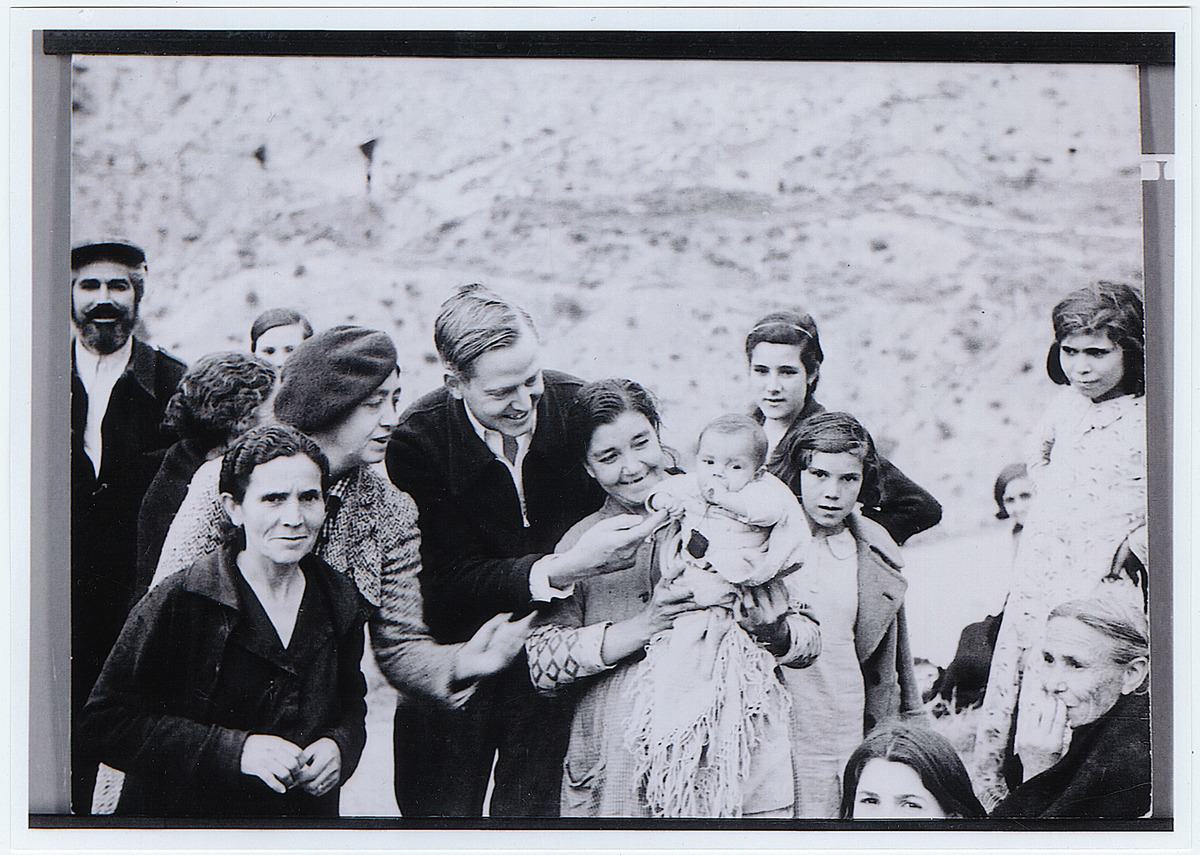 Images: Collage of images from the exhibition; photograph of Josephine Herbst with villagers of Alcala d'Henares, From Josephine Herbst papers, Call Number: YCAL MSS 474