Persian carries with it a long history of vivid storytelling, of poetic power, and of beautiful books. Today, Persian is the language of Iran, but it has long been in an impressive geographic range and for diverse texts and traditions. During the Middle Ages, a virtuosic tradition of miniature painting was cultivated in Persian manuscript production which endured well into the modern period. Mesmerizing use of pattern, color, and composition marks an illumination practice with many beautiful witnesses still extant in the twenty-first century.
Although the many of Persian manuscripts at the Beinecke Rare Book & Manuscript Library contain Islamic texts, the use of the language extended to various works of poetic, literary, scientific, and philosophical texts, as well as the works of religious minorities in Persian speaking regions. The designs of the books featured on this page share quite a few features with contemporary Arabic manuscripts and represent a cross-language and geographically broad engagement with different types of books within the Islamic tradition.
This work of poetry was composed in the fourteenth century by the Persian poet known as Hafez or Hafiz (1315-1390). The Divan-e-Hafez is his most widely recognized work and is a product of his interest in blending the mystical and the theological with love poems. This example, copied in the fifteenth century features four full page miniatures. The detail above features just one of these miniatures, showing a number of figures both looking out from windows and sitting in a garden, all surrounded by detailed geometric patterns representing tiles, textiles, and architectural details. This copy of the Divan-e-Hafez has seen a good amount of wear— understandable, given the lasting popularity of Hafez's work. Interested in celebrating one of the most enduring Persian poets of all time? Iran celebrates a holiday dedicated to him and his work every October.
This manuscript, copied in 1498, contains two works of thirteenth century Sufi poets bound together. The above page features a beautiful 'unvān (headpiece) with an interlacing gold vegetal design on a deep blue ground.  In the center, enclosed iin gold is an example of fine calligraphy associated with Persian manuscripts. Even in such a relatively simple example, the careful blend of text with organic and geometric design testifies to the complex and often delicate visual elements of Persian manuscripts.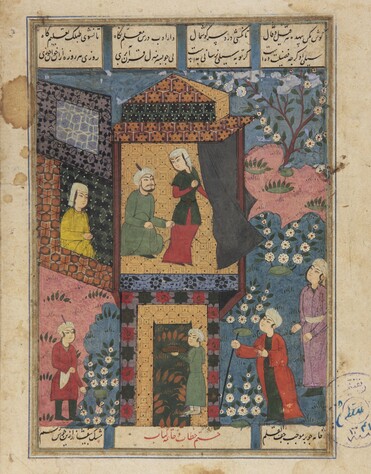 Persian MSS 57, likely produced in the sixteenth century, contains the text of Khiradnāmah-ʾi Sikandarī ("The Wisdom Book of Alexander the Great") by the Sufi poet and author of mystical texts, Jāmī. Alexander the Great, the Macedonian hero of the fourth century BCE, is a figure with wide appeal and his apocryphal travels were a popular topic in many different cultures. These stories often included encounters with strange peoples, plants, and otherworldly experiences as Alexander stretched his empire from the Aegean Sea to the Indian subcontinent. This particular verse copy of the Khiradnāmah-ʾi Sikandarī is accompanied by five color miniatures. Above, a full page painting is bracketed on its top and bottom edges by blocks of persian text. The miniature, with its bright, opaque painting technique, plays with depicting indoors and outdoors simultaneously.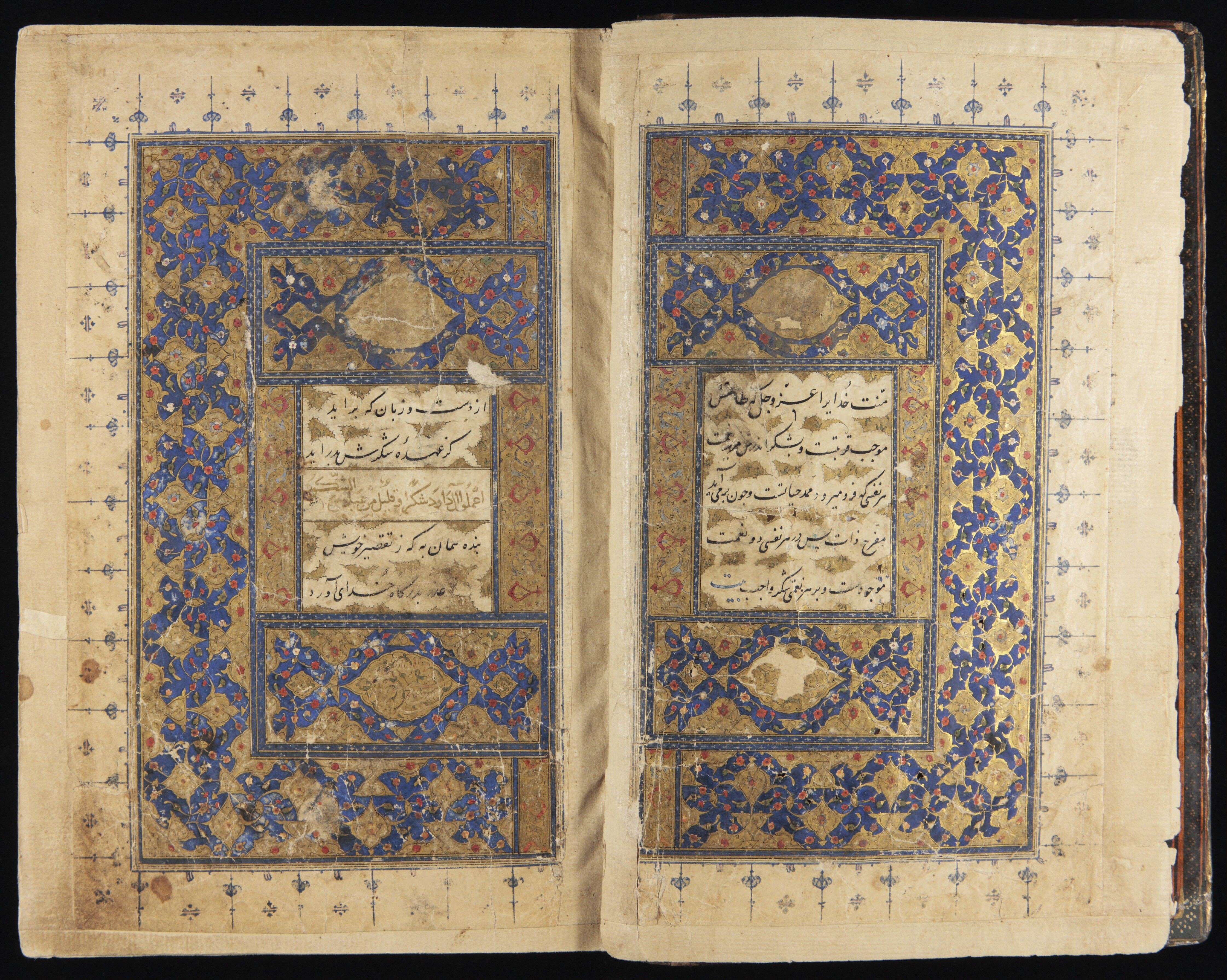 Gulistān by the promenant Persian author Sa'dī is the primary text of this beautiful manuscript. In the above opening, these facing pages feature calligraphy surrounded by sumptuous gold. The use of elaborate headpieces ('unvān ) and boarders filled with floral and geometic patterns on blue and gold grounds creates a fitting opening to one of the most important Persian prose texts of the period. We are lucky to know the name of the scribe who worked on this poem: Pīr Muḥammad ibn Shaykh Ṭāhir Tabrīzī completed his work in 1525, making a note (a colophon) in Arabic at the end of the manuscript.
More Information on the Collection at Yale
Near and Middle Easter Books at the Beinecek Rare Book & Manuscript Library
Yale Library Guide to Islamic Manuscript Studies
Yale University, Near Eastern Languages and Cultures, Persian
Further Resources
Persian Manuscripts at the British Library
Persian Manuscripts at the Library of Congress
Persian Manuscripts at the Penn Museum
Columbia University Center for Iranian Studies
The Persian Manuscript Initiative
Persian Manuscripts at the Bodlian Library
Christine Gruber, ed. The Islamic Manuscript Tradition: Ten Centuries of Book Arts in Indiana University Collections.  Bloomington: Indiana University Press, 2010. 
Ramin Khanbagi. Islamic Manuscripts: A Bibliography. Nordhausen: Traugott Bautz, 2016.
Barbara Brend, Perspectives on Persian Painting: Illustrations to Amir Khusrau's Khamsah London, New York: Routledge Curzon, 2003.
D. Fairchild Ruggles. Islamic Gardens and Landscapes. Philadelphia: University of Pennsylvania Press, 2008. 
Bo Utas, ed. Manuscript, Text, and Literature: Collected Essays on Middle and New Persian Texts. Wiesbaden: Reichert, 2008. 
A.T. Adamova. Mediaeval Persian Painting: The Evolution of an Artistic Vision. New York: Bibliotheca Persica, 2008. 
Homa Katouzian. The Persians: Ancient, Mediaeval, and Modern Iran. New Haven: Yale University Press, 2009. 
C.A. Storey. Persian Literature: A Bio-Bibliographical Survey. Leiden, Boston: Brill. 
Caliah Marie Jackson. Islamic Manuscripts of Late Medieval Rum. 1270s-1370s Production, Patronage, and the Arts of the Book. Edinburgh: Edinburgh University Press, 2008. 
Bernard O'Kane. Early Persian Painting: Kalila and Dimma Manuscripts of the Late Fourteenth Century. London, New York: IB Tauris, 2003.
Eleanor Sims, B.I. Marshak, Ernst J. Grube. Peerless Images: Persian Painting and Its Sources. New Haven: Yale University Press, 2002.
Sheila Blair. Text and Image in Medieval Persian Art. Edinburgh: Edinburgh University Press, 2019.
Kishwar Rizvi, ed. Affect, Emotion, and Subjectivity in Early Modern Muslim Empires: New Studies in Ottoman, Safavid, and Mughal Art. Leiden, Boston: Brill, 2018.
Reza Saberi, translator. The Divan of Hafez: A Bilingual Text, Persian-English. Lanham: University Press of America, 2002.
J.T.P. Brujin. Persian Sufi Poetry: An Introduction to the Mystical Use of Classical Persian Poems. Richmond, Surrey: Curzon, 1997.