We asked artists in the Victory Garden Collective to reflect on creativity in 2020. In response, they shared this statement of Creativity in Action, exploring their work in the four years since their founding. 
The Victory Garden Collective was founded in late 2016 in response to the presidential primaries by a group of women artists, curators, gallery owners, and printmakers: Louise Eastman, Jess Frost, Tara Geer, Katie Michel, Wendy Small, and Janis Stemmermann.
These artists united to create a series of striking, witty, and engaging works in the spirit of the World War II tradition of the "victory garden." Initially planted to support the home front food supply, these public-park and backyard gardens came to be seen as beautiful elements of communities under pressure, "morale-boosting symbols of solidarity." "Today, our world is again in political and environmental turmoil," the Victory Garden artists write, "and we are similarly in need of nourishment and unification." Pursuing publicly-engaged art projects that aim to "initiate conversation and action," the collective has made works that unite public and private spheres. 
Their first project, "What are you wearing Election Day?" was a series of t-shirts, conceived as "small miracles while tilling the soil of the political landscape this election season." A portion of the project's proceeds were donated to GrowNYC's Greenmarket division, to help make greenmarkets accessable to all income levels.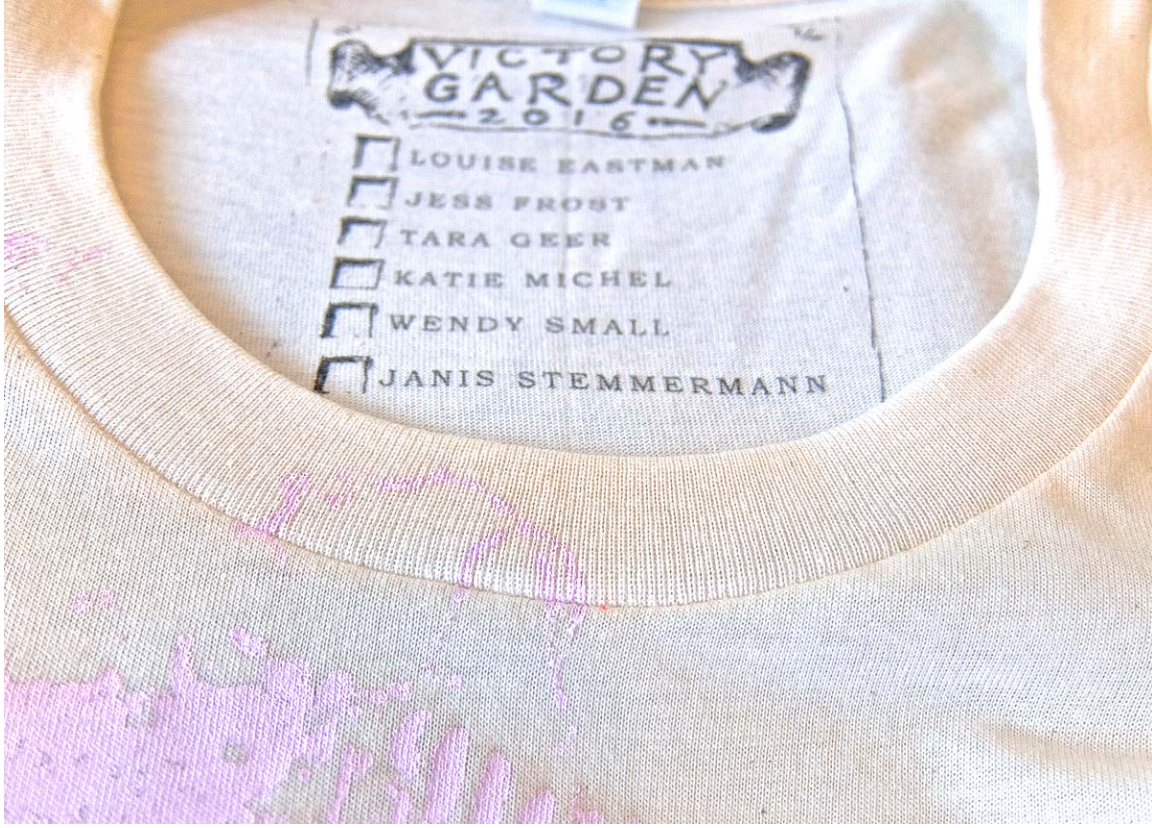 On December 8, 2016, the Victory Garden group show opened at Planthouse gallery. This salon-style exhibition featured small paintings, prints, and works on paper by over fifty artists, like Janis Stemmermann's They Wanted to Bury Us, But Did Not Know We Were Seeds (Over Marigolds). 
The MISS 2017 project was conceived at the Dec. 8 opening. Taking cues from sufragette movements, the Collective designed sashes for the January 2017 Women's March on Washington. The mission: to galvanize women to keep pushing for change. The sashes call to mind both turn-of-the-twentieth century women marching in pursuit of the right to vote and mid-century beauty queens parading before judges in swimsuits and high heels. They respond to the troubling misogynistic rhetoric that characterize political discourse. A poster commemorating the project can be found in the Beinecke's Digital Library. 
In February 2017, the Collective created their Rise Up candy hearts, M&Ms, and valentines. The candies were printed with the words, "resist," "rise up," and "protest". These valentines unite public and private spheres, challenging traditional images of political discourse. 
Soon after, "Say A Little Prayer for U.S." opened at Planthouse Gallery. Building on the momentum of the Women's March, this exhibition displayed hundreds of flags, each displaying a different imagistic expression of protest and hope. The flags were left exposed to the elements to eventually disintegrate. 
The Victory Garden then created Picnic and Get Out the Vote. Created to keep awareness and spark conversation, these napkin sets were packed in a pie-sized container, inspired by Gloria Steinem (quote pictured). Get Out the Vote encouraged citizens to participate in the 2018 election. Find Picnic and Vote in Beinecke collections.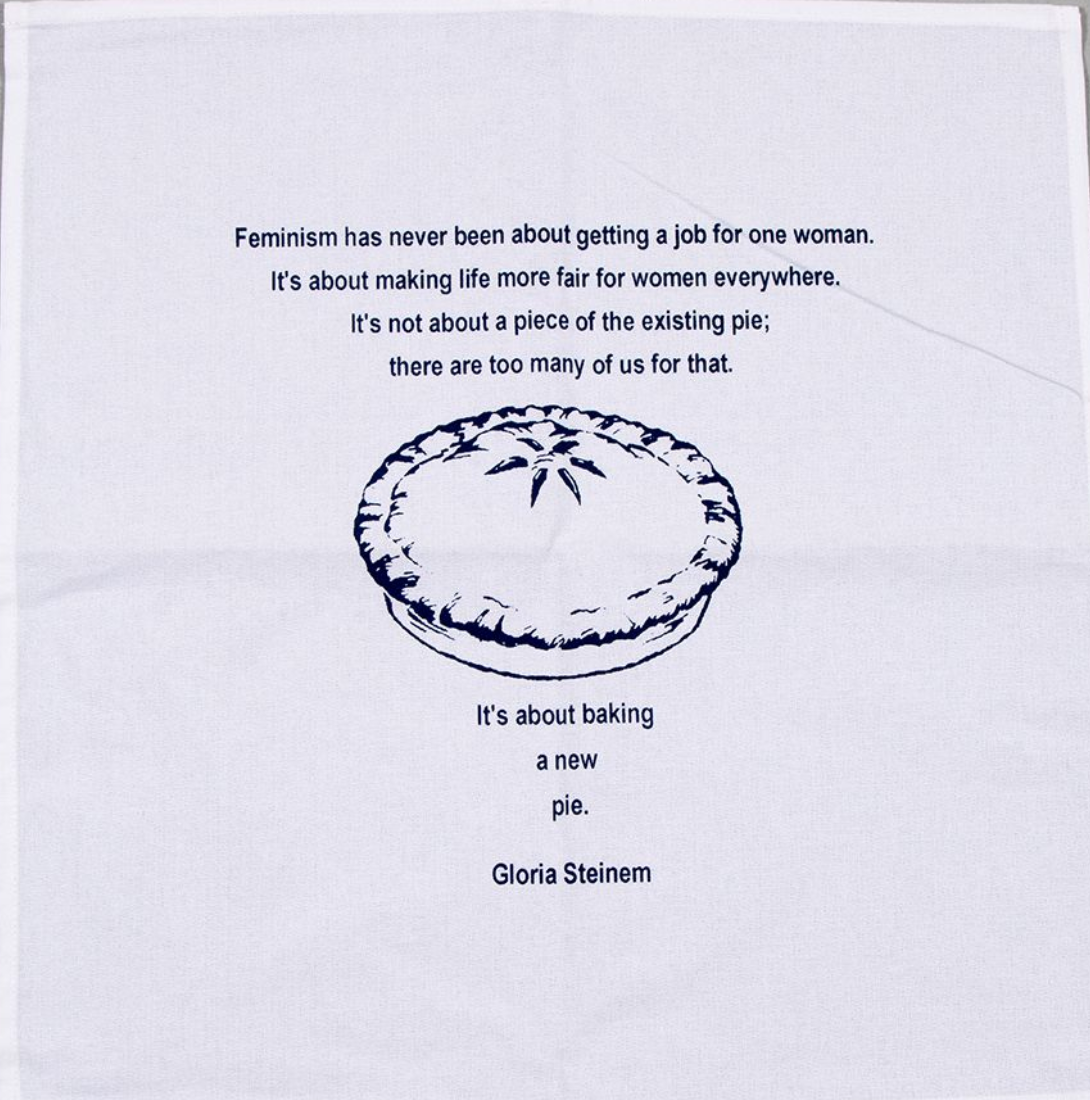 In 2019, Victory Garden presented Potluck, a four-color silkscreen of a potholder woven in colors of the flags of Mexico, Nicaragua, Guatemala, Honduras, and El Salvador. This project supported NYC's Action Potluck, a grassroots organization fighting to keep Families together. 
The Collective then presented Sisters, a set of four hand-screened tumblers made to commemorate the wave of record-breaking women elected to office in the 2018 Primary. Find the tumblers in Beinecke collections. 
In Dec. 2019, the Collective presented 19th Amendment, a tea towel made to commemorate the 100th anniversary of the passage of the 19th amendment, which granted women's suffrage. The tea towels were presented in suffragette colors: green (representing hope) and purple (representing loyalty).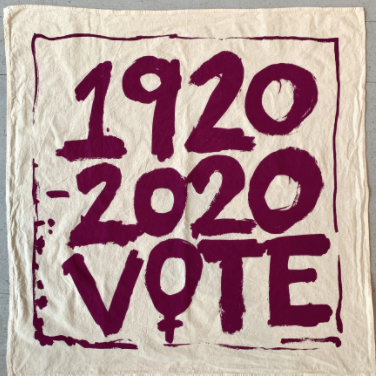 Most recently, the collective has returned to their roots, revisiting the "Miss 2017" pageant theme with a series of prints titled "Miss Democracy". This project aims to remind us all "what Democracy means" in a time when "as a country we must defend democracy and vote for our lives".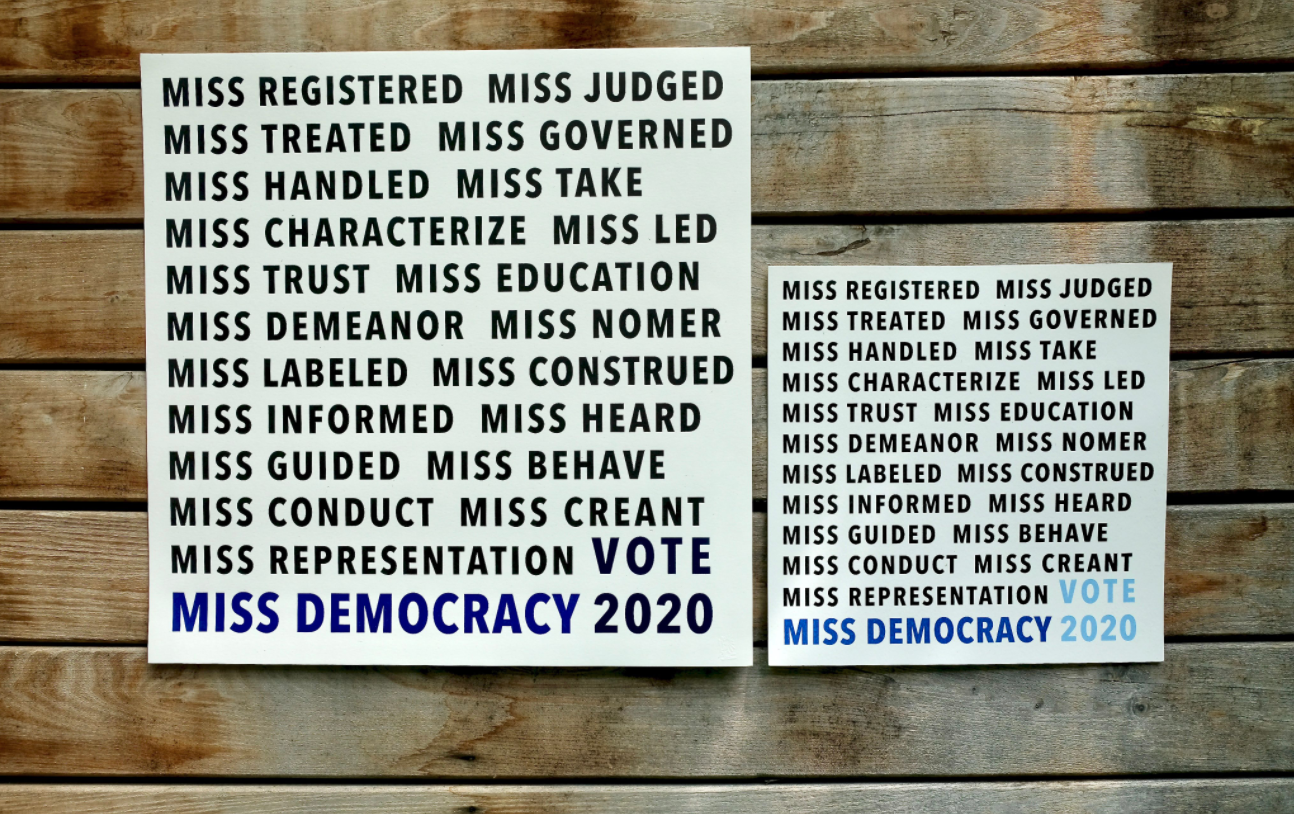 LEARN MORE about the Victory Garden Collective members: 
Louise Eastman is an artist working in weaving and ceramics, whose art has recently been seen at the Southamton Arts Center and Planthouse Gallery. She is interested in "the profound politics of materials and craft traditionally considered trivial, or gender bound." 
Jess Frost is the Associate Curator of the Guild Hall Museum's Permanent Collection, and a Founder and Director of The Arts Center at Duck Creek. 
Wendy Small is an artist who creates photograms, cameraless images made by exposing light-sensitive paper. Read more about why she makes photograms here.
Janis Stemmermann is a visual artist, designer, and creative director of Russell Janis in Brooklyn NY. Find her on Instagram @janisstemmermann. 
Katie Michel is a graphic designer, printer and print publisher, and founder of the Planthouse Gallery in New York City, a project space committed to "exhibiting and publishing the contemporary work of emerging and established artists." 
Tara Geer is an artist and adjunct assistant professor of visual arts at Columbia. She says, "I can only explain what I see by drawing it." 
MORE FROM BEINECKE COLLECTIONS: 
The Planthouse Gallery archive finds its home at the Beinecke library. Explore the gallery's history (and various Victory Garden-related materials) by examining its ephemera: 
2014 ephemera, containing press releases about exhibitions such as Tim Wu's "The Floral Ghost". 
2015 ephemera, containing Arthur Bradford's story "43 Monsters," with drawings by Chuck Webster. 
2016 ephemera, containing press releases about exhibitions such as "Dark Star: abstraction and cosmos," curated by Raymond Foye.
2017 ephemera, containing stickers and photographs of images of Victory Garden's Rise Up candy hearts. 
2018 ephemera, containing two of Victory Garden's "Love to Vote" coasters. 
2019 ephemera, containing Victory Garden's "Love to Vote" stickers and tattoos. 
Thanks to the Victory Garden Collective for providing the images featured on this webpage. 
- Gabrielle Colangelo, Y'21
Yale Collection of American Literature Student Research Assistant