Amos Beman Scrapbooks, 1830-1858
Four scrapbooks relating to the life of a 19th century Black minister.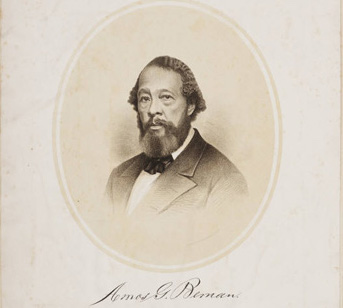 The Rev. Amos Gerry Beman, a Black minister in New Haven, Connecticut, was a national leader during the mid-nineteenth century.
He was a proponent of abolition, suffrage, temperance and educational and moral reform. From 1837 to 1857, Beman served as pastor of the Dixwell Avenue Congregational Church, the oldest formally recognized African American congregational church in the nation. Beman was a pastor during the Amistad Case, where he and church members were crusaders for liberation in the fight against slavery and for abolition.
Beman grew up in Colchester, Connecticut and later Middletown, Connecticut, where his father, Jehiel Beman, was appointed pastor to the first African American church in Connecticut. Beman's father had worked tirelessly for emancipation and civil rights, and his grandfather, Caesar Beman, had been manumitted after serving in the Revolutionary War.
The Collection
The collection includes news clippings related to the New Haven parish where Amos Beman served as pastor, other ministers, church dedications, announcements of temperance meetings, discussions of education for African-Americans, debates regarding African colonization, published speeches of Frederick Douglass, accounts of Amos Beman's public appearances and speaking engagements, as well as correspondence, letters to the editor authored by Beman and the Proceedings of the Connecticut State Convention of Colored Men, held in New Haven on September 12-13, 1849 and June 6-7, 1865.