Arthurian Romances, MS 229
A late thirteenth-century copy of the great French romance.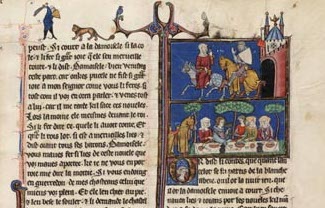 The Arthurian Romances, or MS 229, is one of the jewels in the crown of medieval manuscript illumination. Written in Northern France toward the end of the 13th century, this copy of the great French romance is known for the abundance and richness of its illuminations, and even more so for the intricacy, mystery, and wildness of the images in the margins including animals, jesters, archers, and musicians.
About the Codex
Parchment, ff. i (paper) + 363 + i (paper). Written in elegant gothic textura by one scribe, with a few interlinear corrections in later hands. The decoration of this lavishly illuminated manuscript consists of seventy-seven large column miniatures, fifty-one smaller miniatures, and thirty-six historiated initials. The miniatures and historiated initials are by at least two artists, the scale and quality of whose work distinguish the manuscript from contemporary and most fourteenth- century Arthurian manuscripts.
The current binding of goat skin dates to 2003. An earlier eighteenth-century binding of light brown calf with gold-tooling is stored with MS 229.
Related Content
Willingham, Elizabeth M., ed. Essays on the "Lancelot" of Yale 229. Turnhout: Brepols, 2007.