The Black Panthers Trial: Courtroom Sketches by Robert Templeton
Sketches by Robert Templeton documenting the Black Panthers trial in New Haven, CT in 1971.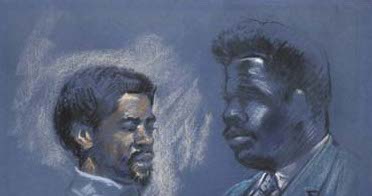 On May 21st, 1969, police found the body of 19-year-old Alex Rackley on a riverbank in Middlefield, CT. Rackley was a member of the Black Panther Party, a revolutionary Black Nationalist organization founded in 1966 in California. At the time of Rackley's murder, the organization had several thousand members operating in regional chapters in major American cities; the Panthers growth and their call for violent action against racist institutions made the Party a subject of investigations by local and federal law enforcement agencies. A victim of the resulting paranoia among some Party members, Alex Rackley was murdered by fellow Panthers who suspected him of being an informant. 
 
The state charged Bobby Seale, founder and national chairman of the Black Panther Party, and Ericka Huggins, head of the Party's New Haven chapter, with conspiracy to kidnap and murder Rackley; the prosecutors sought the death penalty. Many speculate that the charges against Seale and Huggins, neither of whom was present during the commission of the murder, were issued in an effort to destroy the Party.
 
On May Day, 1970, some 15,000 Panther Party members and their supporters came to New Haven to protest the trial. Yale opened its gates to the crowds, and many students joined the protest. At a meeting with Yale faculty and administrative officers, Kingman Brewster (Yale 1941), President of Yale University, made a statement that shocked his colleagues: "I am skeptical of the ability of black revolutionaries to achieve a fair trial anywhere in the United States." The trial lasted for many months and after five days of deliberation, the jury deadlocked and the case was declared a mistrial.
History of the Collection
CBS News commissioned Connecticut sketch artist and painter Robert Templeton to produce several large drawings of the trial to broadcast on the television news. Templeton made small pastel sketches from life in the courtroom and prepared larger drawings from these sketches in a helicopter on his way to New York City. Because the courtroom was closed to artists and photographers, Templeton's sketches were made surreptitiously, without the permission of the court; his drawings are, perhaps, the only visual record of the courtroom during this critical case. The collection includes small preliminary notebook sketches made in the courtroom as well as larger, finished drawings later displayed on CBS news broadcasts. Defendants Bobby Seale and Ericka Huggins, Prosecutor Arnold Markle, and Judge Harold Mulvey are among the subjects represented.
The Collection
23 drawings by Robert Templeton, varying in size, 56.5 x 75.8 cm. and smaller.
1 sketchbook (114 p.) : pencil, pastel, and ink ; 20.3 cm.
Related Online Exhibition