Bryher Papers
Photographs and correspondence documenting the life of Bryher.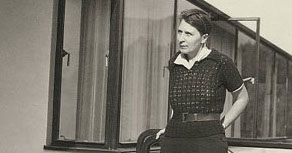 Bryher (1894-1983) was a British author best known for her historical novels, including The Fourteenth of October (1952) and Coin of Carthage (1962), and her autobiographical writings. She also established "Close-Up" (1927-33), the first periodical devoted to film. Born Winifred Ellerman, she married Robert MacAlmon in 1919. They divorced in 1927, and in that year she married Kenneth MacPherson. Beginning in 1918, she was the close friend of American poet H. D., whose daughter she adopted.
The Collection
The Bryher Papers document the personal life and literary career of Bryher. Her extensive correspondence includes letters from H. D., Robert MacAlmon, Kenneth MacPherson, Norman Holmes Pearson, Sylvia Beach, Norman Douglas, Horace Gregory, Islay Lyons, and Edith Sitwell, and from many other figures in the fields of literature, psychoanalysis, and film. There are manuscripts of many of her works, including fragments of an unpublished volume of autobiography; financial and personal papers; material collected by Bryher on "boys' books" authors such as R. M. Ballantyne and G. A. Henty; and documentation of Bryher's interest in film and the making of Borderline (1930). Currently, only a portion of the Bryher Papers are available online.
History of the Collection
The papers came to the Beinecke Rare Book and Manuscript Library in 1975 as part of the bequest of Norman Holmes Pearson. Additional material was donated in 1986 by Bryher's daughter, Perdita Schaffner.
Related Collections
H. D. Papers, YCAL MSS 24
Viola Baxter Jordan, MSS 175