Carl Mautz Collection Of Cartes-De-Visite Photographs
145 cartes-de-visite photographs by photographers in San Francisco and northern California, ca. 1855-1895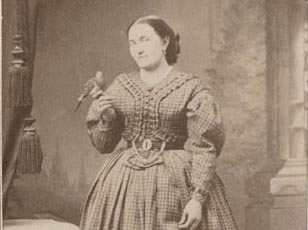 The carte-de-visite, usually an albumen paper photograph mounted on a heavy paper card measuring 2½ × 4 inches, flourished in popularity between 1860 and the 1880s.
The Carl Mautz collection of cartes-de-visite photographs created by California photographers includes 145 images consisting chiefly of portraits depicting children, women, and men, in single and group sittings and various ethnic and cultural backgrounds, including Asian American and African Americans. The portraits also include persons with unique physical features, including midgets, dwarves, and giants as well as butchers, circus performers, freemason, miners, musicians, sailors, and soldiers.
Portraits of identified individuals include Baby Belmont, Frederick Coombs, Tom Coughlan, Tony Denier, Issac Sherwood Halsey, Little Clara Jenkins, Henrietta Lichau, and Eugenie Olanie. Additional individuals represented include Mollie Brown, a bareback somersault horse rider; A. Kerpen, a man with an eight-foot long beard; William Ingraham Kip, the first Protestant Episcopal bishop of California;  and two scholars, George F. Stone and viticulturist Emmett Rixford.
A few of the many photographers and galleries represented include Eadweard Muybridge, Silas Wright Selleck, Joseph Trinidad Silva, Hector William Vaughn, Carleton E. Watkins, Bayley & Winter, Bradley & Rulofson, Currier & Winter, Edouart & Cobb, Hamilton & Kellogg, and I. W. Taber & Company.