Carleton Watkins Glass Stereographs of John C. Frémont's Mariposa estate, 1860-1861
The first major series of outdoor photographs by western photographer Carleton Watkins.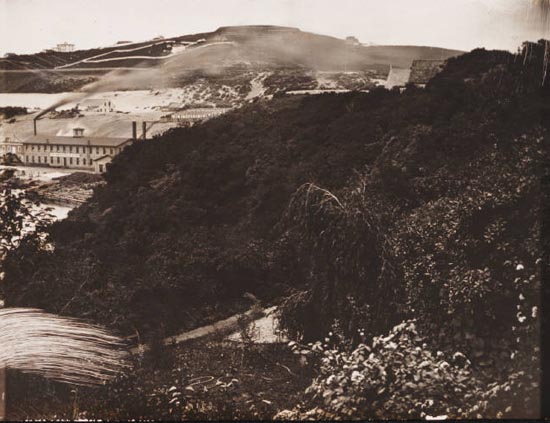 Among the earliest outdoor photographs taken by San Francisco photographer Carleton E. Watkins, these images document the Mariposa estate of Col. John C. Frémont.
Watkins was born in Oneonta, New York, in 1829. The youngest of five children of a Scots innkeeper, he became a childhood friend of Collis P. Huntington. During the California Gold Rush, the men travelled together to California, where Huntington later built a railroad empire. Watkins' introduction to photography remains obscure, but by the early 1860s, he had established his own photographic studio in San Francisco. He soon won international acclaim for his images of the Yosemite Valley. Watkins remained an active photographer until the San Francisco earthquake of 1906 destroyed his studio and his negatives. He passed away in 1916.
As an officer in the Army's Corps of Topographic Engineer, John C. Frémont earned fame for daring explorations of the Far West in the years before the Mexican War. During the War he led the California Battalion, also known as the U.S. Mounted Rifles, who helped defeat Mexican forces at Santa Barbara and Cahuenga Pass. A controversial figure, he was briefly named military governor of California; convicted of mutiny for refusing to surrender the office to his superior, General Stephen Watts Kearny; received a commuted sentence from President Polk; and resigned his military commission when Polk failed to overturn the conviction. In 1847 Frémont purchased the Rancho Las Mariposas land grant in the foothills of the Sierra Nevadas near the Yosemite Valley. The legality of the original grant and of Frémont's purchase was bitterly contested through the 1850s. Frémont eventually sold the land in 1863.
The Collection
Stereographs consist of two images, made by distinct lenses set at eye's-width. When examined through a viewer, the images combine to create a single three-dimensional representation.
The 31 images in this collection depict Frémont's Mariposa estate near Bear Valley, California and nearby sites. Three stereographs depict Jessie Frémont, one of her children at the waterside, and another of the Frémont residence. They represent some of the earliest photographs that can be clearly and authoritatively ascribed to Carleton Watkins.
For further information about Carleton Watkins, consult Peter Palmquist, Carleton E. Watkins, Photographer of the American West (University of New Mexico Press, 1983). For more information about the Frémonts, consult Tom Chaffin, Pathfinder: John Charles Frémont and the Course of American Empire (Hill and Wang, 2002), Pamela Herr, Jessie Benton Frémont: A Biography (F. Watts, 1987), and Sally Denton, Passion and Principle: John and Jessie Frémont (Bloomsbury, 2007).