Celebrating Italian Festivals
Books from the 16th-19th centuries documenting religious, civic, and public festivals throughout Italy.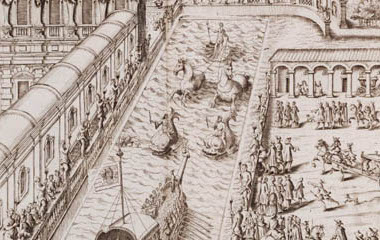 From the sixteenth through the nineteenth centuries, the royal and aristocratic courts behind Europe's most illustrious festivals printed elaborate, illustrated volumes to record the celebrations that they organized to mark births, deaths, betrothals, weddings, coronations, and visits. Often circulated for the benefit of rival noble families and in the interests of self promotion, festival books are fascinating witnesses to aristocratic culture and art during the Early Modern period.
Rulers of church and state competed to produce the most memorable events, and to this end they employed the best artists, architects, and engineers to design stage settings and floats; the finest actors and musicians for the performances; the best dancers for the ballets and riders for the equestrian demonstrations. Seeing these festivals as a reflection of their own prestige and a guarantor of their positions as rulers, they sought to document for posterity, and for personal propagandistic reasons, the splendor of their celebrations by having the leading artists and engravers produce the illustrations that embellish the festival books
The 231 books exhibited here document a wide array of festivities, among them athletic competitions, tournaments, parades, fireworks, and theatrical and operatic performances. The cities, noble families, and wealthy individuals who organized these celebrations competed with each other to hold the most illustrious events possible. They hired Italy's most famous artists, composers, librettists, choreographers, actors, singers, and architects to develop their elaborate spectacles.
Italian festival books grew more elaborate with the passage of time. One volume in the exhibit commemorates a parade held in Palermo on the feast day of Santa Rosalia in 1704. The book not only describes the event, but also includes a fold-out illustration of the entire parade. Over six feet in length, it depicts every float and participant, in order. Another book documents the procession for the feast of Corpus Christi organized by Pope Gregory XVI in 1838. The book consists of a single color illustration that, unfolded, is more than 38 feet long. It includes every one of the thousands of participants in the procession, including the pope himself, at about the midpoint of the procession. Other books record the celebrations surrounding the law school graduation of a relative of Pope Clement XI, the miraculous discovery of the relics of San Placido, the coronation of the Emperor Charles VI as King of Sicily, and the annual Bolognese festival involving the roasting of a pig.
The Exhibition
Sixty-five of these volumes were on exhibit September 24, 2007 through January 7, 2008, at the Beinecke Library.