Crawl Space
An artist's book by Suzanne Heyd.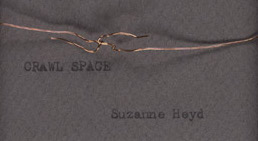 About the Crawl Space
The poems in Crawl Space were composed using a typewriter, working on commercial paint sample cards; each card is an example of a different shade of white interior house paint. The tools of composition provided useful constraints and suggestions, which are evident in both the form and content of the poems-a meditation on walls, both real and metaphorical, in marriage and the trappings of domesticity. I drafted versions of each of the poems (necessitating frequent trips to Home Depot to replenish paint card supplies) and eventually made a few complete sets, one of which is housed in the Yale Collection of American Literature at the Beinecke Rare Book and Manuscript Library at Yale University. — Suzanne Heyd
About the Author
SUZANNE HEYD is the author of the chapbooks Fascicles (Finishing Line, 2009) and Crawl Space (Phylum, 2007). Recent poetry appears in Ploughshares, AGNI, jubliat, Gulf Stream, Washington Square, Interim, and other journals. She is also an interdisciplinary artist and a freelance writer. She has been awarded an Artists Fellowship from the State of Connecticut, and residencies at Djerassi, The Land/an art site, and Vermont Studio Center. Her work has been nominated for a Pushcart Prize.
Related Resources