Edith Wharton Collection
Manuscripts, correspondence, and photographs documenting the life and career of Edith Wharton.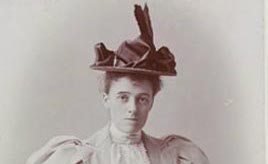 Novelist Edith Wharton was born Edith Newbold Jones in New York in 1862 and raised among the city's highest society; the elegance, decadence, and strict unwritten rules of behavior of this American aristocracy were to become a central subject of her fiction. One of the fabled Four Hundred—the city's most elite residents as determined by Caroline Astor and Ward McAllister based on the number that could comfortably fit in Astor's ballroom—Wharton wrote with a shrewd eye toward the hypocrisy, cruelty, and corruption sometimes evident in the conduct of her social class.
Shortly after the turn of the twentieth century, Wharton moved to Paris; she never gave up her United States citizenship and returned to the States with some regularity, but for the rest of her life, France was her home. The majority of Wharton's more than twenty novels, including Ethan Frome (1911), The Custom of the Country (1913), and A Son at the Front (1923), were written in France, after Wharton had fled the repressive culture of her New York circle. In spite of her distance from the city and its high society, however, Wharton continued to write about it, making it the subject of some of her best writing, including her well-respected novel The Age of Innocence (1920) and a collection of four short novels, Old New York (1924).
History of the Collection
The collection was formed from gifts from the Edith Wharton Estate (1938-1939), Gaillard Lapsley (1938-1946), Oscar Lichtenberg (1959-1965), Percy Lubbock (1954), Georges Markow-Totevy (1980), and Louis Auchincloss (?), with smaller bequests from numerous other donors (especially John Hugh Smith and Margaret Chanler) and with purchases with Beinecke funds.
The Collection
The Edith Wharton Collection at The Beinecke Rare Book and Manuscript Library, estimated at some 50,000 items, consists of manuscripts, letters, photographs, and miscellaneous personal papers that belonged to Edith Wharton and were part of her estate at her death; letters, manuscript material, photographs and related papers from the Louis Auchincloss, Gaillard Lapsley, Percy Lubbock, Oscar Lichtenberg, and Georges Markow-Totevy collections of Wharton material; and essays, articles, and other material pertaining to Wharton's life and writings. The collection spans the years from Edith Wharton's early life (1876) to recent Wharton scholarship (1980), with the bulk of material covering the years of Wharton's greatest literary productivity, 1910 to 1937. Currently, only a portion of the Edith Wharton Collection is available online.
Related Collections
Anna Catherine Bahlmann papers relating to Edith Wharton, YCAL MSS 361