The Elizabeth Jenks Clark Collection of Margaret Anderson
Writings and photographs documenting Anderson's life, work as editor of the Little Review, and romantic relationships.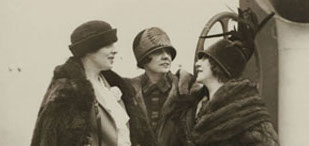 In 1914, Margaret Anderson founded the Little Review, one of the most influential literature and art magazines of its time. The magazine's motto, "Making no compromise with public taste," announced Anderson's commitment to publishing the best work available, without regard to fashion or convention. In its early issues, the magazine included work by then-unknown writers, political extremists such as Emma Goldman, and radical social commentary, such as Anderson's own article in defense of homosexuality.
In 1916, Margaret Anderson met Jane Heap, a woman well known in Chicago's artistic circles for her interest in modern art and her unconventional dress—she was among the first women in Chicago or any other city to wear short cropped hair and dress in men's trousers. Anderson immediately made Heap co-editor of the Little Review; the two women fell in love and boldly lived as a lesbian couple when such unions were not often openly displayed.
The Little Review began to serially publish Ulysses, James Joyce's extremely controversial novel, in 1918. The editors were charged with obscenity and, after a drawn-out legal battle with the United States Post Office, convicted and fined in 1921. The trial took a financial and emotional toll on the women. They published issues of the Little Review more and more irregularly and their relationship eventually began to fall apart. With the tenth anniversary of the magazine in 1924, Anderson suggested they cease publication. Heap decided to continue the journal without Anderson's co-editorship, and shifted the magazine's focus to the visual arts by including more work by painters and sculptors, especially those associated with Dadaism, Surrealism, and other modern art movements.
History of the Collection
The Elizabeth Jenks Clark collection of Margaret Anderson contains material of mixed provenance. After Anderson's death, Elizabeth Jenks Clark and Solita Solano inherited her papers. Following the death of Solano, Clark lived with Mathilda Hills, who inherited Anderson's and Clark's papers when Clark died.
The Collection
The Elizabeth Jenks Clark Collection of Margaret Anderson contains correspondence, writings, photographs, sound recordings, and other papers of writer and editor Margaret Anderson. The material documents Anderson's life, work, and personal relationships with many noted writers, poets, artists, photographers and performers of the twentieth century, in particular her romantic relationships with co-editor and writer Jane Heap, writer Solita Solano and close friendship with sculptor Elizabeth Jenks Clark. The papers span the entirety of Anderson's life, though the bulk of them document her personal and professional life after the Little Review. The papers are a unique resource on Anderson's personal life in France, including her friendship and studies with George Ivanovitch Gurdjieff and participation in The Rope. A portion of the papers also document publishing the Little Review and provide context for Anderson's role as founder and editor of the magazine. Currently, only a portion of the Elizabeth Jenks Clark Collection is available online.
Related Podcast
Unfolding the Corners: Intimacy in the Archive of Margaret Anderson