Eugene O'Neill
Photographs, papers, and correspondence pertaining to the life of the American dramatist, Eugene O'Neill.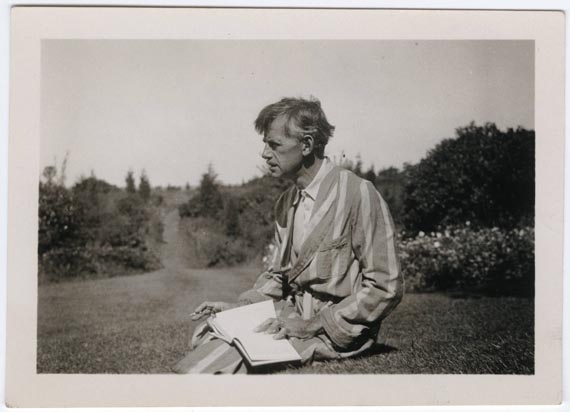 Eugene O'Neill was an American dramatist, winner of four Pulitzer Prizes, and winner of the Nobel Prize for Literature in 1936. He was married three times, to Kathleen Pitt-Smith (with whom he had a son, Eugene O'Neill, Jr.), to Agnes Boulton (with whom he had a son, Shane Rudraighe O'Neill, and a daughter, Oona, who married Charlie Chaplin), and to Carlotta Monterey O'Neill. His best-known plays include Anna Christie (1920), The Emperor Jones (1920), Strange Interlude (1928), Mourning Becomes Electra (1931), The Iceman Cometh (1939), and Long Day's Journey Into Night (1941).
History of the Collection
Historically, the Eugene O'Neill Papers at the Beinecke Library were comprised of a number of different collections grouped together. These materials were processed between 1997 and 1998; at that time, they were separated by provenance into four collections: Eugene O'Neill Papers (YCAL MSS 123); Eugene O'Neill Collection (YCAL MSS 124); Agnes Boulton Collection of Eugene O'Neill (YCAL MSS 122); and Eugene O'Neill, Jr. Collection (YCAL MSS 126). Currently, only a portion of these collections related to Eugene O'Neill are available online.
Related Collections
Agnes Boulton Collection of Eugene O'Neill, YCAL MSS 122
Eugene O'Neill Collection, YCAL MSS 124
Eugene O'Neill Papers, YCAL MSS 123
Eugene O'Neill, Jr. Collection YCAL MSS 126