Federal Writers' Project Negro Group papers, 1927-1940.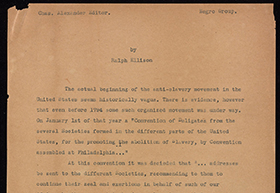 The Federal Writers' Project (FWP) was established in 1935 by the Works Progress Administration (WPA).
Collection consists of drafts and transcriptions of essays by African American authors on the history and culture of African Americans in the United States and on African American contributions to the arts. Essays documenting historical experiences of African Americans cover religion in the Colonial era, the anti-slavery movement, and the underground railroad. Essays documenting African American cultural forms cover dance, literature, and theater, and feature several pieces on music, including songs of protest, spirituals, and folk music. Many essays in the collection also document contributions of individual African Americans, including James Weldon Johnson, Duke Ellington, Cab Calloway, Paul Robeson, and William Christopher Handy. Contributing authors include Wesley Curtwright, Ralph Ellison, Lawrence Gellert, Abram Hill, Claude McKay, Henry Lee Moon, Ted Poston, and others.