Filippo Tommaso Marinetti Papers
Photographs, postcards, and writings relating to the work of Marinetti and to the Futurist art movement.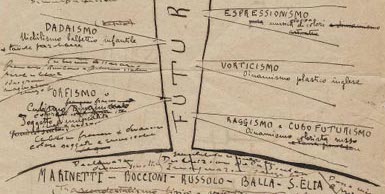 Filippo Tommaso Emilio Marinettii (1876-1944), was an Italian idealogue, writer, poet, and the founder and leader of Futurism.
The Collection
Available online are photographic prints and postcard prints, along with a selection of manuscript items from the Filippo Marinettii Papers. Currently, only a portion of these papers are available online.