Filippo Tommaso Marinetti's Libroni on Futurism
Images derived from slides taken of seven scrapbooks compiled by Marinetti between 1905 and 1944.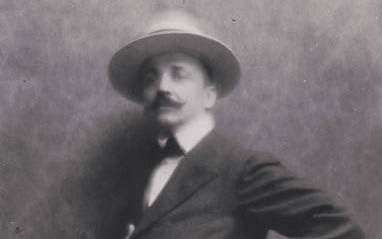 The Beinecke Library digitized 10,705 slides taken from a microfilm of F. T. Marinetti's seven Libroni or scrapbooks, compiled by Marinetti between 1905 and 1944, the year of his death. These scrapbooks contain thousands of newspaper clippings, journal articles, cartoons, drawings, photographs, manuscript items and other printed ephemera, which document Futurism and the avant-garde. The slides were acquired by the Library in 1999, along with a detailed listing of virtually every item depicted. That detailed listing is the source of the bibliographic data currently linked to each image. The Libroni database contains bibliographic errors, items lacking description, and image legibility and sequencing problems. The work of data correction, image sequencing, and image quality control is ongoing. To report a correction, email beinecke.library@yale.edu.
Please note that the Beinecke Library does not own the original Libroni, the location of which is unknown.  We own the slides as call number GEN MSS 475.   While it is possible to view these slides in our reading room, many of them are of poor quality.  The images in the database were scanned at a high magnification to allow scholars to view them more easily.  These images are the highest quality that is possible to recover from the slides.   We therefore recommend researchers use the database images rather than consulting the original slides.  Rescanning the images, or requesting a TIFF, will not produce a higher quality image.
Related Material