Frederick R. Koch Collection, 1640-1983
Music manuscripts, literary drafts, correspondence, photographs, and other papers of European, English, and American composers, authors, and artists.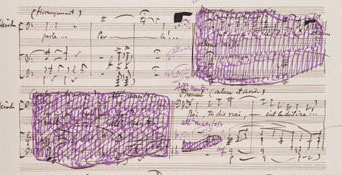 The Frederick R. Koch Collection consists of musical, literary, and historical materials collected by Frederick R. Koch (Yale School of Drama, 1961 MFAD), principally through purchases at public auctions, from 1979-1986. Including individual items, concentrations of related materials, and several extensive archives, the collection is a broad and deep resource for study of the lives and works of a range of composers, authors, and other historical figures.
Most materials are music manuscripts, literary manuscripts, drawings, and correspondence of European, English, and American composers, authors, and artists. Also present are historical manuscripts, photographs, albums, and other papers. While the contents of the collection span the seventeenth to twentieth centuries, most date from the nineteenth to early twentieth centuries, with particular strengths in French, Italian, German, and British music, French literature, and British art.
The Collection
Composers represented in the Koch collection include Hector Berlioz, Georges Bizet, Luigi Boccherini, Johannes Brahms, Claude Debussy, Manual de Falla, Gabriel Faure, Cesar Franck, Charles Gounod, Reynaldo Hahn, George Frederic Handel, Ruggiero Leoncavallo, Franz Liszt, Pietro Mascagni, Jules Massenet, Felix Mendelssohn-Bartholdy, Wolfgang Amadeus Mozart, Jacques Offenbach, Francis Poulenc, Giacomo Puccini, Maurice Ravel, Camille Saint-Saëns, Erik Satie, Franz Schubert, Richard Strauss, Igor Stravinsky, Giuseppi Verdi, Richard Wagner, William Walton, Carl Maria von Weber, Hugo Wolf, and Ermanno Wolf-Ferrari, among many others.
Authors include W. H. Auden, Jean Cocteau, Noel Coward, Alphonse Daudet, Alexandre Dumas, Jean Genet, Victor Hugo, Henry James, Edward Lear, Anita Loos, W. Somerset Maugham, James Ingram Merrill, Henry Miller, A. A. Milne, Marcel Proust, Arthur Rimbaud, and Oscar Wilde, among others.
Related Material
Beinecke Rare Book and Manuscript Library. A Catalogue of the Frederick R. Koch Collection at the Beinecke Library, Yale University. Edited by Vincent Giroud. New Haven: Beinecke Rare Book and Manuscript Library, 2006.