Frederick Samuel Dellenbaugh's Photographs and Drawings of the Colorado River Region
Approximately 900 photographic prints depicting the Colorado River region and other areas of the U.S. West, 1871-1934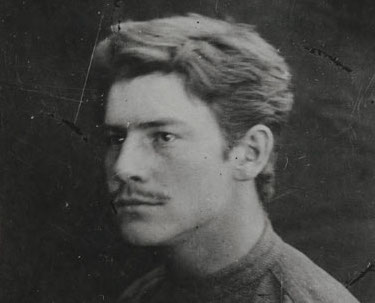 In 1871, John Wesley Powell appointed seventeen year-old Frederick Samuel Dellenbaugh as artist and assistant topographer for his second expedition down the Colorado River.
The expedition embarked at Green River, Wyoming, and passed the winter of 1871-72 at Kanab, Utah. In the spring and summer of 1872, Dellenbaugh explored north of Kanab through Potato Valley and helped discover the Escalante River. The expedition continued on to the Aquarius Plateau and the Henry Mountains and traveled through the Upper Grand Canyon until Powell called a halt at Kanab Creek due to dangerous currents.
Following the expedition, Dellenbaugh traveled in the West, lived with the Hopi Indians, and studied painting in France. He settled in New York where he wrote and lectured about the West. In 1899, he served as artist on E. H. Harriman's expedition to Alaska and Siberia. In later years he continued to travel, served as librarian to the National Geographic Society, and founded the Explorer's Club. Dellenbaugh published The Romance of the Colorado River in 1902 and A Canyon Voyage, which described the second Powell expedition, in 1908. He died in New York City on January 29, 1935.
The Collection
Over 800 digital images shown selected from nearly 900 photographic prints, relief halftones, postcards, negatives, tintypes and pen and ink drawings in Dellenbaugh's personal collection.
Depicting the Colorado River region and other areas of the West, these photographs include works by E. O. Beaman, James Fennemore, and John K. Hillers, photographers on the 1871 Powell expedition, as well as halftone prints of their images, apparently created for inclusion in Dellenbaugh's books. Photographs by Dellenbaugh and other amateur photographers are accompanied by images from professional photographers William Henry Jackson and the Kolb Brothers. Subjects include the Grand, Glen, and Havasu Canyons, the Colorado and Green Rivers, Zion National Park, as well as miscellaneous photographs of Arizona, California, Colorado, and Utah, and portraits of expedition members and Native Americans.
History of the Collection
The images, which were created between 1871 and 1934, were collected by Dellenbaugh. Yale acquired them from the antiquarian bookseller, Edward Eberstadt & Sons. The photographs are primarily identified by caption information. Where captions were not present, identifications were drawn from reference to Dellenbaugh's published works.