H.D. Papers
Photographs, scrapbook pages, and ephemera documenting the life of American poet, H.D.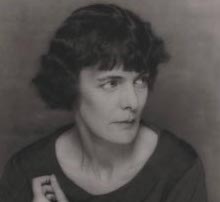 The Imagist poet Hilda Doolittle became involved with modernist writing while still a teenager. At the age of fifteen, Doolittle met Ezra Pound; a few years later, in 1911 she followed him to England, where she quickly joined his circle of young writers and artists. The following year, it was Pound who "created" the poet "H.D." when, without her knowledge, he signed her poems "H.D., Imagiste" before sending them to Poetry editor Harriet Monroe. From that point forward, H.D. was associated with Imagism, a poetic movement that emphasized economy of language and rejected traditional verse forms. Doolittle, however, resisted the label, finding it too limiting to include the range of her poetic ambition.
Around 1919, H.D. met Winnifred Ellerman, a young heiress and writer known as Bryher. Their friendship, romance, and creative collaboration lasted for the rest of their lives. The women traveled extensively together, including to Greece, a landscape and culture that deeply influenced H.D.'s work and aesthetic. She resided in Europe for the rest of her life, making her home in London, Paris, and Switzerland.
History of the Collection
The H.D. Papers are the bequest of Norman Holmes Pearson, H.D.'s literary executor. Most of the material in the H. D. Papers came to the Beinecke Rare Book and Manuscript Library after Professor Pearson's death in 1973. Prior to this time, selected groups of materials were given to the library by Professor Pearson and were placed with related documents in other collections; these materials have been retrieved and placed in the H.D. Papers. Materials from other sources are also found in the papers, with specific provenance information on the appropriate folders.
The Collection
The H.D. Papers document the life and career of the poet Hilda Doolittle (H.D.). The papers span the dates 1887-1977, but the bulk of the material covers the years 1918-1963. Currently, only a portion of the H.D. Papers are available online.
Related Collections