Illustrations of American Indians
Nearly 300 illustrations by Europeans depicting Native Americans.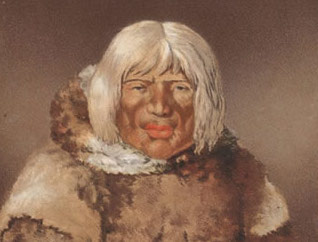 From the earliest days of contact with the native peoples of North America, European artists made images illustrating their customs, dress and living spaces. Some of the drawings showed the natives as curious specimens from another world, with peculiar habits and clothing. Others emphasized their skill at hunting or their ferocity as warriors. While some images accompanied sensationalist accounts of Indian raids on white settlers, others attempted to expose cruelties that whites had inflicted on native peoples.
This selection of illustrations from books, maps and serials shows some of the variety of approaches that European and European-American artists took in depicting the Indians of North America, from the 16th to the 19th century.
The Collection
Just under 300 engravings, watercolors, and illustrations drawn from books, archival collections, and artwork from the Beinecke Library's Western Americana and General collections.