Kurt Wolff Archive, 1907-1938
Correspondence from the archive of the German publisher who established Kurt Wolff Verlag and Pantheon Books.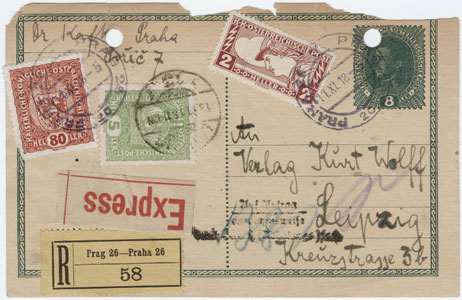 During the early decades of the twentieth century, Kurt Wolff was one of the leading publishers of contemporary literature in Germany. The archive consists principally of letters, with a few documents and manuscripts, that he was able to bring to the United State when he and his family fled Europe in 1940.  Correspondents of the Kurt Wolff Verlag  included Expressionists (Gottfried Benn, Georg Heym, Ernst Toller, Georg Trakl), Dadaists (Hugo Ball, Richard Huelsenbeck, Tristan Tzara), and artists (Paul Gauguin, Georg Grosz, Paul Klee, Oskar Kokoschka, Käthe Kollwitz, Alfred Kubin, Frans Masereel) as well as such prominent literary figures as Gerhard Hauptmann, Hermann Hesse, Franz Kafka, Karl Kraus, Else Lasker-Schüler, Heinrich and Thomas Mann, Rilke, and Frank Wedekind. The longest files of correspondence in the collection are with Franz Werfel and Walter Hasenclever, a friend from Wolff's student days in Leipzig. In all, 178 correspondents are represented in the collection; 73 are available in digital reproductions. Many of the letters at Yale were published by Bernhard Zeller and Ellen Otten in Briefwechsel eines Verlegers 1911-1963 (Frankfurt am Main, 1966).
History of the Collection
The purchase of the collection from Kurt Wolff in 1947 was facilitated by Curt von Faber du Faur, then one of two curators of the Yale Collection of German Literature.
The Collection
Approximately 4,100 letters and some manuscripts from the files of the Kurt Wolff Verlag from the years 1910-30. Currently, only a portion of the Kurt Wolff Archive is available online.
Related Collection
Kurt and Helen Wolff papers, YCGL MSS 16