Love in Wartime
Maxine and Victor Kumin's Letters from 1945-1946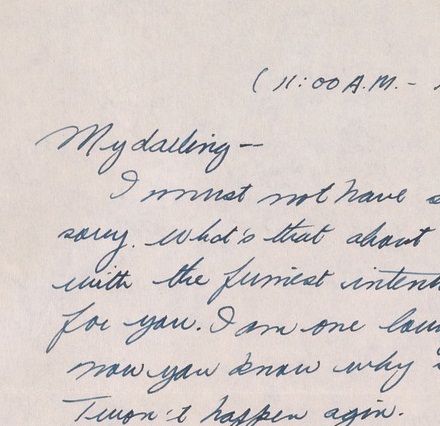 The Beinecke Library is pleased to provide digital access to more than 500 letters, long thought to have been lost, exchanged during the 1940s by poet Maxine Kumin and her husband, Victor, a soldier-scientist working at Los Alamos. The letters are the subject of Maxine Kumin's essay, "Love in Wartime: The Epistolary Romance of a Lost Alamos Scientist and a Radcliffe Junior Destined for Poetic Renown," (American Scholar, Autumn 2012, Vol. 81 Issue 4, p72-83).
This collection documents the romance in journal-letters of Maxine Winokur, then a junior at Radcliffe College, today a renowned poet, and Victor Kumin, a Harvard graduate, and soldier-scientist, working on J. Robert Oppenheimer's team to develop the atomic bomb at Los Alamos. Maxine's letters to Victor tell of her studies, reading, teachers and Harvard/Radcliffe social life, her discussions with Victor about Marxist theory, the Soviet Union, the U.S. labor union movement, politics, personal and family matters, and much more. Victor's contribution to their ongoing conversations includes his meditations on the evolution of the U.S. atomic bomb program and his participation in it, in addition to reflections on his life as a soldier-scientist during turbulent and pivotal times in world affairs.  Nothing in Maxine's and Victor's letters was redacted by U.S. Army censors. The letters provide an almost daily record of this exceedingly articulate and engaged couple, deeply concerned about the goings-on of the world around them and their places in it.
Maxine and Victor Kumin's wartime correspondence includes 534 letters, as well as postcards and snapshots, sent between Cambridge, MA, Philadelphia, and Santa Fe, NM, between 28 April 1945 and 22 June 1946. The collection also includes enclosures, chiefly newspaper and journal clippings, but also typescript and manuscript poems by Maxine Kumin.
This collection of part of the Maxine Kumin Papers, YCAL MSS 734.