Mammoth Plate Photographs of the North American West
Mammoth plate photographs, chiefly created by Carleton E. Watkins and William Henry Jackson, ca. 1874-1898.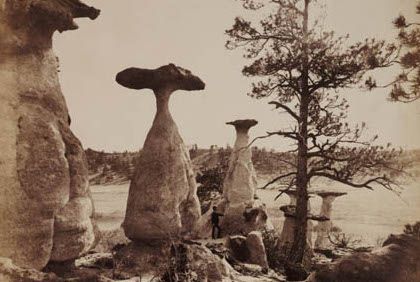 The photographs in this collection were chiefly created by American photographers Carleton E. Watkins (1829-1916) and William Henry Jackson (1843-1942), and the images document various locations in the American West.
Photographs by Watkins consist of images created in the states of California and Oregon, and in Arizona, Montana, Utah, Washington, and Wyoming Territories, circa 1874-1890.
Most of the images created by William Henry Jackson depict locations and geological features in Colorado, while other images show locations in Utah, Idaho, New Mexico, and Oregon, 1878-1898.
The Collection
Mammoth plate photographs are photographic prints made through contact printing a photographic print from a large glass plate negative, usually 18 by 21 inches, but may vary in size from 15 by 18 inches to 22 by 25 inches. These large negatives allowed photographers to produce outsized photographic prints before the development of photographic enlargers.
The collection consists of 57 black and white photographic prints roughly 21 x 17 inches.