Medieval Scribal Pattern Book
A model book for scribes by Gregorius Bock, ca. 1510-1517.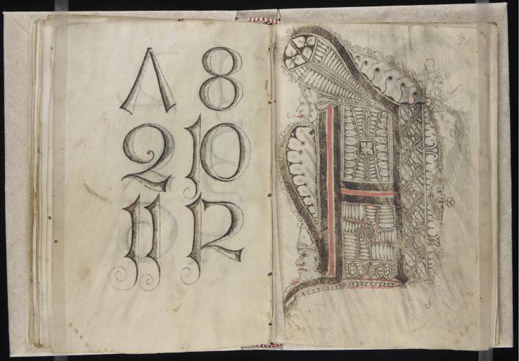 A medieval scribal pattern book by Gregorius Bock, ca. 1510-1517 from Swabia, Germany. The codex is composed of two parts: the first illustrates alphabets in various scripts often preceded by a text written in that style and second part of the codex is composed of decorative initials arranged alphabetically.
Some of the styles demonstrated include gothic textura, round gothic, round humanistic, Batarde, Greek, and Hebrew.
About the Codex
Parchment, ff. ii (paper) + 50 + ii (paper), 178 x 123 (115 x 90) mm.
Most passages of text in the first part begin with large decorative initials, primarily white floral designs on black grounds. Initial (green and red added) with full penwork border of swirling leaves on folio 1r.
MS 439 was rebound in 1984 in the Yale University Conservation Studio. Non-adhesive paper binding.