Mexican Revolution, ca. 1910-1917
Postcards of locations and events related to US military involvement in the Mexican Revolution.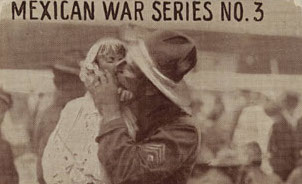 Hundreds of commercial and amateur photographers recorded imagery during the tumultuous Mexican Revolution (Revolución Mexicana), which began in 1910 with an uprising led by Francisco I. Madero (1873-1913) against Porfirio Díaz (1830-1915), the President of Mexico. Many of the photographs were printed on postcard stock and marketed by commercial photographers to soldiers and civilians on either side of the international border between Mexico and the United States. Other photographic postcards in this collection created by amateur photographers document their personal experience in the conflict.
Images include United States artillery, cavalry, and infantry, and Mexican federal and revolutionary soldiers, as well as individuals in military camps, refugee camps, and prisoner of war camps. Other images include battlefields and city streets under siege, views of towns, and depictions of vehicles, such as trucks, trains, and an airplane.
Identified events documented by images include the burning of Tijuana, Baja California, during a battle on May 9, 1911 and the aftermath of shelling by the U.S.S. Chester of the Mexican Naval Academy in Veracruz, Veracruz-Llave, in April 1914.
The Collection
The collection consists of 381 photographic prints and photographic postcards in both black and white and color, some with manuscript letters, postmarks, and stamps.