Photographs of Indians selected from the collection in the possession of the U.S. Geological survey of the territories
616 photographic prints of American Indians, assembled in 1876.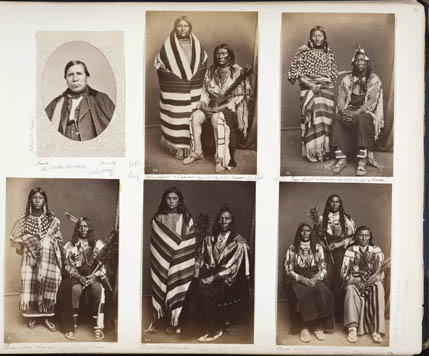 This album of photographs, assembled in 1876 from images in the collection of the United States Geological and Geographical Survey of the Territories, consists primarily of portraiture of male delegates to the United States with occasional images of women and children. The images were created for ethnographic portfolios of the Blackmore Museum, Salisbury, England. A few images show individuals with mixed descent and interpreters as well as an image of a seated Dakota Indian, Red Cloud (Ma-Kpe-Ah-Lou-Tah), shaking hands with William Blackmore, May 1872.
Portraits represent various tribal groups, including, among many others, the Apache Indians, Arapaho Indians, Arikara Indians, Bannock Indians, Cherokee Indians, Cheyenne Indians, Oglala Indians, Ojibwa Indians, Omaha Indians, Oohenonpa Indians, Santee Indians, Seminole Indians, Tohono O'odham Indians, Ute Indians, Wichita Indians, and Yuma Indians.
Exterior images consist primarily of informal portraiture, as well as depicting residences and settlements, including the Crow Indian Agency in Montana, 1871; the Pawnee Indian School and buildings at the Pawnee Reserve, Loup Fork, Nebraska, 1871; and a Bannock Indian camp near Fort Hall, Idaho, 1872.
Individual photographers with images represented in the album include Charles Milton Bell, Thomas Martin Easterly, Alexander Gardner, Benjamin Gurney, Jeremiah Gurney, William Henry Jackson, James Earle McClees, Antonio Zeno Shindler, Henry Ulke, Julius Ulke, Lee Ulke, Julian Vannerson, and Orloff R. Westmann.
The Collection
1 album (616 photographic prints) : b & w ; 41 x 54 cm.