Rachel Carson Papers
Notebooks, letters, clippings, and photos relating to the life of the American nature writer and environmentalist.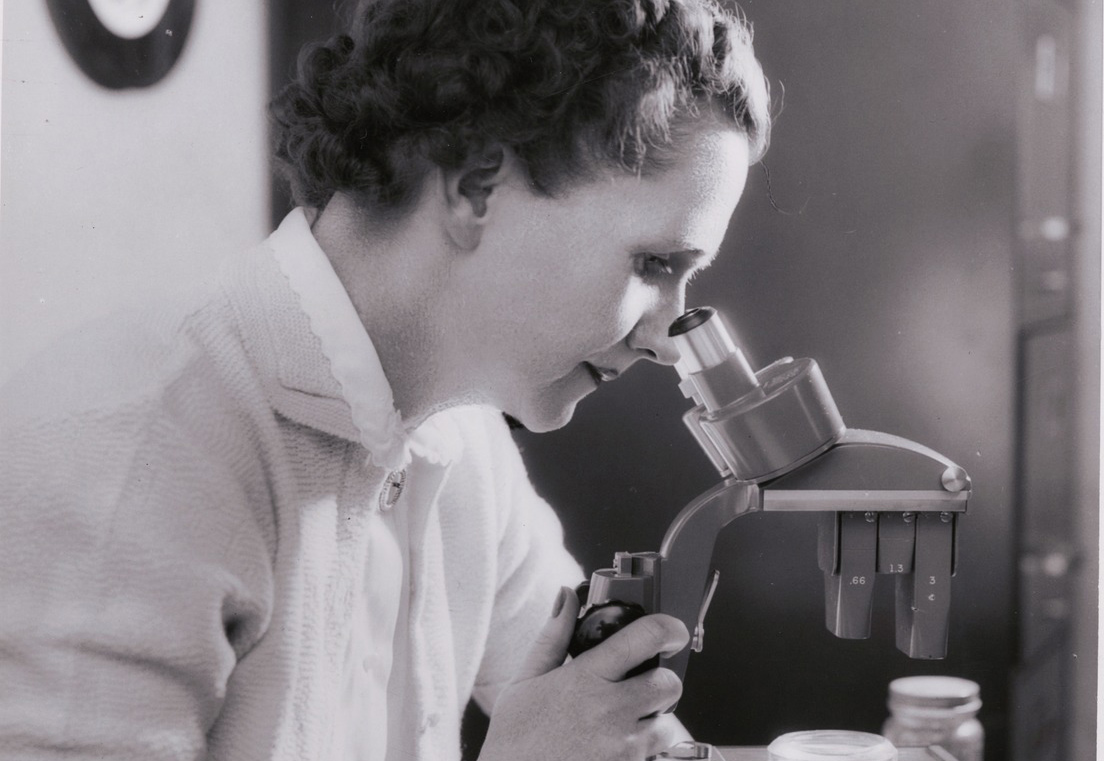 Rachel Louise Carson, noted biologist and environmentalist who fascinated readers with three books on the wonders of the sea and awakened the American public to the dangers of pesticide misuse with a highly controversial bestseller, was born on May 27, 1907, in Springdale, Pennsylvania. She was interested in writing at an early age and submitted a number of juvenile stories, poems, and essays to leading youth magazines.
Rachel Carson's first book, Under the Sea Wind, attracted little notice on its appearance in 1941. However, her second book on the sea, The Sea Around Us (1951), remained on the best-seller lists for eighty-six weeks, was eventually translated into thirty languages, and received many awards. A reissue of Under the Sea-Wind in 1952 was well received; and her third book, The Edge of the Sea (1955), which shifted focus from the sea to the shore, nearly equalled the popularity of The Sea Around Us and firmly established Carson as the most popular scientific writer in the country. 
Long interested in the delicate balance between man and nature, Carson in her next book examined man's destruction of his environment through the careless use of pesticides. Silent Spring (1962) may well be the most controversial American book of the twentieth century. Its first appearance in serial form in The New Yorker triggered the wrath of the chemical industry and associated groups and made Rachel Carson a household name. The continuing controversy sparked federal investigation into the misuse of pesticides and resulted in lengthy Congressional hearings in 1963. Among the many honors accorded Silent Spring were the Audubon Medal from the National Audubon Society, the Cullum Geographical Medal from the American Geographical Society, the Spirit of Achievement Award from the Albert Einstein College of Medicine, and a Carey-Thomas Honorable Mention for the most distinguished publication of 1962.
History of the Collection
The majority of the material in the collection was a bequest to Yale University in 1965; later additions were primarily gifts of Houghton Mifflin Company in 1968; Marie Rodell, Rachel Carson's literary agent, in 1973; and Lois Darling in 1983.
The Collection
The Rachel Carson Papers consist of manuscripts, notebooks, letters, newspaper clippings, photos, and printed material relating to the life and career of Rachel Carson. The collection spans the years 1921 to 1981, with the bulk of the material covering the period from 1950 to 1964. 
Related Resources
The Writing of "Silent Spring": Rachel Carson and the Culture-Shifting Courage to Speak Inconvenient Truth to Power by Maria Popova online at Brain Pickings
The Life and Legacy of Rachel Carson
Rachel Carson Center of Ludwig-Maximilians-University Munich and the Deutsches Museum