Visconti Tarot
Hand-painted, gold and silver tarot cards, ca. 1428-1447.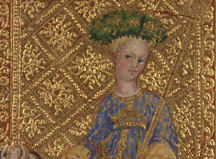 Among the unique items in the Cary Collection of Playing Cards are fascinating remnants of early Italian tarot packs. The tarot, originally a game of uncertain origin, came to be associated with fortune-telling, or cartomancy, several centuries after its appearance in central Europe in the late fourteenth century. Perhaps the most beautiful surviving example of this form is the Visconti tarot, sixty-seven particularly extragant handpainted cards with gold, silver, and miniature Renaissance portraiture.
The Collection
Originally commissioned in the 15th century by the Viscontis, a Milanese family that dominated the cultural life of northern Italy in the 14th and 15th centuries, this deck is one of the oldest sets in existence. The cards are attributed to Bonifacio Bembo, an Italian fresco artist who flourished between 1447-1478. The deck includes eleven trump cards, six court cards, including the King, Queen, Male Knight, Female Knight, Male Valet, and Female Valet, as well as the unusual addition of the three Theological Virtues, Faith, Hope and Charity. The unique addition of the female knight and valet may be an indication that this set was intended to be used by a female member of court.
History of the Collection
The first major deposit of playing cards in the Yale Library was in 1945, when Mrs. Samuel H. Fisher gave her extensive collection. This group of material documented five centuries of the development of the playing card. The earliest items in this gift were engraved German cards from the fifteenth century.
The great leap forward, the acquisition that gave Yale a prominent place in the study of playing card history, occurred two decades later. Melbert B. Cary, Jr., was, by profession, an importer who indulged his passion for fine printing by establishing and running the Press of the Woolly Whale (the archives of which reside in the Beinecke Library). Another of his passions, collecting playing cards, was developed in partnership with his wife, Mary Flagler Cary. They collected together until his death in 1941, after which Mrs. Cary continued adding judiciously to the assemblage of examples from around the world. Following Mrs. Cary's death in 1967, the collection was presented to Yale, along with funds for its maintenance. The Visconti Tarot is one example from many in the Cary Colelction of Playing Cards.