Walt Whitman Collection
Selected manuscripts, correspondence, and artifacts documenting the life of the American poet, Walt Whitman.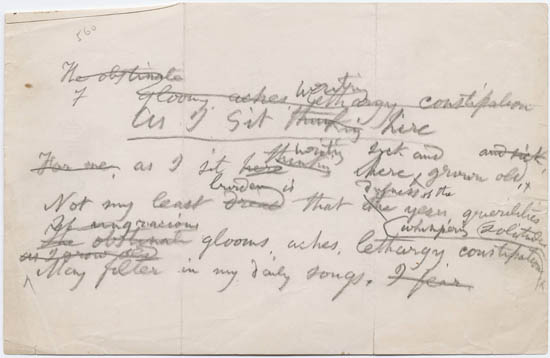 Walter Whitman (1819–1892) the American poet and journalist, is best known for his poetry collection Leaves of Grass, first published in 1855.
History of the Collection
The Beinecke Library's Walt Whitman Collection contains letters, manuscripts, photographs, art, and other material dating from 1842-1949, and features the Whitmania of Yale benefactors Louis Mayer Rabinowitz and Arian Van Sinderen. The Rabinowitz gift features letters to Whitman from Civil War soldiers and former patients, galley proofs for articles and poems, many inscribed and signed by Whitman, and holograph fragments to November Boughs. A group of papers relating to Whitman's brother George includes journal entries and letters documenting Whitman's efforts to find his brother during the war. Whitman's journal entries provide a rough history of his brother's movements from an undated memo from George to his mother, in which George reveals his captivity, to Whitman's first journal entry on December 26, 1864 describing the family's experience after receiving George's army trunk.
The Van Sinderen gift includes correspondence, writings, photographs, art, and other material. There are letters from Whitman to naturalist John Burroughs, Julius Chambers, Moncure Conway, Boston editor Nathan Hale, William Sloane Kennedy, William Michael Rossetti, John Swinton, and his mother Louisa Van Velsor Whitman. There are letters to Whitman from family members, his biographer Richard Maurice Bucke, and journalists and writers, including Samuel Clemens, John Camden Hotten, William Douglas O'Connor, Allen Thorndike Rice, and Algernon Swinburne. Writings include articles and essays, autobiographical pieces, a diary fragment, lectures and speeches, notes and notebooks, outlines and proposals, and poetry. Writings are present in manuscript, corrected galley proofs, and printed versions.
The Whitman collection includes other manuscript drafts and galley proofs, such as a holograph draft for a poem, "Sea-Captains, Young or Old," and an untitled autobiographical statement, written in 1888, discussing service to the wounded in Maryland and Virginia during the Civil War from 1862 to 1865. The collection features many representations of Whitman by well-known nineteenth century photographers and artists. There are photographs by Thomas Eakins, a bust by sculptor Samuel Murray, and both original engravings and reproductions by Samuel Hollyer, Gustav Kruell, William James Linton, and Stephen Alonzo Schoff. Currently, only a portion of the Walt Whitman Collection is available online.
Related Resources
The Walt Whitman Archive is a comprehensive resource about Whitman's life and work, made freely available by the Center for Digital Research in the Humanities at the University of Nebraska–Lincoln.