Reproduction Orders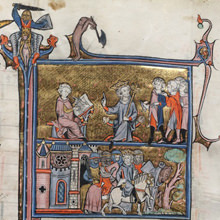 The Library offers a wide range of photoduplication services for materials in its collections to assist scholars in their research. See services and prices below. To order reproductions, please send an email with the call number, or as much information as possible, to beinecke.library@yale.edu. 
Many items from Beinecke's collections have already been digitized and are available to download for free from our digital library.  Patrons are encouraged to check there before placing their order. 
All requests are subject to review by the Beinecke Access Services staff. The library reserves the right to revise an order due to preservation concerns or time constraints. If an order must be changed to a different format, the patron will be notified of the change and of the associated price increase. Additional charges may apply to complex and large orders requiring special handling.
Normal turn-around time is two to six weeks, although some formats can be produced in a shorter period of time. Turn-around time is dependent upon the complexity of the order and the format of the reproduction. If a deadline is involved, readers must discuss the timeline for reproduction orders with our staff.
Please note that some materials may be too fragile or too large to be scanned. Additionally, the Library may be unable to accommodate reproduction requests prior to and during the closing of a collection; please consult the closed collection list.
The Beinecke is currently not charging for reproductions.
The Library's provision of a  reproduction does not imply an authorization to publish or reproduce it.  Please see our Permissions and Copyright page for more information. 
Reproduction & Distribution of electronic files:  In accordance with copyright legislation, Title 17, Chapter 1, born-digital collection materials may not be copied or distributed in digital form outside the Library. To assist scholars in their research, the Library will consider requests for printed copies.
Scans
Product
 

NEW 400 PPI SCAN
TIFF file format*

Click here for an example

---

EXISTING TIFF file in the Digital Library**

Click here for an example

---

 

New JPEG 2000 images

Click here for an example

---

 

Bookeye Scan NEW printable,color PDF image***

Click here for an example

---

 

*We provide uncompressed TIFF image files, captured at 400 ppi in accordance with FAGI4 and MetaMorphoze color management standards, in 24 bit color, at 100% of the original size of the item. TIFF files are suitable for full-size, full-color publication. JPEG 2000 files available upon request.

Download existing files from our digital library.

All Digital Images are delivered electronically.

 
Audio and Video Files
The reproduction or reformatting of audiovisual materials is dependent on the condition of the original and may take considerably longer than other formats.  Pricing varies depending on the original format.  Contact Access Services at beinecke.images@yale.edu to inquire about specific items.
Microfilm
The Library can also provide paper copies made from pre-existing microfilm (or, copyflo). A self-service microfilm reader/printer is available for patron use in the Reference Room, where readers may also create PDF files to save on a flash drive.
| Product | Per reel |
| --- | --- |
| Copy of Already Existing Positive Microfilm |   |
COPYFLO
Enlarged paper copy from negative microfilm
 
| Product | Yale and Vistor |
| --- | --- |
| Orders up to 80 frames, total cost |   |
| Orders more than 80 frames |   |