History and Architecture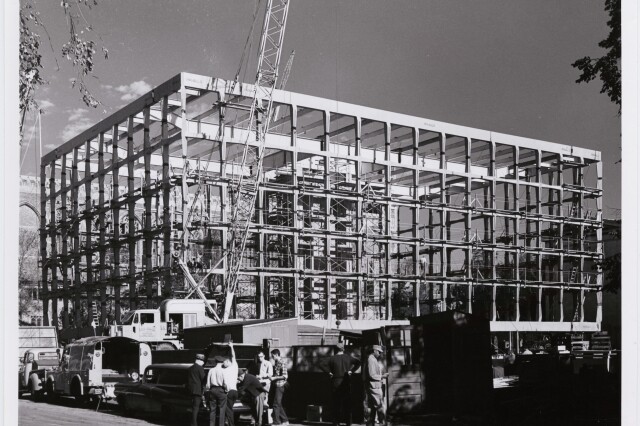 The Beinecke Rare Book and Manuscript Library provides access to one of the world's largest collections of rare books, manuscripts, and related materials. A part of Yale University Library, each year we welcome more than 150,000 public visitors to events, programs, and exhibitions; over 7,000 students into classrooms; nearly 3,000 researchers in the reading room; and over 350,000 unique visitors online. A team of 140-plus talented staff members make the Beinecke Library a vibrant center for discovery, creativity, and knowledge.
Designed by Gordon Bunshaft of the architecture firm Skidmore, Owings & Merrill, the Beinecke Library building at 121 Wall Street in New Haven opened in October 1963. The library was the gift of three Yale alumni—Edwin J. Beinecke, 1907; Frederick W. Beinecke, 1909S; Walter Beinecke, 1910—and their families. They gave it to "stand as a symbol of the loyalty and devotion of three brothers and serve as a source of learning and as an inspiration to all who enter."
Bunshaft conceived of the cathedral-like exhibition hall that continues to be a source of inspiration for the public. The building's innovative design includes a six-story glass-enclosed tower of book stacks, holding approximately 180,000 volumes, inside a cube with large "windows" made of translucent Vermont marble panels, an inch and a quarter thick, in a Vierendeel truss of steel clad in granite on the exterior. The marble panels protect the collections from damaging direct sunlight while absorbing and diffusing the exterior light in warm hues on the interior.
The research level and most of the stacks are on two underground floors that extend beneath the plaza surrounding the library. Additional material from collections is housed in the university's Library Shelving Facility. The Beinecke Library holds more than one million books, many millions of manuscript pages, and tens of thousands of maps, ephemera, papyri, photographs, posters, paintings, and art objects, as well as extensive audiovisual material and born-digital content. 
Visitors come from across New Haven, around the nation, and far beyond to see the building, enjoy permanent and special exhibitions, and attend concerts, readings, and conferences. Through its vast digital collections and through books and essays published from research, the Beinecke Library reaches millions of readers online and in print.
Collections range from ancient fragments on papyrus to works by living authors. The library welcomes researchers from both Yale and beyond. Visit the library's website to learn more about how the collections are organized and how to search the catalog and other resources available to all. 
Registered readers may consult the collections directly in the reading room, one level below the public exhibition hall. The courtyard adjacent to the reading room features a sculpture garden by Isamu Noguchi in an assemblage with representations of the earth (pyramid), sun (circle), and chance (cube). The sculptor wrote of it that "it is nowhere, yet somehow familiar. Its size is fictive, of infinite space or cloistered containment."
The library serves as a nexus for original scholarship in a wide range of fields including: literary and cultural studies of many areas of the world; the history of science; music, theater, and art; African American culture and history; American literature; East Asian studies; religion; medieval, Renaissance, and eighteenth-century Europe; gay, lesbian, and transgender studies; nineteenth-century imperialism; contemporary American poetry; the history of the book; British literature; Western Americana; cartography; photography, graphic design, and architecture; Yale, New Haven, and Connecticut history; Native American and Indigenous studies; transatlantic Modernism; postwar counterculture; American diplomacy; and much more. Visit the library's website to learn more and explore the breadth and depth of the collections.
The Beinecke Library administers the Bollingen Prize for Poetry, awarded biannually, and the Windham-Campbell Prizes for fiction, nonfiction, poetry, and drama, awarded annually. Each September, the library celebrates the Windham-Campbell prizewinners with a multiday literary festival on campus, free and open to the public.
In 2015, the library's technical services units—cataloguing, archival description, acquisitions, accessioning, and digitization work—consolidated operations in a state-of-the-art facility at 344 Winchester Avenue. The original Bunshaft building at 121 High Street underwent a comprehensive renovation in 2015–16, including conservation and restoration of its historic architecture and replacement of HVAC, electrical, security, and other mechanical systems. Doubling the classroom space available for teaching was an essential part of the renovation project. 
The Beinecke Library partners with special collections throughout Yale Library (including Arts, Divinity, Lewis Walpole, Medical Historical, and Music) to create a more unified approach for serving users and stewarding collections. In 2022, the Beinecke Library merged operations with Manuscripts and Archives, and the reimagined Beinecke Library adopted a more expansive mission to lead and support special collections across Yale Library. Together, we continue to innovate in building outstanding collections and in making Yale's unique special collections even more available for research, teaching, and learning.