Phoenix Alexander came to Yale for graduate studies in the 2013 from the United Kingdom., where he had earned an M.A. in English from Queen Mary University of London and a B.A. in Fashion Design from Central Saint Martins (CSM). 
After Alexander receives his doctorate in
African American Studies
and
English
from Yale on May 20, 2019, he returns to the U.K. to take up his appointment as the Science Fiction Collections Librarian in the
Special Collections and Archives of the University of Liverpool Library
.  This next chapter in his progression from fashion design into graduate work and onto academic librarianship has much to do with his time at Yale and, especially, his extensive work in the Beinecke Rare Book & Manuscript Library.
Alexander was first drawn to Yale by an encounter in a library. Alexander says he was studying for his master's degree and "rummaging" among the books in African American literary criticism at the Senate House Library in London and Professor Jacqueline Goldsby's A Spectacular Secret: Lynching in American Life and Literature (2006) was among the two books that most caught his eye. 
Goldsby's book was "extremely inspiring" and "completely different to the scholarship I'd been reading," he remembers. "I thought well, let me look up where Jacqueline Goldsby" teaches and "why not apply to a Ph.D. program there."
He applied to Yale and other programs and, upon admission, decided, "Yale was the best place for me," especially given the opportunity to pursue his joint interests in African American studies and literature. 
Alexander has thrived at Yale. He has studied with many scholars, including Goldsby, who was the advisor for his dissertation, "Voices with Vision: Writing Black Feminist Futures in 20th Century African America." He has worked as a teaching fellow in courses in African American Studies, English, and American studies, on the Harlem Renaissance, science fiction, and American literature from the Civil War to World War I. He has been a graduate student senator  and a member of the English department's graduate student advisory committee. He has helped organize academic conferences. He has published scholarly articles and science fiction stories. He has been a graduate fellow for the Black Bibliography Project jointly created by Yale's Goldsby with colleagues at Yale, Rutgers, and other universities and libraries. 
Alongside this, Alexander has worked in the Beinecke Library since January 2016, contributing his talents and developing his professional skills as a curatorial assistant, an exhibitions assistant, and with technical services.
While he had heard of the Beinecke Library before coming to New Haven, he did not know it well. As he leaves for his position in Liverpool, he will take with him first-hand knowledge of the behind-the-scenes work that powers such a special collections library. "I had figured out pretty early on in my academic program, around year two, that Yale's libraries and archives were truly amazing places to do research," Alexander recalls, "and, I thought, 'How does one work professionally in such a library?'" 
Gather Out of Star-Dust, exhibitions, and preservation
Barton says that Alexander impressed her from the very beginning: "Phoenix is a colleague with the ideal blend of seriousness about the work and humor about everything else. He is everything you could ask for in a student assistant—a brilliant and creative researcher; a tremendous help, willing to perform any task, no matter how mundane; and simply a joy to be around. Phoenix has grown to be a beloved presence throughout Beinecke Library."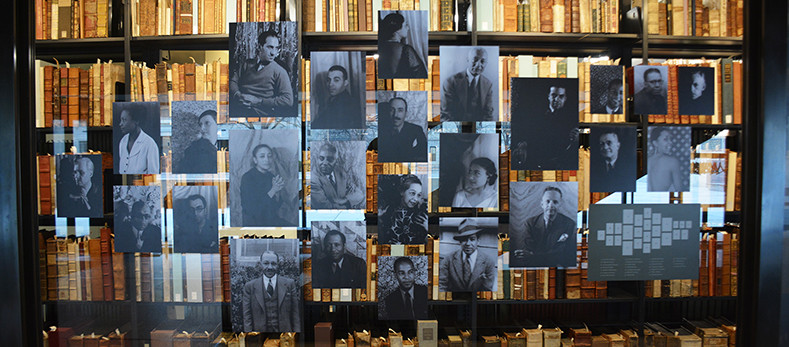 "The more I discovered about the work that went on, the more I wanted to really try and work in as many different parts of the library as I possibly could, to really understand how a world-class library functions, what the different departments are, what they do, how they interact, what are the processes involved" Alexander says – and the Beinecke Library staff were quite willing to work with him, to provide him opportunities across the library, and to be his mentors.
After working with Barton as curatorial assistant, Alexander worked with Kerri Sancomb in exhibitions and preservation, "making exhibition mounts, helping with installations" and other work he calls a "fantastic" way to reactivate his arts training from his fashion design days at CSM. 
Sancomb shares Barton and others' high regard for the graduate student's work. "Phoenix was an extraordinary assistant during a transition time in the exhibits unit when we were down a staff member," she remembers. "Phoenix jumped right in as a reliable and prompt student assistant. He brought a cheerful and humorous energy while maintaining razor sharp focus on the many cascading tasks at hand – we always looked forward to Phoenix's shift! I learned a lot about science fiction, fashion & analog gaming during my time with Phoenix!"
Learning while helping bring Samuel R. Delany's personal library to Yale
Another highlight of his Beinecke Library career soon followed when Alexander was asked by Timothy Young, curator of
modern books and manuscripts
, to accompany Young and catalog librarian Chris Smith, to assess and acquire the collection of major science fiction writer Samuel R. Delany in Philadelphia. 
"Beinecke staff were aware of my desire to learn and retrain and work towards a career as a curator myself," Alexander says, and the opportunity to meet Delany and work with that collection was "a perfect fit" given Alexander's vocational interest and his scholarly focus on 20th century African American fiction.
Young, Smith, and Alexander worked to select approximately 300 boxes of material from Delany's vast personal library to be accessioned for the Beinecke Library collections. "It was an incredible opportunity," according to Alexander, who cherished "the opportunity that Tim Young gave to a graduate student like me."
Young likewise treasured the talents Alexander brought to the library. "It's rare to find someone whose enthusiasm for the intellectual components of an archive is matched by their excitement in learning about the physical and technical requirements to make material available for researchers," the curator said. "Phoenix is always at-the-ready to literally dig into the stuff - while simultaneously holding a conversation about the definitions of literary genres."
Delany was as impressed by Alexander as Beinecke Library staff were. "I have known a number of folks who have worked in libraries—and I have as good a feeling about them as photographer Kyle Cassidy has in his wonderful book, Faces of Librarians," Delany says. "But no one has ever been more helpful and as friendly on this level than has Phoenix Alexander. He is a young man whose work, enthusiasm, and knowledge I have come to value greatly, and I hope his graduation is the start of a fulfilling and rewarding time for him."
The generosity of library staff as mentors 
"People really took my desire to train in library work seriously, to know not only the scholarship, but the work on the ground in libraries that is required to make materials accessible to scholars," Alexander recounts in describing the generosity of Beinecke Library staff as mentors.
Like so many students at Yale, Alexander knows the library through doing his own research in the reading room, as well as from classes taught in the library, and its public exhibitions and programs. His service behind the scenes deepened his awareness of the complexity of library work that supports scholarship in the reading room, classrooms, in the exhibition hall, and online.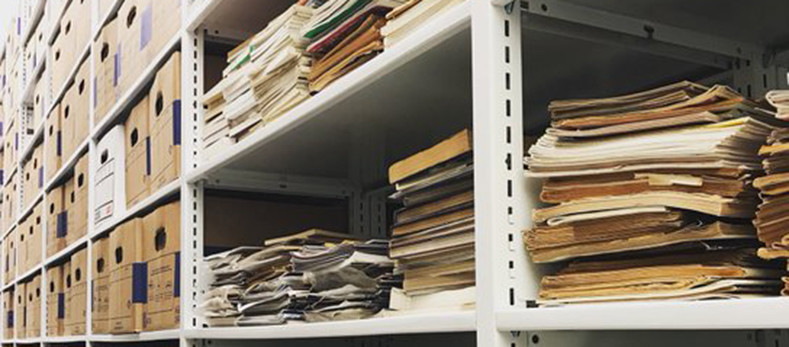 "I've had the privilege to work with librarians at the top of their game, doing amazing work. Most people probably don't know the amount of time, the number of steps, and the many people required to prepare books and archives for research, for teaching, and for sharing with wider world," Alexander reflects. "They might be surprised at the amount of effort and time it takes to make materials available. Actually, Beinecke Library is very quick at processing materials for researchers."
He continued his exploration of the profession with Nancy Kuhl, curator of poetry in YCAL, joining her to pick up an archive from the Grenfell Press in New York City, and working with Kuhl and Leslie Miller of the press to select, organize, and pack materials that are now at the Beinecke Library.
Copy cataloging, professional ethics, and continued learning 
For the last year, Alexander has returned to the Delany collection, helping process it as part of the library's Technical Services department: "I spent one of the best summers of my life unboxing the whole library. It was like Christmas, opening every box! Is it going to be science fiction? Is it going to be literary criticism? Is it going to be erotica? Is it going to be tarot cards? Delany's is such a voluminous library, and I organized it on the shelf to prepare it to be cataloged so that it can be usable by researchers now and in the future."
Smith, another of Alexander's many mentors at the library, trained the graduate student in copy cataloging. Alexander deployed those skills on a portion of the Delany library and, more recently, he has been copy cataloging the Leonard Marcus collection of children's literature.
"Phoenix was eager to learn about cataloging and other aspects of library technical services," Smith says. "He quickly gasped the subtleties of special collections cataloging and crafted useful and concise descriptions. My coworkers and I enjoyed the warm spirit and wit he brought to the office."
Throughout his years with the library, Alexander developed not only his professional skills, but also gained a greater understanding of the ethical issues libraries and scholars confront: "One thing that I have noticed, and that has informed the ethics of my own curatorial work, is that objects never come to us unmediated. There is always a narrative that is present when you see an exhibition or even items in the reading room – a narrative shaped by the ways things are made available, the ease or difficulty of searching the databases, the keywords used for catalog descriptions. All of these are ways in which objects are not presented neutrally. One of the great educational experiences of working at a place like the Beinecke Library is that people are very aware of these questions, and the real impact this work has."
Such complexity occurs in an era of ever growing digital visibility for special collections: "We in 2019 have so many resources available to share the scholarship, the librarianship, and the curatorial work that goes into making these objects available. We have digital collections, online exhibitions, social media, and many ways for reopening these seemingly rarefied spaces to a broad audience, including those who can't travel in person to an archive," he observes. "We now can teach and educate and instigate conversations more on-site and online."
Even as virtual libraries and scholarship expand, Alexander reaffirms the virtue and centrality of the physical spaces of special collections: "It's great to witness a tangible text, a material artifact of someone's life in front of you. There's a relationship of care involved in that encounter and you really appreciate the ethics when you are in front of the actual object."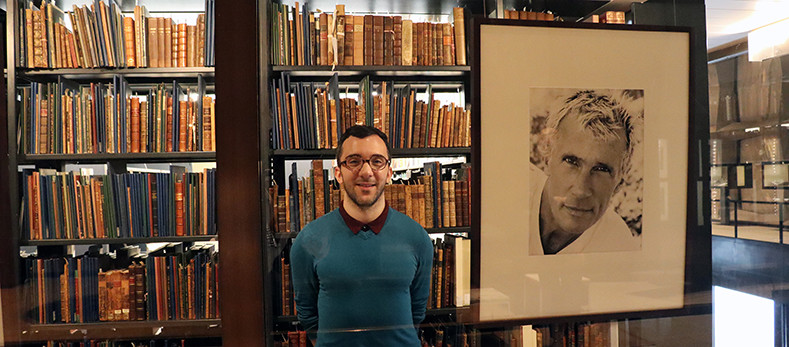 From graduate student to curator and librarian
The power of the tangible collections was evident to Alexander in own scholarly work with the fourteen boxes of materials in the
Revels Alcorn Adams Papers
at Yale. The collection documents aspects of African American religion and culture, especially in the South, in the early 20th century, and in particular the evangelistic, educational, and literary activities of one African American Methodist minister.
"The papers include seemingly very strange, interesting texts," he explains. "Working with the original materials allowed me to recognize these papers are intellectually interesting in how they tie into the history of science fiction all the while never forgetting that they present a real person traveling around the South in the first half of the 20th century, talking to other real people. Seeing the physical materials really brought that fact home. Many of the manuscripts, for example, appear hastily written, suggesting the passion R.A. Adams had for what he was doing. Seeing such materiality can complicate a narrative and lead to a more complex and rich reading."
As he goes off to Liverpool to head the largest collection of science fiction and fantasy in Europe, Alexander celebrates his nearly four years of work in the Beinecke Library: "It's been a really well-rounded and fulfilling curatorial and librarianship training! I am indebted to the incredible and generous staff of the Beinecke Library for allowing me to train as a librarian and pursue my passion these last few years. Having the opportunity to work in so many different areas, to witness the scale of work accomplished here, has really given me the training I need."
"I came in here as a graduate student and I realized: I want to be a curator, I want to be a librarian. It's how I want to spend my career, it's how I want to spend my life. Yale University, and Beinecke Library," Alexander says, "have truly helped me to fulfill that dream."