Beinecke Library resources for contemplating and studying a broad range of topics related to writing the self: memoir, self-portraiture, self-presentation, life writing, personal archiving, and much more. Resources gathered here may support creativity, small-scale research projects, and in-deep scholarship into collections that may be of interest to scholars of American Studies, Women and Gender Studies, African American Studies, Literary Modernism, Sexuality Studies, Gay and Lesbian literature and more.
This page was created on the occasion of Professors Claudia Rankine's & Leah Mirakhor's spring 2021 Yale seminar Auto-Criticism: Writing the Self in the World.
NOTE: Yale VPN log in may be required to access resources linked below
***
IMAGE GALLERY // MANUSCRIPTS, SERIES, WORKS
RESEARCH BEINECKE COLLECTIONS // ADDITIONAL RESOURCES
***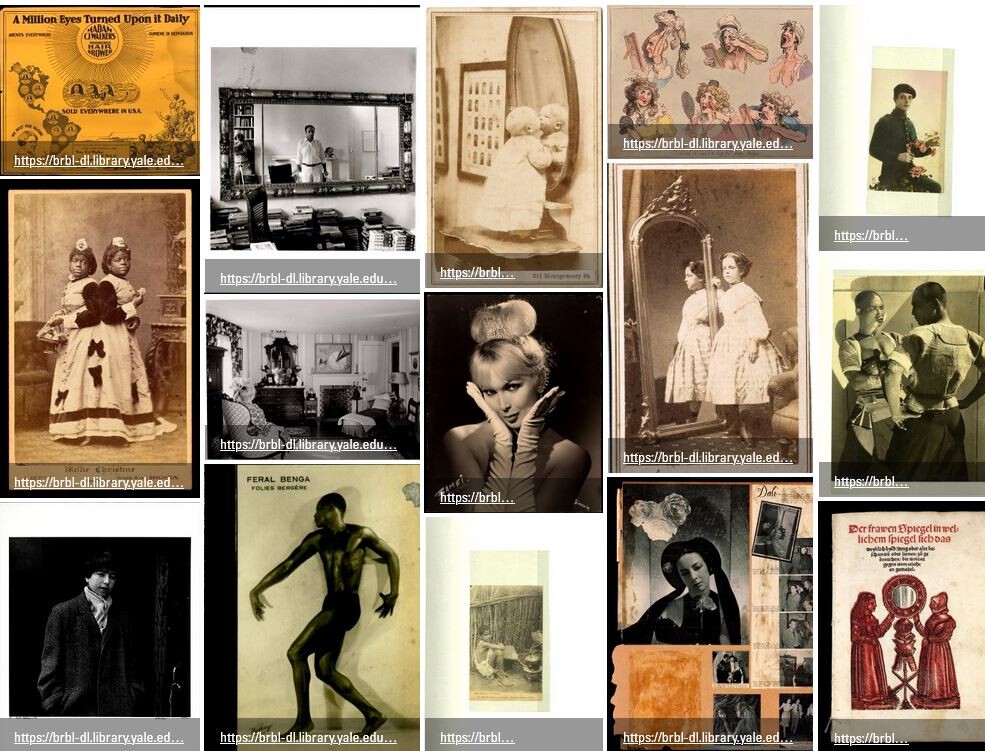 Self / Reflection Image Gallery – A collection of images from Beinecke Library concerning self-reflection, -criticism, -twinning, -regard.
***
IMAGE GALLERY // MANUSCRIPTS, SERIES, WORKS
RESEARCH BEINECKE COLLECTIONS // ADDITIONAL RESOURCES
***
MANUSCRIPTS, SERIES, WORKS (and related resources)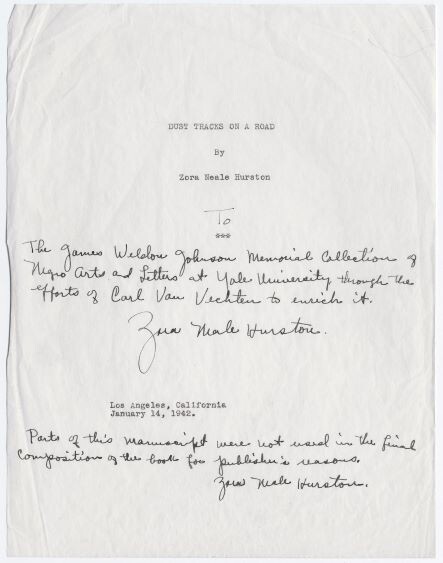 A collection of photos featuring individuals crossdressing, 1850s-1910s, collected by Laura Bailey
A small group of mounted photographs from the Laura Bailey collection of gender and transgender materials, 1850s-2013 (GEN MSS 787)
H. D. (Hilda Doolittle), photo collage scrapbook, featuring friends and family (Bryher, Kenneth Macpherson, D. H. Lawrence and others) and the poet herself, undated
A collection of photo collages made by poet H. D., incorporating photos of herself and many close associates, as well as images of artworks and landscapes 
H. D Papers, YCAL MSS 24
Charles Henri Ford, Haiku Autobiography
A manuscript series of haiku by poet, artist, and editor Charles Henri Ford.
Charles Henri Ford Papers, YCAL MSS 32
Chester Himes, autobiographical account, 1962
A typescript autobiography by novelist Chester Himes, best known as the author of the Harlem Detective series
Chester Himes Papers, JWJ MSS
Langston Hughes, "A Writer's Life" photograph series, 1949
A visual record of "a day in the life" of prominent poet Langston Hughes.
Langston Hughes Papers, JWJ MSS 26
Zora Neale Hurston, Dust Tracks on A Road (published full text)
Manuscript of a memoir by novelist, anthropologist, folklorist, and Harlem Renaissance personality Zora Neale Hurston (published 1942)
Zora Neale Hurston Collection, JWJ MSS 9
Austin Reed, The Life and the Adventures of a Haunted Convict, circa 1858 (published 2016, orbis record)
Manuscript account by 19th century African American writer Austin Reed of his incarceration in the New York House of Refuge, the first juvenile reformatory in the United States, and Auburn Prison, the first state prison in New York, from 1833 to the late 1850s
Image Guide
Gertrude Stein, Autobiography of Alice B. Toklas (full text)
Auto/biographical work written by Stein in the voice of her long-term partner, Alice B. Toklas (published 1933)
Stein's manuscript notebook
Photographs from the first edition of Autobiography of Alice B Toklas
Works in Progress: Autobiography of Alice B. Toklas
Gertrude Stein and Alice B. Toklas Papers, YCAL MSS 76
Jean Toomer, "My Life Begins" life timeline and "The Pinchback Family" family tree, undated
An annotated life timeline and family tree of his mother's family by poet and writer Jean Toomer.
Jean Toomer Papers, JWJ MSS 1
Erica Van Horn, On fruit and vegetable bags, 31 portraits, self & projected: one a day, May 1986
A unique artists book by artist, bookmaker, and writer, Erica Van Horn
Erica Van Horn Papers, YCAL MSS 863
Walt Whitman, original notes for an autobiographical statement,1888
Walt Whitman, additional autobiographical fragment, various dates
Portraits and photographs of Walt Whitman, various dates
Variant Leaves of Grass frontispiece images at Beinecke
Walt Whitman Collection, YCAL MSS 202
***
IMAGE GALLERY // MANUSCRIPTS, SERIES, WORKS
RESEARCH BEINECKE COLLECTIONS // ADDITIONAL RESOURCES
***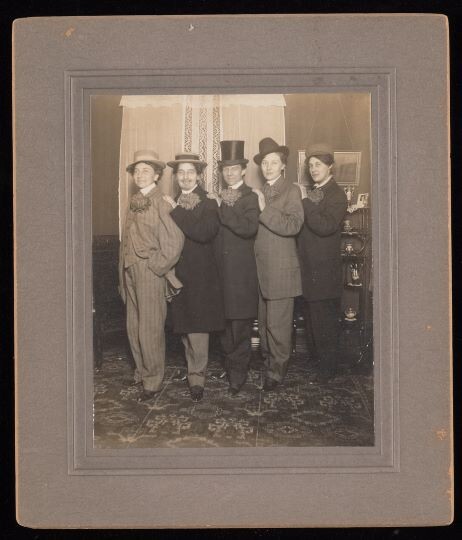 Archives at Yale: Search archives, manuscript collections, and image collections in Yale Uiveristy Libraries or limit your search to collections at Beinecke Library. 
Beinecke Digital Library: Search digitized materials from across Beinecke Library collections or browse highlights and collection image guides.
***
Photographs of Prominent African Americans (JWJ MSS 76)
Photographs drawn from various collections in the James Weldon Johnson Collection; collection features images of prominent African American writers, cultural leaders, and entertainers, as well as photographs by important African American photographers.
Collection Guide
Digital Library
Laura Bailey collection of gender and transgender materials, 1850s-2013 (GEN MSS 787)
A large collection including a broad range of visual materials: photographs, postcards, and many types of printed ephemera; manuscript materials, and audiovisual materials. NOTE: related materials collected by Laura Bailey, including collections of pulp novels, can be found in Orbis by searching: Bailey, Laura E., 1951- collector.
Collection Guide
Photograph File of Close Up Magazine, 1911-1947 (YCAL MSS 337)
Promotional photographs and film stills created by motion picture studios for their films and actors, used to illustrate film magazine Close Up, 1911-1947.
Collection Guide
Digital Library
Robert Giard Photographs of Gay and Lesbian Writers
More than 500 portraits of gay and lesbian American writers taken by Robert Giard in the 1980s and 90s.
Collection Guide
Digital Library
Robert Giard: Archival Connections
Randolph Linsly Simpson African-American Collection
A collection of photographs dating from circa 1850 to 1970 and including printed illustrations, original artwork, documents and printed ephemera that provide a record of black history in the United States for the period circa 1770 to 1970. The focus is on African-American subjects, but the collection also includes the work of black photographers, as well as some images of white men and women associated with the abolitionist movement.
Collection Guide
Digital Library
***
IMAGE GALLERY // MANUSCRIPTS, SERIES, WORKS
RESEARCH BEINECKE COLLECTIONS // ADDITIONAL RESOURCES
***
Archives and visual resources beyond Yale libraries
Labadie Photograph Collection, University of Michigan
Collection Description
Labadie Photograph Collection Online
Transgender Archives, University of Victoria
***
Images: Production still from film Koi no Jazz (Love and Jazz), 1929; Zora Neale Hurston, Dust Tracks on a Road manuscript, title page with author's inscription, 1941; from a collection of photos featuring individuals crossdressing, 1850s-1910s, collected by Laura Bailey
***
IMAGE GALLERY // MANUSCRIPTS, SERIES, WORKS
RESEARCH BEINECKE COLLECTIONS // ADDITIONAL RESOURCES
***